If AT&T Can Silence Newsmax, Who Is Next? | Opinion
AT&T's recent deplatforming of Newsmax, one of America's most influential cable news channels, should alarm everyone, including liberals. We are all at risk when censorship occurs—when one is silenced based on his or her point of view.
The facts strongly suggest that partisan and ideological motives played a sizable role in AT&T and DirecTV's decision to remove Newsmax on January 24, when some 13 million homes were deprived of the channel—including my own. After the recent State of the Union address, I turned to Newsmax for their coverage, but was surprised to find it suddenly missing from my channel guide.
Newsmax has been quite familiar to me: For several years now, I have been a legal analyst for the network. While the channel is center-right in its political orientation, my liberal positions are welcomed without any hesitation.
In my book The Case Against the New Censorship, I studied the growing movement to silence dissenting views, of which Newsmax now appears to be a victim.
Publicly, DirecTV and AT&T (DirecTV's 70% owner, with financial firm TPG owning the remaining 30%) say the move to deplatform Newsmax was about "cutting costs" and saving customers money. But when one notes that Newsmax was the fourth-highest-rated cable news network and that its license fee requests are modest (about a $1 per subscriber per year), the DirecTV decision doesn't make much business sense. Indeed, there are dozens of channels that DirecTV carries that cost much more than Newsmax, but have much lower ratings.
While DirecTV's decision may have been legally permissible, it was wrong and frankly un-American to deny Newsmax access to its platform, making it impossible for viewers to see the channel and exercise their civic right to take part in the marketplace of ideas.
Over a year ago, DirecTV carried three conservative-leaning channels, including One America News Network (OANN), a hard-right network. Meanwhile, DirecTV has continued to offer a panoply of left-leaning channels. In the past year, then DirecTV and AT&T have deplatformed two of their only three conservative news channels.
As one of America's largest companies, AT&T has a duty to abide by "good corporate citizenship," and thus to provide ideological balance in its choice of platformed TV networks. It clearly has not done so.
While private censorship is often legal, there are potential constitutional concerns if the government encouraged AT&T to shut down Newsmax.
As the case may be, in 2021, Democrats on the House Commerce Committee held hearings to investigate pay-TV systems for carrying conservative channels that were allegedly spreading "misinformation." On February 22, 2021, Reps. Anna Eshoo (D-CA) and Jerry McNerney (D-CA) wrote to AT&T CEO John Stankey demanding to know if he was "planning to continue carrying Fox News, Newsmax, and OANN on U-verse, DirecTV, and ATT TV, both now and beyond any contract renewal date."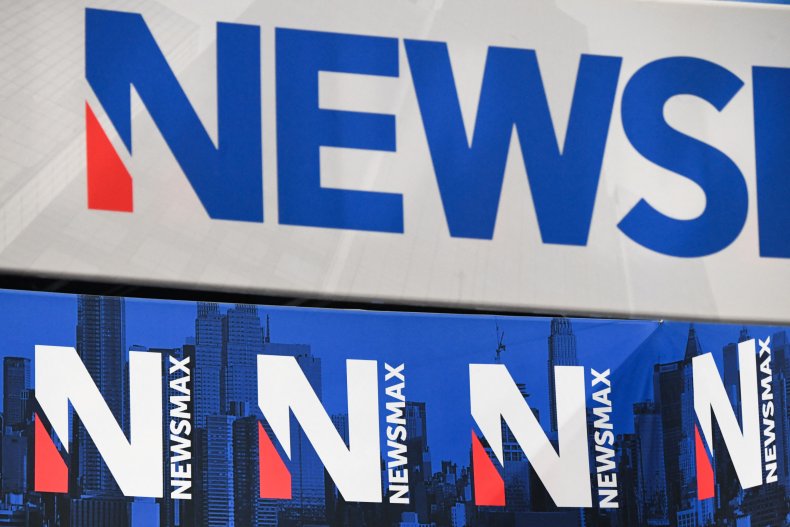 A year later, in February 2022, as its contract with OANN neared its end, AT&T announced it was deplatforming the channel. It cited—surprise!—"cost-cutting" as the basis for its decision. OANN never had Newsmax's ratings, but it's not clear why AT&T eliminated it from its lineup while keeping many other low-rated channels.
Newsmax says that when it was up for renewal with AT&T/DirecTV last month, DirecTV's position was, and continues to be, that Newsmax is not eligible for any license fees. Meanwhile, all U.S. cable news channels get fees, and nearly all top cable channels do as well. Newsmax asserts that DirecTV's demand it take zero fees would impact all its other cable broadcaster agreements, essentially demonetizing and censoring the network.
So why doesn't DirecTV cut costs by reducing fees for the many lower-rated networks it carries? Why, again, has DirecTV decided everyone in cable news gets license fees except for Newsmax?
This is not just a "business dispute"; it is a prima facie case of discrimination against Newsmax.
After Elon Musk's release of the "Twitter Files," we know the FBI worked to censor private parties—a serious potential breach of constitutionally protected free speech rights. Did something similar happen when AT&T shut off OANN and Newsmax?
The relatively small amount of money DirecTV saved by removing Newsmax—with the ensuing loss of customers and brand reputation—makes one wonder if a larger hand was at play that forced its deplatforming decision.
House Speaker Kevin McCarthy (R-CA) says Congress will hold hearings on AT&T's targeting of Newsmax and OANN. These hearings must be bipartisan: The rights of all Americans are at stake.
Recently, I signed a letter along with 22 major Jewish leaders calling on AT&T and DirecTV to return Newsmax to its platform. (Disclosure: Newsweek Opinion Editor Josh Hammer was another signee of the same letter.)
This letter was remarkable in its support from major Jewish leaders spanning the political spectrum. At a time of rising antisemitism at home and abroad, Newsmax has consistently offered fair and invaluable coverage on issues of concern to American Jews.
As a liberal, I am truly troubled that a major conservative cable news channel—and one that is reliably pro-Israel, like Newsmax—was silenced by AT&T. If AT&T and DirecTV can get away with silencing Newsmax, who will be next?
Follow Alan Dershowitz on
Twitter: @AlanDersh
Facebook: @AlanMDershowitz
New podcast: "The Dershow," on Spotify, Apple Podcasts, and YouTube
Dersh.Substack.com
The views expressed in this article are the writer's own.