If Trump's Not Re-elected, Americans Could Have to Pay Back Payroll Tax Deferrals, Mnuchin Suggests
Treasury Secretary Steven Mnuchin suggested on Sunday that if President Donald Trump is not re-elected, Americans will have to pay back the government for any payroll tax deferrals.
During a recent Fox News interview, Mnuchin was asked about Trump's recent executive orders to provide financial relief to Americans during the coronavirus pandemic. Fox host Chris Wallace noted that the orders include not a payroll tax cut but a "payroll tax suspension."
"Isn't there a danger that a lot of businesses won't pass these savings through to workers because they're gonna hold on to the money, because at some point, according to this executive action, by the end of the year those payroll taxes are gonna have to be paid anyway?" Wallace asked.
Mnuchin replied, "The president wanted to do a payroll tax cut, we could do the payroll tax deferral. He's gonna go to the American people and tell them that when he's re-elected, he will push through legislation to forgive that."
He added, "So, in essence, it will turn into a payroll tax cut."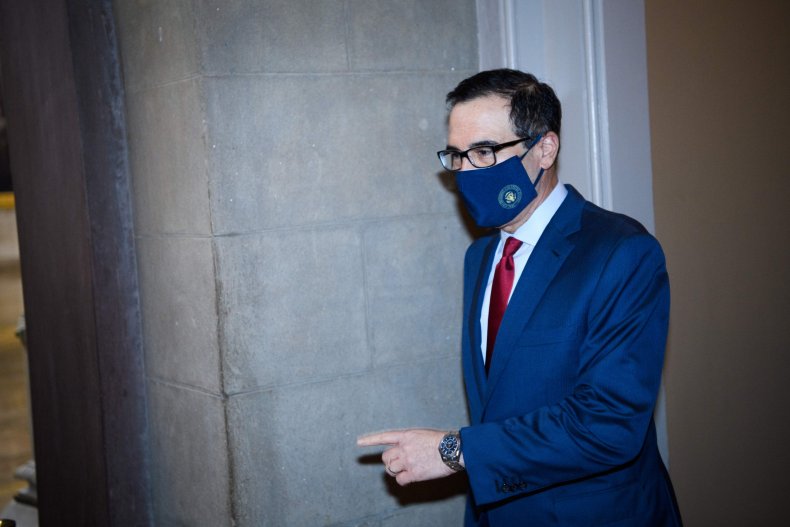 Mnuchin's comments come shortly after Trump signed four executive orders, which extend federal unemployment benefits, suspend payroll taxes and provide student loan relief. The portion of the orders that Mnuchin was discussing allows employers to defer the payroll tax, which helps pay for Social Security and Medicare, for Americans making less than $100,000 a year, through the end of 2020.
While signing the order at the Trump National Golf Club in Bedminster, New Jersey, the presidents made comments similar to Mnuchin's in regard to his re-election. "If I'm victorious on November 3rd, I plan to forgive these taxes and make permanent cuts to the payroll tax," Trump said. "I'm going to make them all permanent."
He added, "In other words, I'll extend beyond the end of the year and terminate the tax. And so we'll see what happens."
While appearing on CNN's State of the Union, White House economic adviser Larry Kudlow was asked about Trump's promise on permanently cutting the payroll tax and how that would affect Social Security and Medicare.
In response, Kudlow said that Trump "will protect Social Security and Medicare" and added that the tax deferral "will be made permanent, it will be forgiven," but there will not be a payroll tax elimination.
"I think he meant the deferral would be forgiven," Kudlow added. "I think he was saying that the savings on the deferral will be permanent. He did not mean that he's eliminating the Social Security tax."
Newsweek reached out to the White House, the Treasury Department and presumptive Democratic nominee Joe Biden's campaign for comments but did not receive a response in time for publication.