If You Want To Get Into The White House Today And You're A Member of The Press, Prepare to Open Wide
On March 14, White House staff greeted the media with a thermometer. Before the press conference at noon, each journalist had their temperature taken, due to corona virus concerns. Photos of the press later went viral on Twitter.
Before 8am, Steve Herman, White House bureau chief for The Voice of America, shared photos online of the temperature checks outside the White House. Outside in the cold, journalists, with their ear muffs on, waited patiently in the long lines.
Judd Deere, a White House spokesman, explained the new safety measures implemented onto the press. Deere said to FOX News, "Out of an abundance of caution, temperature checks are now being performed on any individuals who are in close contact with the President and Vice President."
Outside of the press, journalists spotted someone making their way past the thermometer checkpoint. Deere also mentioned why "a man in a suit" was not giving a thermometer check. Though the man's name was not given, Deere revealed that this anonymous person was a member of the physician's office in the White House.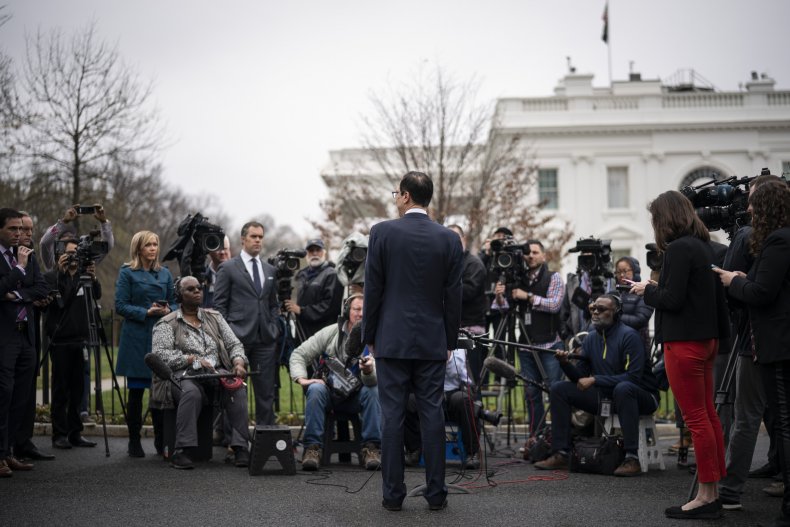 Later that day, CNN's Shimon Prokupecz mentioned an unnamed journalist had been denied entry. The unidentified reporter was not allowed to enter the building and rejected from the briefing.
Prokupecz tweeted, "CNN White House Team: A journalist was denied entry into the press briefing after having a 99.9 fever. He was trying to get access to the briefing and was turned away and is being held by the press office on the White House driveway."
Vice President Mike Pence's press secretary Katie Miller mentioned that the nameless reporter had been observed three times. Each temperature had been recorded under the guidelines set forth by the Center for Disease Control, per FOX News.
Katie Miller tweeted, "According to the White House Medical Unit, the temperature was taken three times over a 15 minute period. All three registered above the CDC's 100.4 guidelines."
A White House official informed CNN that the corona task force members also had their temperatures checked. The White House doctor also recorded the temperatures of Pence and Trump before the press briefing started. U.S. Surgeon General Jerome Adams confirmed that all precautionary measures were being taken.