What Is an Iftar? Donald Trump to Host Breakfast for Muslim Holy Month of Ramadan
President Donald Trump's White House will host a ceremonial iftar dinner this week to mark the Muslim holy month of Ramadan. The iftar is a daily breakfast meal for Muslims who fast from sunrise to sunset during the month.
Fasting during Ramadan is one of the five pillars of the Muslim faith. Those who participate take part in two ritual meals: The iftar after sunset, to break the daily fast, and suhoor, before sunrise, to prepare for the day's fast.
The iftar meal is often eaten communally, with family and friends at home, or at a local mosque. Many Muslims also include dates in that meal, as tradition dictates that is how the Prophet Muhammad broke his fast.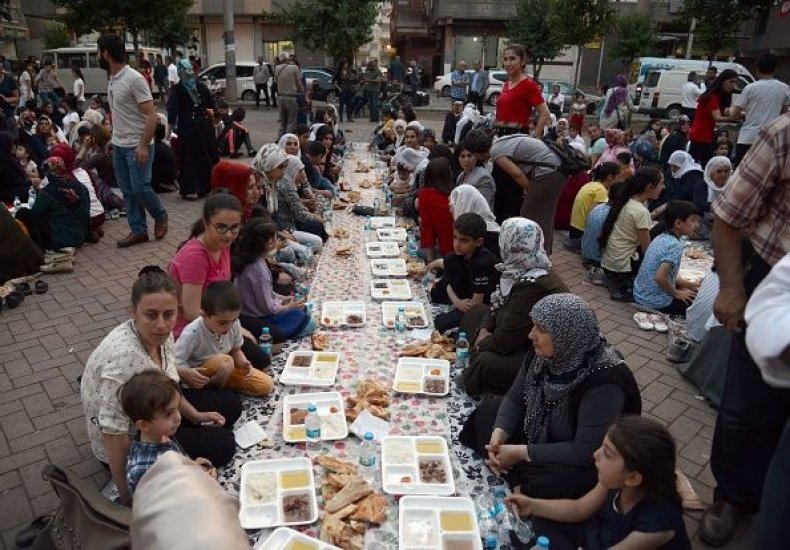 President Donald Trump will host an iftar dinner on Wednesday to celebrate the month of Ramadan, a White House official told Politico. Trump did not host an iftar dinner in 2017, breaking the traditional dinners Barack Obama and George W. Bush used to hold. Last month, the White House released a statement to commemorate Ramadan and the Muslims in the U.S. who were participating in the holy month.
"Ramadan reminds us of the richness Muslims add to the religious tapestry of American life. In the United States, we are all blessed to live under a Constitution that fosters religious liberty and respects religious practice," the statement read. "Our Constitution ensures Muslims can observe Ramadan in accordance with the dictates of conscience and unimpeded by government. By doing so, the Constitution also furnishes varied opportunities for all Americans to deepen their understanding of the human soul."
But, some Muslim organizations are skipping out on the dinner and holding one of their own. The Council on American-Islamic Relations announced on Tuesday they will be hosting a "NOT Trump Iftar" dinner to break the fast.
In a statement about the event, CAIR said it will host the dinner in Layfette Square right outside of the White House during Trump's dinner. "President Trump has attacked Muslims since the beginning of his campaign and codified his Islamophobia with the Muslim Bans. Now he wants to make nice and host an iftar dinner after skipping the tradition last year. Join us this for a counter iftar held simultaneously outside the White House to say not in our name," the event reads on Facebook.
CAIR "has witnessed an unprecedented spike in bigotry targeting American Muslims and members of other minority groups since the election of Donald Trump as president," the group said in a statement.