Iggy Azalea Posts Cryptic Tweet as Ex Playboi Carti Arrested
Iggy Azalea is showing no sympathy for her ex Playboi Carti after he was arrested for allegedly choking his pregnant girlfriend.
After the news of the arrest emerged, the Australian rapper Azalea posted a cryptic tweet which some deemed to be a thinly veiled dig at her ex and the father of her son, Onyx.
The two rappers dated in 2019 but Azalea gave birth to their child in June 2020. Months later she announced she'd be raising her son alone, independent from Carti.
On Tuesday, TMZ reported that Carti had been arrested on a felony charge after being accused of choking a woman described as his pregnant girlfriend. The incident is alleged to have taken place in December 2022 when the woman was 14 weeks pregnant. Carti's lawyer Brian Steel has released a statement saying his client has been "falsely accused." He also predicted that "this case will be dismissed without any prosecution or litigation."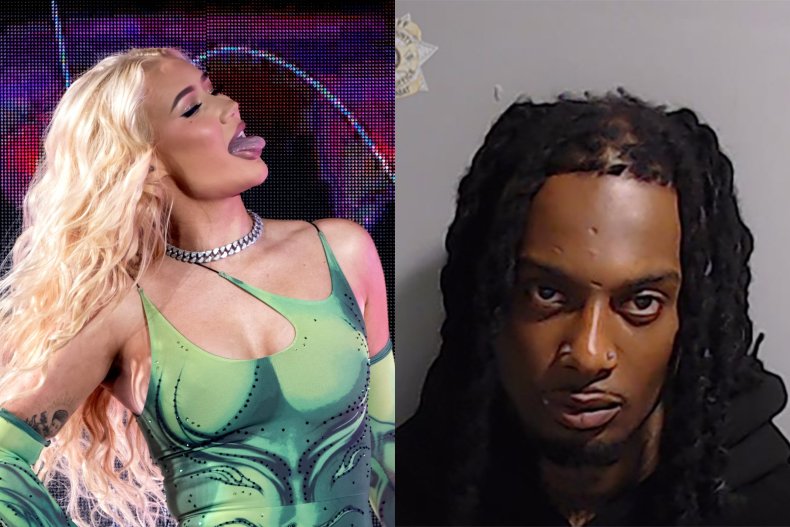 After news of Carti's arrest broke, Azalea tweeted a thinly veiled dig, without explicitly naming anyone.
"Imagine having a pregnant girlfriend and pretending they don't exist until it comes out you like to abuse them too—& rarely visiting your actual son unless is because you're running from whatever problems ya got going on in Atlanta & the press with your serial abuse of woman," Azalea wrote on Twitter on Tuesday.
"Anyway. I'm having an actually amazing day! karmas real! Treat the people you love well! Happy Valentine's Day," she added minutes later in a follow up tweet.
In December 2020, Azalea spoke out against Carti, claiming he was absent for the birth of their child, refused to sign their son's birth certificate and that he had a "side chick" during their relationship.
A number of people named Playboi Carti in the comment section of Azalea's latest tweets.
"I'm a huge Carti fan but this really shocked me and I'm disappointed in him. You can't defend something like that," @Ulrich175 replied to Azalea. Meanwhile, @firck8 called for people to "Cancel playboi Carti. Zero tolerance."
While some were supportive of Azalea, others appeared to take the opposite view. "Shush he ain't do it," wrote @naghetti, while @famousmoxy said "he lives rent free in your head."
A number of people online mentioned the recent rumors that Azalea was dating rapper Tory Lanez in October 2022. He had been accused at that time of shooting Megan Thee Stallion, and in December was charged with three felony charges in respect to the shooting.
Despite the rumors and videos emerging of them dancing together, it was never confirmed that Azalea and Lanez dated.
Newsweek has reached out to Azalea for further comment.