Life, Death and Simulated Sex on Iggy Pop's Post Pop Depression Tour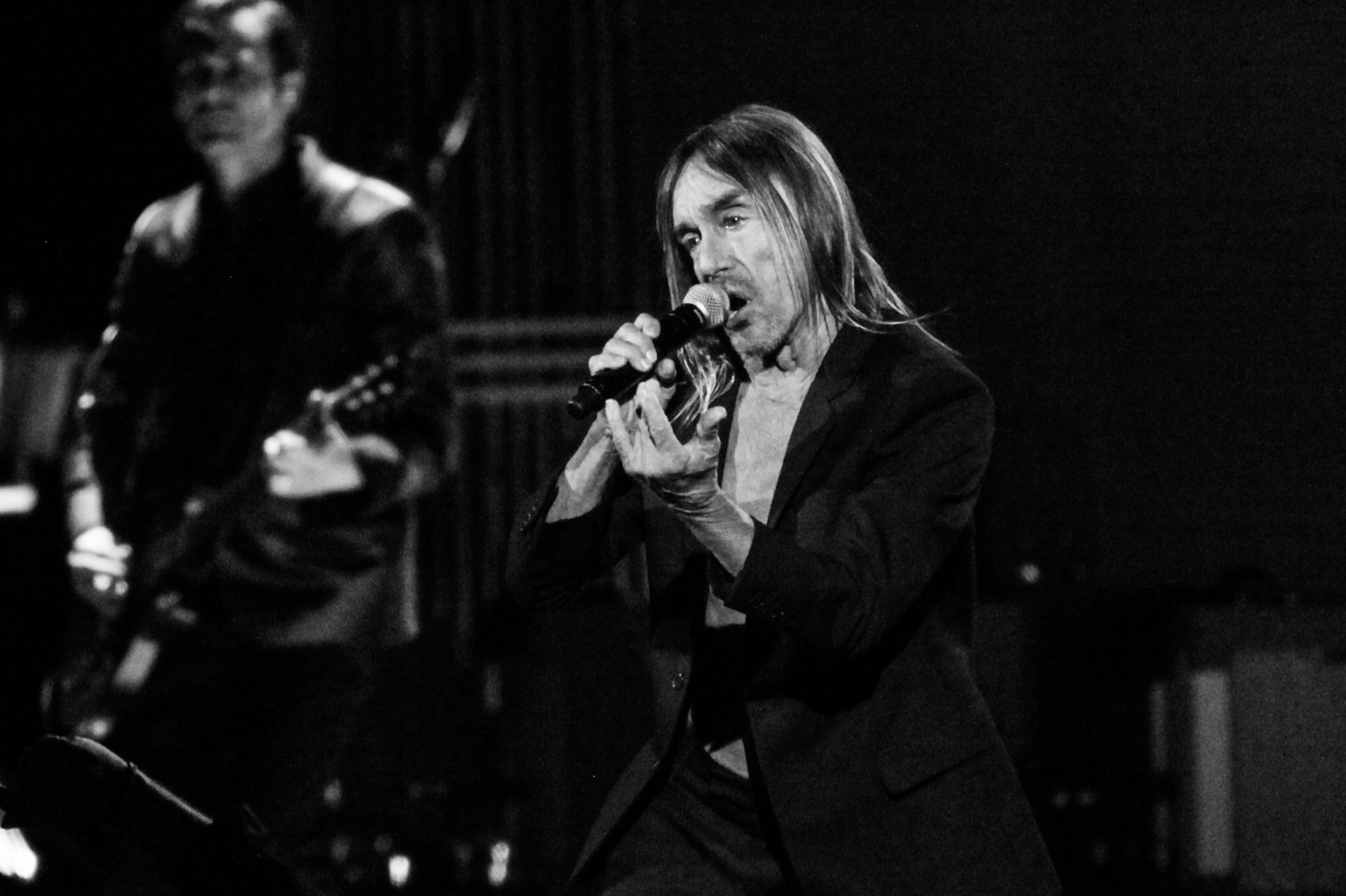 Iggy Pop's 1969 New York City debut was a bloody mess. He and his band, the Stooges, were performing along with fellow Michigan rabble-rousers MC5 at the Pavilion at the World's Fairgrounds in Queens. The story goes that someone lobbed a glass bottle at Pop after he had looked out into the crowd that day and decided to pick his nose. He tossed the still-intact bottle back. Someone else threw another bottle, which this time broke onstage.
In a sort of punk fever, he rolled around in the glass shards, slicing himself up, later on digging into the wounds with the help of drumsticks and a broken guitar. Pop limped offstage after 20 minutes, but not before one of Bach's Brandenburg Concertos had come on over the loudspeakers. Pop was showered with beer bottles and roses: a proper coronation. "It wasn't theatrical, it was theater," remembers Alan Vega of the band Suicide in the punk oral history Please Kill Me. "Alice Cooper was theatrical, he had all the accoutrements, but with Iggy, this was not acting. This was the real thing."
Nearly fifty years after that infamous evening, the Godfather of Punk proved to a packed crowd at New York City's United Palace Theater that he can still set a room on fire. Pop, 68, performed a career-spanning set with the same sensational supergroup with whom he recorded his latest record, last month's Post Pop Depression. Clad in red suit jackets that could have outfitted a cabaret from hell, the group included Josh Homme, the well-coiffed mastermind behind Queens of the Stone Age and Kyuss; the drummer Matt Helders, who moonlights as the backbone of the Arctic Monkeys; Dean Fertita, who helms bass in QOTSA and the Dead Weather, while QOTSA's Troy Van Leeuwen and Chavez's Matt Sweeney, who were not on the album, played onstage as well.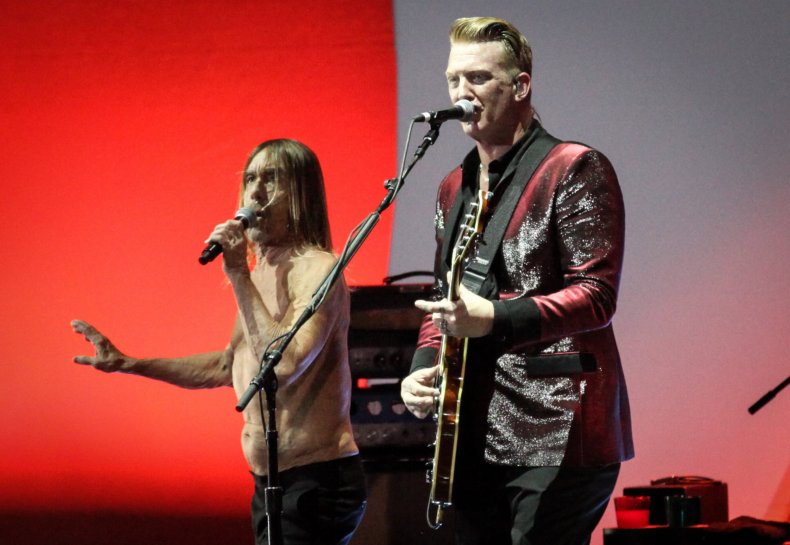 Pop has suggested that the brief Post Pop Depression tour may be the last live run of his five-decade career. If he does hang up his spurs, it really will signal the end of an era. This is the man who helped birth punk, lived through the tidal rise of New Wave, the decline of alternative rock and the emergence of rap as a protest medium. This goonish Midwestern boy, long ago known as Jim Osterberg, is said to have popularized stage diving. But there comes a time when even Pop knows the curtains will close, that there's only so much a body can take. If the Post Pop Depression tour is Pop's final bow, at least he ended with swagger intact.
The show kicked off with Pop galloping from behind the stage, screeching, "Come on, motherfuckers!" The band rolled into a lickety-split rendition of "Lust For Life," with Homme's quicksilver fingerwork giving the song a rockabilly edge on the guitar. Meanwhile, Pop was doing what he does best: enticing and terrifying audiences with his movements onstage, which are not unlike a manic mating call, all wide eyes, chest-beating, flailing and belly-rubbing.
By song two, the black suit jacket was off. Pop began contorting into a human pretzel, twisting his body into impossibilities: Watching him move is like seeing one of those evolution of dance video GIFs played backward. With his back turned, he lifted his arms toward the heavens and threw his head back. When he warbled the rhetorical coda from "Sister Midnight"—"Can you hear me at all?"—the crowd roared back with a resounding yes.
The two-hour long performance at United Palace flexed tracks from Pop's terrific new album and played host to a generous number of cuts from his late-'70s Berlin days, particularly Lust for Life and The Idiot. It's fitting that Pop's new album, with its synth-driven rhythms, has been called the spiritual sequel to the albums he made when he was drying out in Berlin with David Bowie and experimenting with form after listening to a ton of Kraftwerk. He commemorates this time in new songs like "Germanic Days," which he called a "robotic, tectonic number with European and Slavic undertones," and Lust For Life's piano-driven "Sixteen," with Helders's tight drumming giving new life to an old favorite.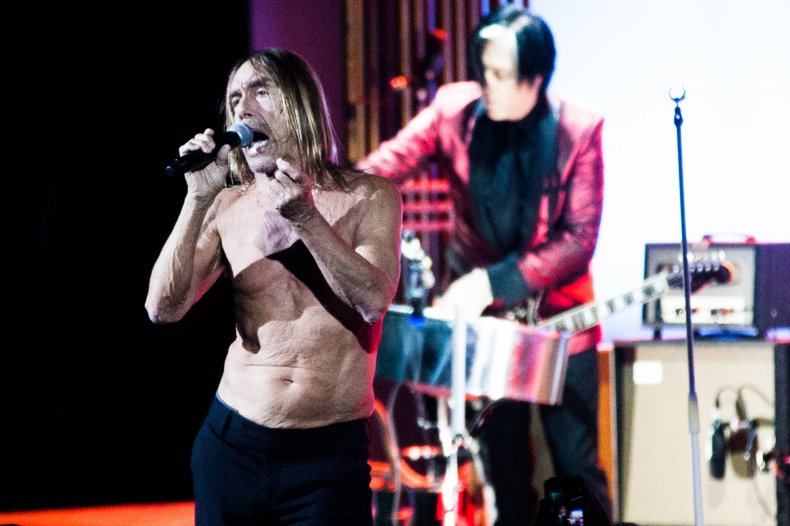 Post Pop Depression feels as if Pop is reckoning with the particular kind of nostalgia that comes when you let something you've made finally live in the world. It is out of your hands and free to take on a life of its own—a symptom of artistry that's scary by definition, but more frightening still when, like Pop, you reach the age when your friends start disappearing but you're somehow still left.
Perhaps no one is more surprised that Iggy Pop is still kicking than Mr. Pop himself, and it's not until he's playing them live, side by side, that it becomes clear just how many of his songs address the end of the road. On the marimba-tinged "American Valhalla," for instance, he admits that "death is a hard pill to swallow," and pantomimed putting something down his throat. Doing a sultry shoulder shimmy, he admitted on the new "In the Lobby" that he hoped he wouldn't be "losing my life tonight." And it's worth remembering that the last album he did with the Stooges, in 2013, was entitled Ready to Die.
Though he's always been a wild man onstage, it's hard not to see his continued hyjinx as a taunt to the more morbid issues he ponders in his songwriting. At one point in Tuesday's show, he segued from a stomp to a swan dive straight into the crowd during "Funtime," off The Idiot, and then crowd-surfed down the theater's red aisles. At another, he put the microphone down his pants and pantomimed lifting barbells, then humped and licked the speakers. Pop never moves the same way twice onstage, his herky-jerky swagger recalling either a gorilla in a tutu, Fred Flintstone, Johnny Bravo doing the "monkey" and even his own younger years, when he notoriously stood atop a crowd at the 1970 Cincinnati Pop Fest and pointed with one hand while he smeared peanut butter on himself with the other. He is a masterful character actor, taking on the role of a lounge singer as he sang "Nightclubbing" from a stool and a gigolo imploring the audience to "Come on, fuck me!" during "Some Weird Sin."
Pop is turning 69 next week, while he's on tour, and for all the contemplativeness that can be read into his performances, he's looking and sounding as good as he ever has. In Please Kill Me, there's an anecdote of another memorable birthday that Pop spent on the road. On the night he turned 21, the Stooges opened for Cream. Two hits of orange acid deep, and armed with amps that failed, Pop went out and berated the audience, and, in his words, the band had one of their worst gigs ever. He went back to former Stooges bassist Dave Alexander's house, crushed. "I was heartbroken, I thought, 'My god, this is twenty-one.' This is it. Things are not going well," Pop recalls in the book. "Dave's mom served me a cheeseburger with a candle in the middle of it. The idea was to keep going and things would get better. Don't give up."