Donald Trump Jr. Says Mollie Tibbetts' Murder is Down to Democrats, Despite her Family's Pleas Not to Politicize
Donald Trump Jr. has blamed Democrats for the murder of Iowa student Mollie Tibbetts, ignoring pleas from members of her family for the crime not to be politicised.
In an opinion piece in the Des Moines Register Friday, the president's eldest son said that Tibbetts was a "casualty of the left's love for open borders."
"The radical policies of the Democrats have left a trail of human wreckage in pursuit of their open borders dream," he said.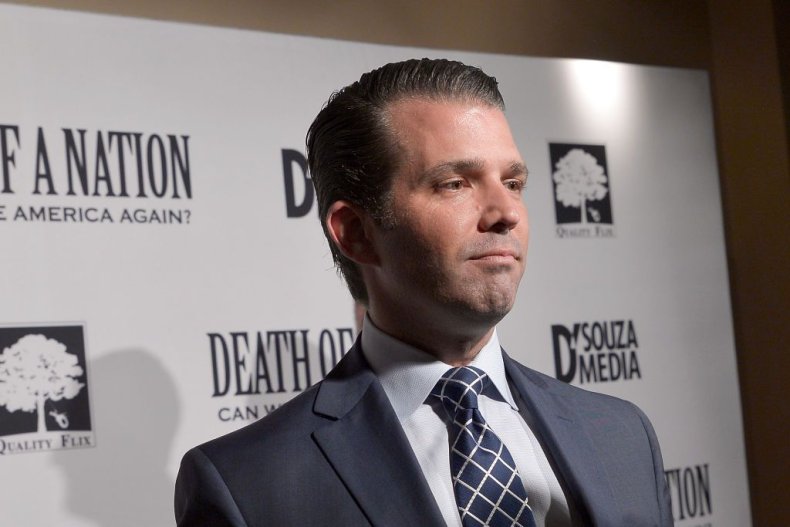 "The Democrats are pushing policies that are a direct existential threat to the lives of innocent Americans," wrote Trump Organization executive Trump Jr, a prominent defender of his father's policies.
Tibbetts vanished after going out for a jog in Brooklyn, Iowa in July. Her body was found in August.
The man accused of the murder by police is an undocumented Mexican immigrant.
President Trump and the Republican party have seized on the crime to push their anti-immigrant policies, and portray Democrat policies as allowing criminals to access the U.S.
At a fundraiser in Ohio in August Trump said that "Democrat immigration policies are destroying innocent lives and spilling very innocent blood."
Other conservatives have also cited the murder as evidence of the danger posed by allowing undocumented migrants into the U.S., including Senator Tom Cotton and commentator Candace Owens.
Tibbett's family have repeatedly pushed back, saying that they do not blame immigrants, and do not want her death to be used to push an anti-immigrant agenda.
Sam Lucas, a cousin of Tibbetts, has described Owens as "despicable" and of "using my cousins death as political propaganda."
"I don't want Mollie's memory to get lost amongst politics," Tibbett's aunt, Billie Jo Calderwood, told CNN in August.
Citing the outpouring of support from all ethnicities during the search for her niece, she said "It's not about race, it's about people joining together to do good."
At his daughter's funeral in late August, Mollie Tibbett's father, Ron Tibbett's, defended the Iowan Latino community.
"The Hispanic community are Iowans. They have the same values as Iowans." He said, adding "As far as I'm concerned, they're Iowans with better food."