Iguana Found With Rotted Feet From Being 'Hog-Tied' Saved by Animal Shelter
Carolina Waterfowl Rescue has highlighted the dangers of a popular method of transporting iguanas, after receiving one with feet that had fallen off from being "hog-tied."
"Hog-tying" is a method that sees the arms of an iguana tied behind its back, almost as if it had been arrested. Despite being highly controversial, it's often used by sellers transporting the reptiles.
In this case shared by the rescue center, however, the iguana had been left in the position for so long that it caused its feet to eventually completely fall off.
"A person walking their dog found him 'hog-tied,' picked him up and brought to CWR," Jennifer Gordon, the executive director of the rescue shelter, told Newsweek in an email.
"We have been told (but not confirmed) that iguanas are sold at the flea market and their legs are hog-tied."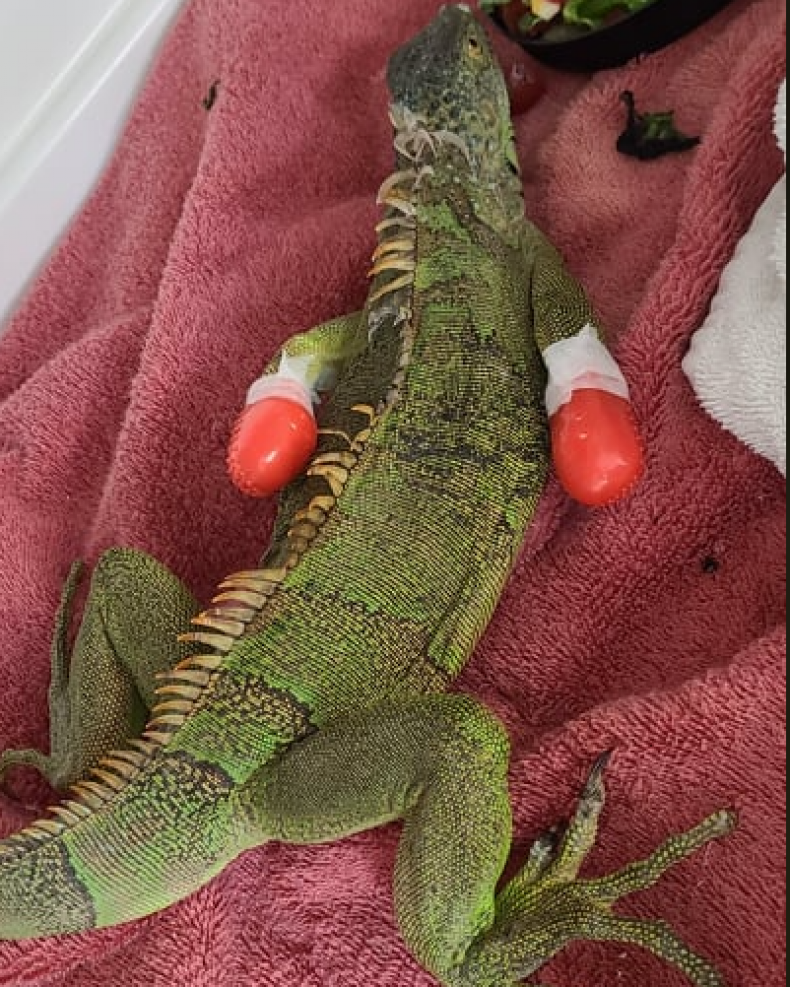 The center shared the story to Facebook on October 19 with images of the tragic injuries, writing: "This green iguana was found by someone's dog with its arms tied behind their back. The iguana was like this for so long that its feet died and petrified making them eventually fall off. Rehab staff have placed little rubber boots on the iguana for now until the stubs get callouses so he can walk without pain."
According to Carolina Waterfowl Rescue, they've received two iguanas in this condition and average around one reptile a week.
"It is going to take a lot of rehabilitation and eventually we hope to get him adopted," said Gordon. "They are not wild animals [and] they are considered invasive. Therefore, they have to be kept as pets."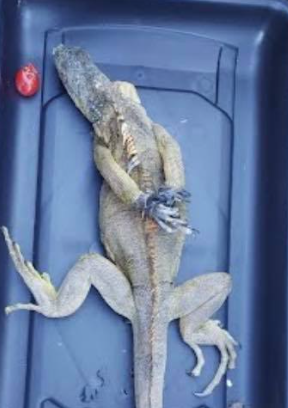 The iguana after being found "hog-tied"
Carolina Waterfowl Rescue
After being shared to Facebook, the iguana's story was met with reactions of shock and disappointment online. "The more I see stuff that 'people' do. The more I like the animals," commented one user.
"We do NOT deserve animals. They love humans unconditionally and this is what humans do to them," wrote another.
In 2015, a Florida man was reportedly arrested after being caught with three iguanas which all had their legs "hog-tied" with duct tape as they dangled from a bike's handlebars.
The man was arrested on a misdemeanor charge of cruelty to animals after onlookers had reportedly told police they heard him say he planned to sell the iguanas.
"During the removal of the tape, the iguanas remained completely still as if in shock," reported an officer.
Hopefully the iguana will have luck finding a home, just like North Carolina cat Gus in September. As reported by Newsweek, despite being the oldest cat in the shelter, Gus found a "match made in heaven" with 101-year-old Penny.