IHOP Customer Smashes Glass After 'Slow Service' in Wild Video
An IHOP customer's temper tantrum about service that he deemed too slow was captured on camera Saturday night.
The confrontation was filmed by onlooker Thomas Biddle, whose TikTok video has racked up 6.5 million views as of Monday afternoon. Another patron who witnessed the incident said on Facebook that it took place at one of the breakfast chain's locations in Fort Wayne, Indiana.
Biddle's clip showed the furious customer berating a waitress for the time it took to serve his food, claiming that the restaurant should not be busy because he saw other tables open.
"Busy would be every single table," he shouted while waving his arm in the air.
"There are three servers on, sir," the waitress replied. "We can only do so much. If you don't like it, you can go somewhere else. Who else is open?"
"Nobody else," the customer answered. IHOP is known for keeping many of its locations open 24 hours a day, seven days a week.
"Then deal with it," said the increasingly agitated server.
"Well, you know, I'm not gonna f***ing pay for a meal," the man yelled.
"Well then bye, you're out," the server yelled back.
The customer then picked up a glass and smashed it on his table, sending shards of glass in every direction.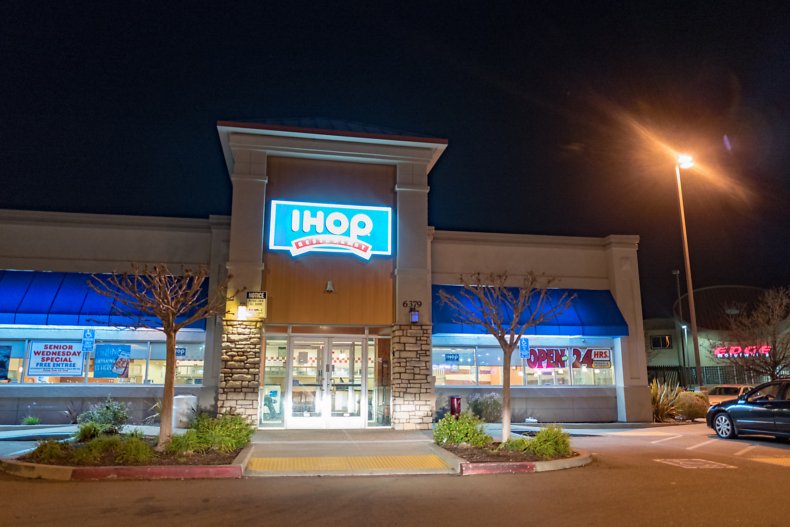 A man at the neighboring table stood up, yelling, "Hey, you son of a b*tch! You 'bout to put that right in my eye!"
The rest of the restaurant's patrons stared in horror, unable to look away. Several people rose from their seats.
"That's not my f***ing problem," the aggressive customer bellowed back at the other nearly injured man, before he was quickly dragged out by a security officer.
In Indiana, a person who fights, engages in "tumultuous conduct" or makes unreasonable noise can be charged with disorderly conduct, a misdemeanor.
Restaurants fighting to recover from the pandemic have struggled with a labor shortage, which is expected to continue throughout the year. According to the National Restaurant Association's 2022 State of the Restaurant Industry report, roughly half of surveyed restaurant operators said they expected recruiting and retaining employees to be their top challenge.
Meanwhile, restaurant workers have cited low wages, insufficient or nonexistent benefits and poor work-life balance as reasons for leaving their jobs. Newsweek has previously covered the frustrations aired by staff at Pluckers Wing Bar, Jimmy Johns and Chili's.
On TikTok, viewers of the IHOP incident empathized with the server who had to deal with the destructive patron.
"What the hell makes people think it's okay to yell at the servers?" one comment asked. "They didn't make the schedule, they just showed up for their shift."
Another viewer addressed the videographer, telling Biddle, "You better have tipped them well."
Newsweek reached out to Biddle and IHOP for comment.