IIHS Switching up Crash Test Methodology Due to Advances in Safety Tech
The Insurance Institute for Highway Safety (IIHS) is changing its crash test methodology. The organization noted the switch in a media release today citing an uptick in advanced safety and driver assist technology availability as a key reason for the move.
A voluntary agreement between 20 major automakers by IIHS in partnership with the National Highway Traffic Safety Administration (NHTSA) saw the companies commit to installing automatic emergency braking (AEB) technology throughout their light passenger vehicle lineups by September 2022. According to IIHS, 12 of the 20 met that goal last year.
Crash rates for vehicles with AEB technology are nearly half of those without the technology, the organization said.
As the tech becomes ubiquitous, IIHS is re-evaluating how it conducts and measures crash tests to take the systems into account.
"Thankfully, in the real world, AEB systems are preventing crashes at higher speeds than the maximum 25 mph our test program uses," said IIHS Senior Research Scientist David Kidd. "The problem is that our current evaluation doesn't tell us how well specific systems perform at those speeds."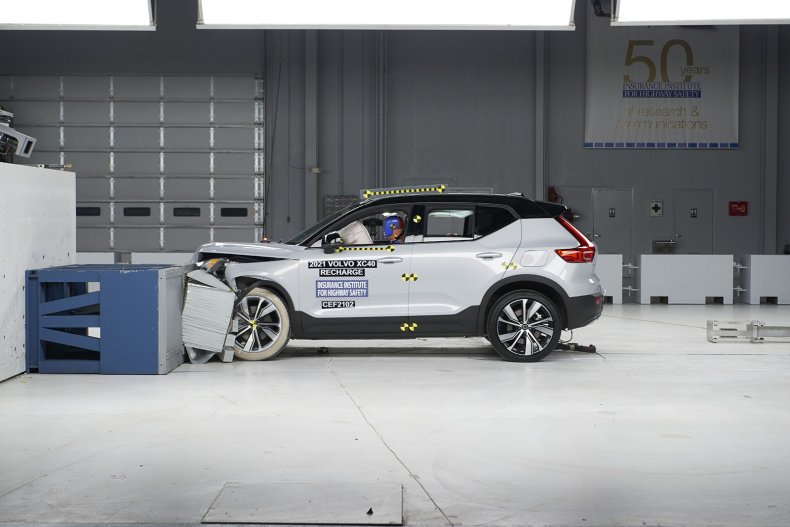 This isn't the first evolution of crash testing IIHS has gone through in recent history. Vehicle-to-vehicle front crash prevention tests were adding in 2013. In 2014 in order for vehicles to earn a Top Safety Pick+ award, IIHS's top designation, a vehicle had to achieve a Basic, Advanced or Superior rating in the test.
Since 2017, vehicles have had to earn the higher standard designation of Advanced or Superior to get the lower-tier Top Safety Pick status.
IIHS said that it has found that 85 percent of 2022 model year vehicles that have been tested by the organization so far have earned a Superior rating, speaking to structural and technological achievements in design and engineering automakers have accomplished over the last decade. The organization will drop this test rating from award criteria for next year.
The vehicle-to-pedestrian test will still be required.
Kidd's study, which used federal databases of fatal and police-reported crashes to identify fatal, injury and noninjury rear-end crashes from 2016 to 2019, is the first step in analyzing whether to replace the vehicle-to-vehicle test with another test, and, if so, what.
Current vehicle-to-vehicle testing is conducted at 12 and 25 miles per hour (mph). Kidd's analysis has found that only 3 percent of police-reported rear-end crashes happen that low speed limits, suggesting that raising the speed of the test to 35 to 45 mph would make the outcome of the test more relevant to vehicle buyers and owners. There are 10 times as many police-reported rear-end crashes at those speeds, one-third of all police-reported crashes in 2019.
Expanding the test would also allow IIHS to gauge AEB's efforts to mitigate passenger vehicle crashes with motorcycles and medium-sized and heavy-duty trucks, two circumstances with high rates of fatalities. Despite being involved in a small number of overall crashes, these models make up 40 percent of the fatalities stemming from rear-end collisions.
Previous research by IIHS has shown that wet and snow-covered roads lessen the safety effects of AEB. Additional factors that can cause the technology to be less effective include crashes that occur at speeds above 70 mph or in the process of changing lanes.
Research additionally showed that about 40 percent of accidents that cause fatalities occur when a vehicle traveling straight strikes a stopped or slower-moving vehicle, however, few happen at low speed. Because federal databases do not track crash speeds, Kidd used posted speed limit information as an indicator of the speed of the striking vehicle to draw this conclusion.
About 3 percent of all rear-end crashes and non-fatal injury crashes, and 1 percent of fatal crashes happened on roads where the speed limit was 25 mph or less, which is the scenario tested by IIHS.
Nearly 70 percent of fatal rear-end crashes happened in areas where the speed limit was 55 mph or higher. About half of common nonfatal crashes occurred on roads with speed limits in the 35 to 45 mph range.
New guidelines for automakers to achieve next year's highest ratings are expected to be released soon, pending additional research by IIHS.