iiRcade's Totally Rad, Retro-Style Home Console Plays Hundreds of Games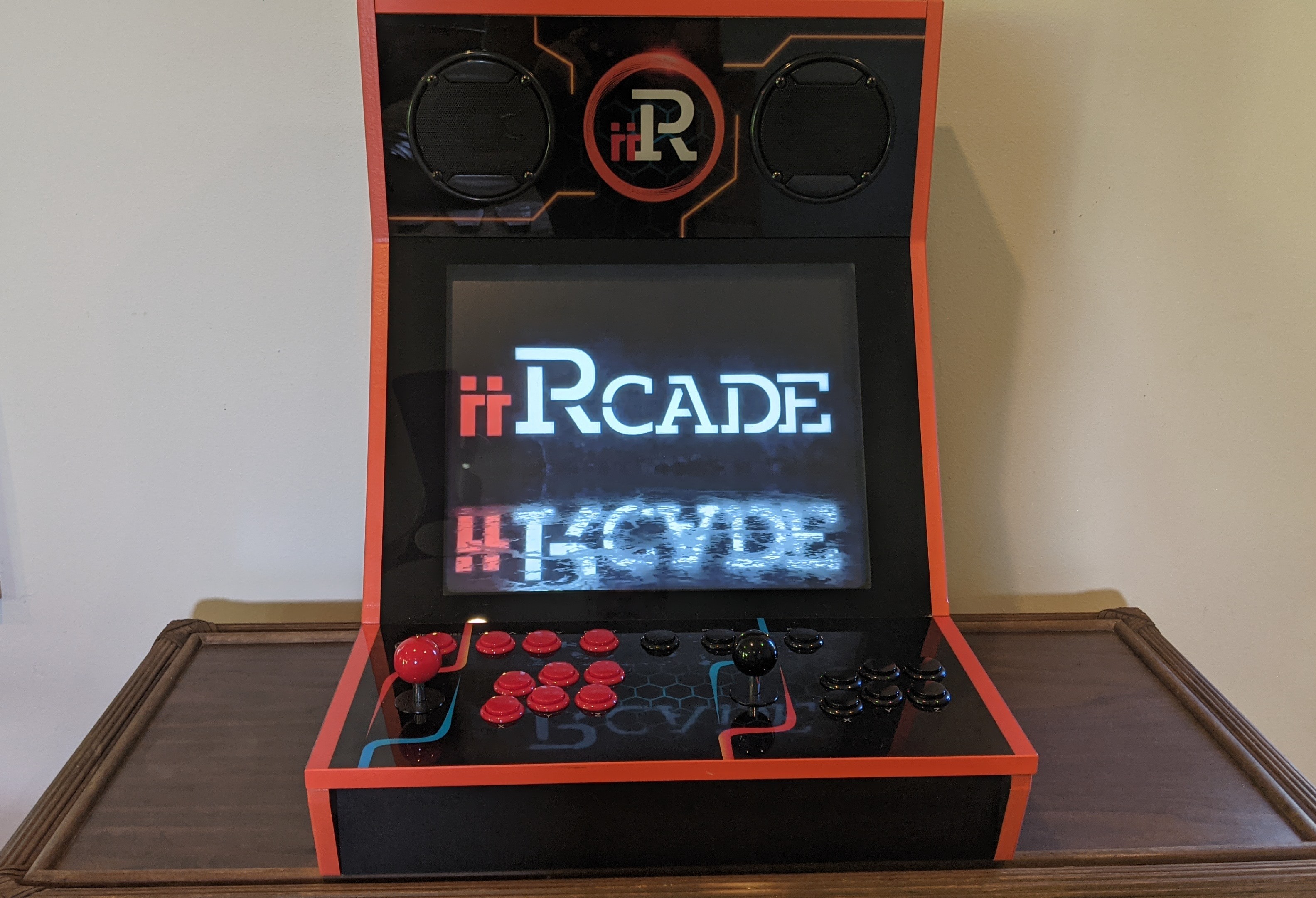 My 8-year old mercilessly punched, kicked, elbowed, kneed and threw me. And I couldn't be prouder. I wasn't pulling any punches, yet she destroyed me in the Player 1 vs. Player 2 battle during the finale of Double Dragon. Although it took me a little by surprise—that based on my years of experience with the game she bested me, rather than the degree to which she delighted in doing so—it was nevertheless a satisfying conclusion to our first day with the bar-top video game console iiRcade sent me to try out.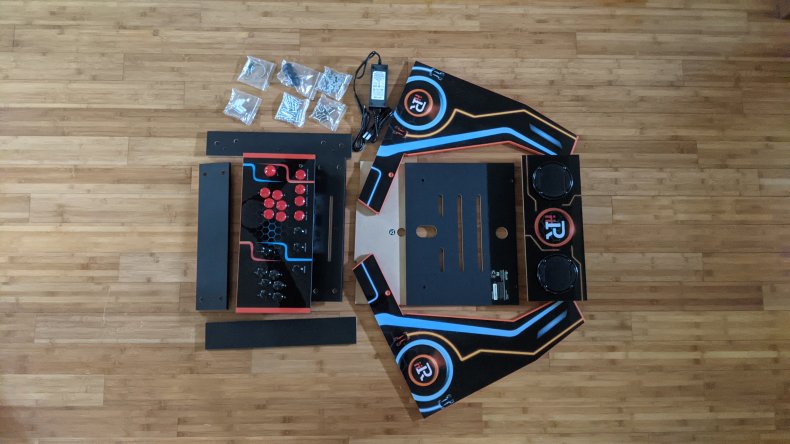 Setting It Up
My daughter had helped me put the iiRcade Classic Bartop together in less than an hour. Assembly wasn't complicated—just basic Ikea skills for adjoining the wood cabinet—since the major electronics components (controller deck, monitor, speakers) came preassembled. It was deliciously gratifying to turn the iiRcade on and see the opening graphics, knowing we'd just built a video game system with real arcade joysticks and buttons, a 19-inch high definition screen and 100-watt stereo speakers.
The other big part of getting up and running was creating an account with my email on the iiRcade website and then entering the email address I had used during the setup process on the console itself. Once connected to our Wi-Fi network, a firmware update initiated. And then we were ready to start gaming, beginning with the 11 preloaded games that came with the system.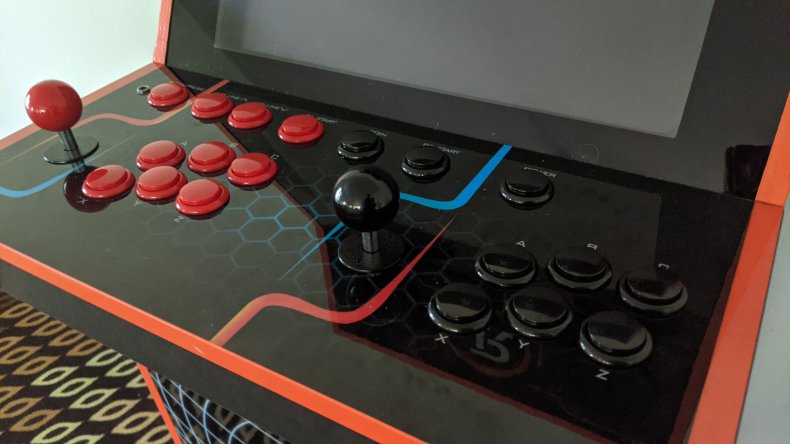 The Games
Naturally, the preloaded games represented a mix of genres. I was surprisingly drawn to Maniac Square, a top-down puzzle game, along with the aforementioned side-scroller Double Dragon. But once I'd explored the included games to my content, it was time to peruse the game store to shop for other tantalizing titles from the over 200 available. I found classics I'd played in the arcade like BurgerTime, Bump 'n' Jump, Mat Mania, Heavy Barrel and Kung-Fu Master. But I also discovered some modern games, such as Dead Cells, Oddmar and RetroMania Wrestling. For the most part, I loved being able to jump right into shooters, sports and platform games without much pretense or prestory. But every once in a while, I found something worthy of sinking some time into, like Riptide GP: Renegade, a super fun Jet Ski racing game where I've won several races and as a result upgraded my vehicle.
The game titles ranged all the way from $3 to $30, but most were around the $10 mark. To download, you purchase them online and then they automatically load onto the machine via Wi-Fi the next time you start up. Some of the smaller games (60 to 70 megabytes) were almost instantaneous, while the larger ones (upward of 10 times that size) took 3 to 4 minutes to fully download and install. It's something to keep in mind when you're anxious to play the games you just binge-bought in the store. What's cool is that once they're on the machine, they're automatically organized by genre and what's been played recently, along with an alphabetical list of everything in your library. So it's really easy to find what I want when I turn on the machine.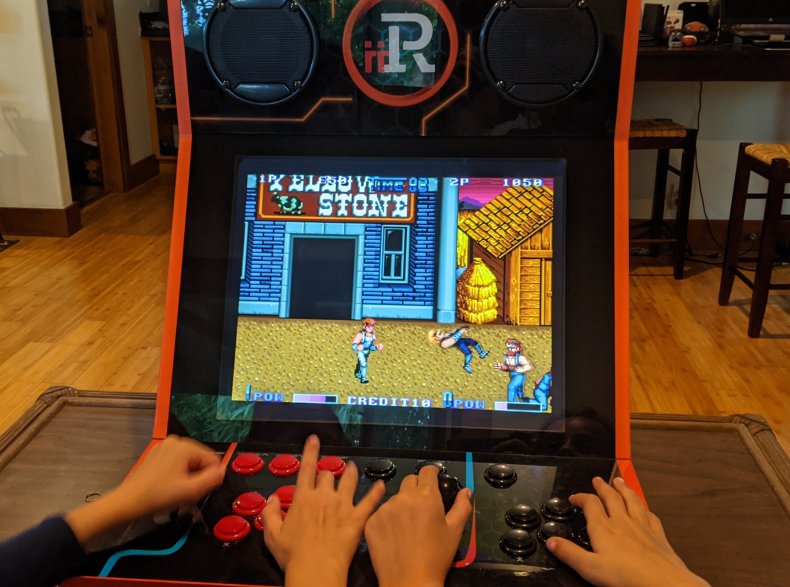 Jukebox Mode
One cool new game for this platform isn't a game at all. It's iiRcade's free, proprietary JukeBox application, which loads from their store (in the same way as games), allowing you to stream music from your phone (or other Bluetooth-enabled player) through the console's powerful speakers. The app has a few skins to try out and visualizations to stare at. Or you can choose a blank screen and just crank out your tunes in the background. When you do, be sure to find the equalizer settings you like, choosing from several popular EQ presets or customizing your own.
Just to be clear, JukeBox itself is not an audio source. In other words, you need to supply the tunes from your phone (or other device), and the app just acts as an interface when playing them. As opposed to game audio, you can't listen to music played through JukeBox on wireless earphones (which makes sense, since you don't need the game console to do that). But you can listen to either music or game audio on wired headphones by plugging them right into the auxiliary jack on the controller deck.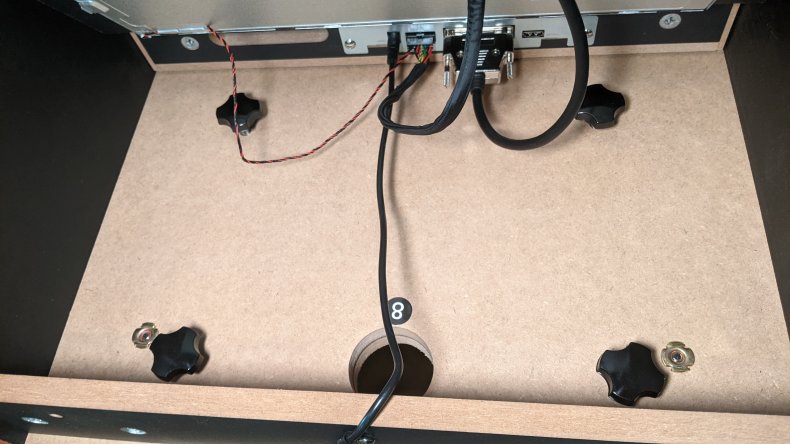 Taking the Stand
The bar-top setup is cool for how versatile it is. At roughly 40 pounds, it's still portable—at least around the house, moving it from a coffee table to the floor to a countertop, etc. But adding the matching stand to create a full-size cabinet not only literally takes it to a whole new level but amazingly fulfills a subconscious lifelong dream of mine to own an actual arcade machine in my home.
Especially after putting together the console, assembling the stand was a cinch. In fact, I barely even glanced at the instructions. The part I wanted to make sure I got right is in amalgamating the two units. One key factor is that the bar-top console's four 2-inch-wide rubber feet go through holes in the top of the stand, so it can't slide around. And then (as pictured above, after unscrewing the back panel of the console), I hand-twisted the supplied black-topped screws to securely fasten the units together. With medium-density fiberboards (MDF) throughout, the whole thing looks and feels solid, but as a precaution iiRcade includes a wall anchor to help prevent this tower of joy from tipping over.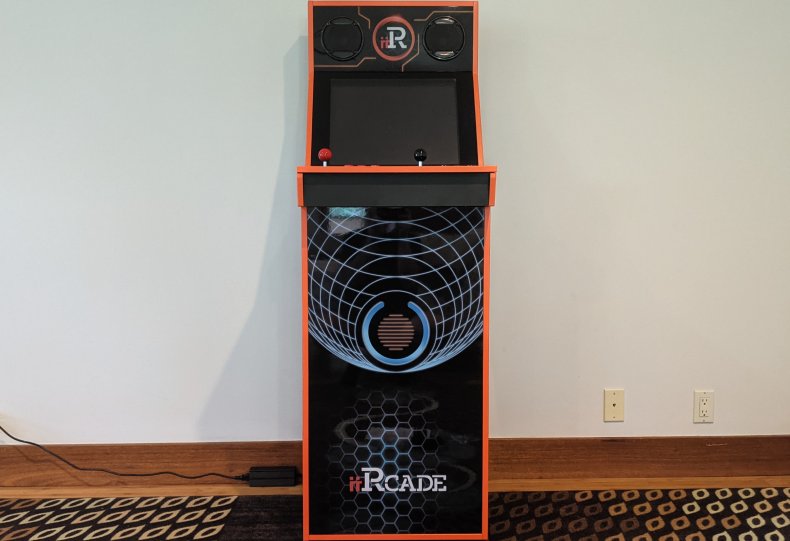 Should You Buy the iiRcade Bartop?
If you're so into retro video games that you noticed that the above graphic is actually from Double Dragon II and not the original, this game system is for you. Naturally, if you don't have the space, going with just the bar-top unit makes sense. But in my opinion, the extra hundred bucks is totally worth it for how much pleasure it offers not just in entertainment value, but in creating a piece of decor, as well. And while I went with the generic graphics, iiRcade offers full cabinet bundles with game-specific graphics for several titles. The ones around $700 have 64GB of storage, versus $800 for the 128GB systems. So depending on how many hundreds of games you plan to load into your library, that's another important factor to consider in your long-term video gaming investment plan. Either way, this arcade machine is pure gaming bliss.
Buy at GameStop or iiRcade for $599.99.
Newsweek may earn a commission from links on this page, but we only recommend products we back. We participate in various affiliate marketing programs, which means we may get paid commissions on editorially chosen products purchased through our links to retailer sites.