Ivan Fedotov Photo Appears to Show Flyers Player in Russian Military
New photos of Russian goalkeeper Ivan Fedotov appear to show the reportedly missing Philadelphia Flyers player in the Russian military in the northern part of the country.
Fedotov, 25, was ordered to be detained in St. Petersburg on Friday at the request of the military prosecutor's office on suspicion of evading military service, according to the city's Fontanka.ru news website.
A year of military service is required under Russian law for men aged between 18 and 27. Failure to comply can result in up to two years imprisonment and a fine of up to 200,000 roubles ($3,635).
He was reportedly hospitalized after falling ill, and Fedotov's lawyer, Alexei Ponomarev, said that his whereabouts were unknown and that he was uncontactable. He also said he had heard his client had been sent to Severomorsk in the Kola Peninsula at night.
Russia's state-run TASS news agency similarly quoted an unnamed security source as saying that he had been sent to Severomorsk in the Murmansk region for military service. Severomorsk is the administrative base of the Russian Navy's Northern Fleet.
New photos however appear to show Fedotov in Severodvinsk, in Russia's Arkhangelsk region, where the 907th training center of the commander-in-chief of the Russian Navy is located, local news outlets reported.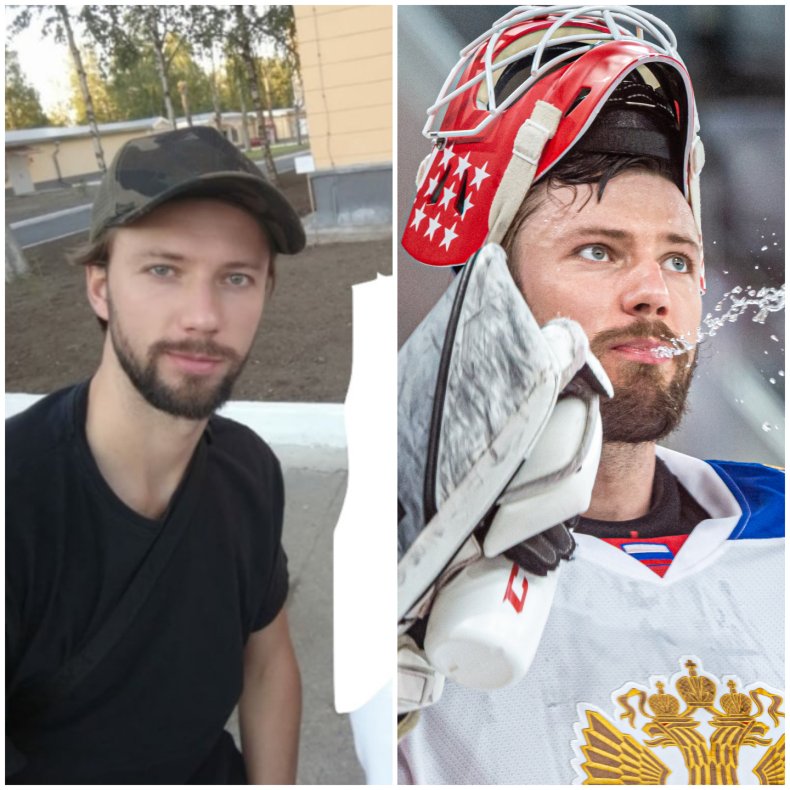 Alexei Shevchenko, who works for Russian news outlet Sports Express, said on his Telegram channel that he was was sent a photo of Fedotov in navy training in Severodvinsk, located some 710 miles from Severomorsk, and in a different region.
The photo shows Fedotov wearing a black t-shirt and a camouflage cap next to another person whose face has been blurred out.
"I don't know how these photos got to me, just in case, I covered the person's face," wrote Shevchenko.
Sports Express separately published another photograph of Fedotov, this time without a cap, and wearing a black and white striped vest. The outlet blurred out the individual standing beside the Philadelphia Flyers player.
"There are photos of Ivan Fedotov from the military unit in Severodvinsk," the news outlet wrote on the social media platform. "Recall that the hockey player was detained in St. Petersburg for evading military service.
Newsweek has been unable to verify the authenticity of the photos.
Fontanka reported that Fedotov will stay in Severodvinsk until September, and that he has been awarded the rank of "private." According to the news outlet, the military unit trains sailors for five months, and trainees are then sent to serve on Russian warships.
Fedotov said in April that he would leave Moscow's CSKA hockey club and would be joining the Philadelphia Flyers. He told the team's coaches and management that he would no longer play for the team and that he also planned to leave Russia, according to Fontanka.
Ponomarev has denied that Fedotov evaded military service.
Newsweek has contacted the NHL and the Philadelphia Flyers for comment.