IKEA Sees Russians Pick Shelves Clean, Crash Website as Stores Shuttered
IKEA saw its Russian website overwhelmed as shoppers raced to buy products from the home retail giant in the midst of its exit from the country.
The Swedish retailer on Tuesday saw its final day of business in Russia after earlier announcing plans to close up shop in response to the country's ongoing invasion of Ukraine. IKEA is the latest Western company to sever ties with Russia after a wave of businesses earlier fled the country over pressure to renounce Moscow.
IKEA said on its Russian website that beginning July 5 its products could be purchased online "for a few weeks while stocks last." The retailer announced in March that it was temporarily closing its stores in Russia after the country had come under heavy international criticism for its military action against Ukraine.
The impending closure of IKEA's online retail presence in Russia and its liquidation sale spurred a rush on its website, causing it to crash on Tuesday, reports The Moscow Times. The website's problems began after midnight in larger cities—such as Moscow, Kazan, St. Petersburg and Novosibirsk—and continued throughout the afternoon.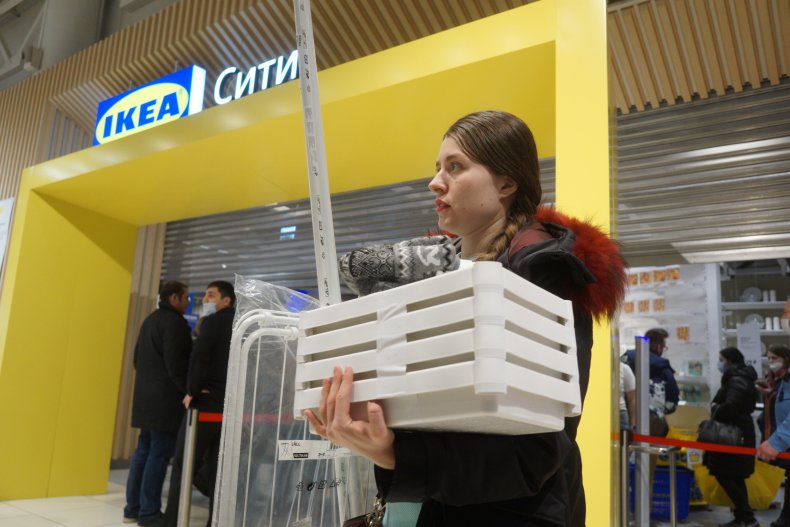 "For technical reasons, making a purchase on the website and through the IKEA Customer Support Center is temporarily unavailable," the company said on its Russian website. "We are working on a solution to the problem."
As IKEA prepared to close, the Baza Telegram channel last week posted a video of employees rapidly filing into a store in Khimki for a staff-only sale that included a 15 percent discount.
Since invading Ukraine in February, Russia has seen an exodus of Western companies, including Apple, Spotify, Disney and H&M Group. McDonald's and Starbucks announced in May that their brands would also cease operations in the country.
Currently, over 1,200 companies have curtailed their business dealings in Russia, according to researchers at the Yale School of Management.
"Having a long history in Russia, with great colleagues and a dream to furnish the many Russians' homes, this has been a difficult decision for us," Ingka Group, IKEA's parent company, told Newsweek in an email. "We remain hopeful that one day in the future, we will be able to bring back IKEA to the many people in Russia. However, today the preconditions are not in place."
After temporarily closing its stores in Russia in March, IKEA pledged more than $30 million to humanitarian efforts in Ukraine. The company said in a statement last month it was closing completely in Russia and allied country Belarus, promising six months' salary for workers on top of core benefits.
"Unfortunately the circumstances have not improved and the devastating war continues," the statement said. "Businesses and supply chains across the world have been heavily impacted and we do not see that it is possible to resume operations any time soon."
With 15,000 staff members, IKEA was one of the largest Western employers in Russia, according to The Moscow Times.
Update 07/06/22, 4:30 p.m. ET: This article was updated with additional information and background.