Ikea and Sonos Put Sound on the Wall With the Symfonisk Picture Frame With Wi-Fi Speaker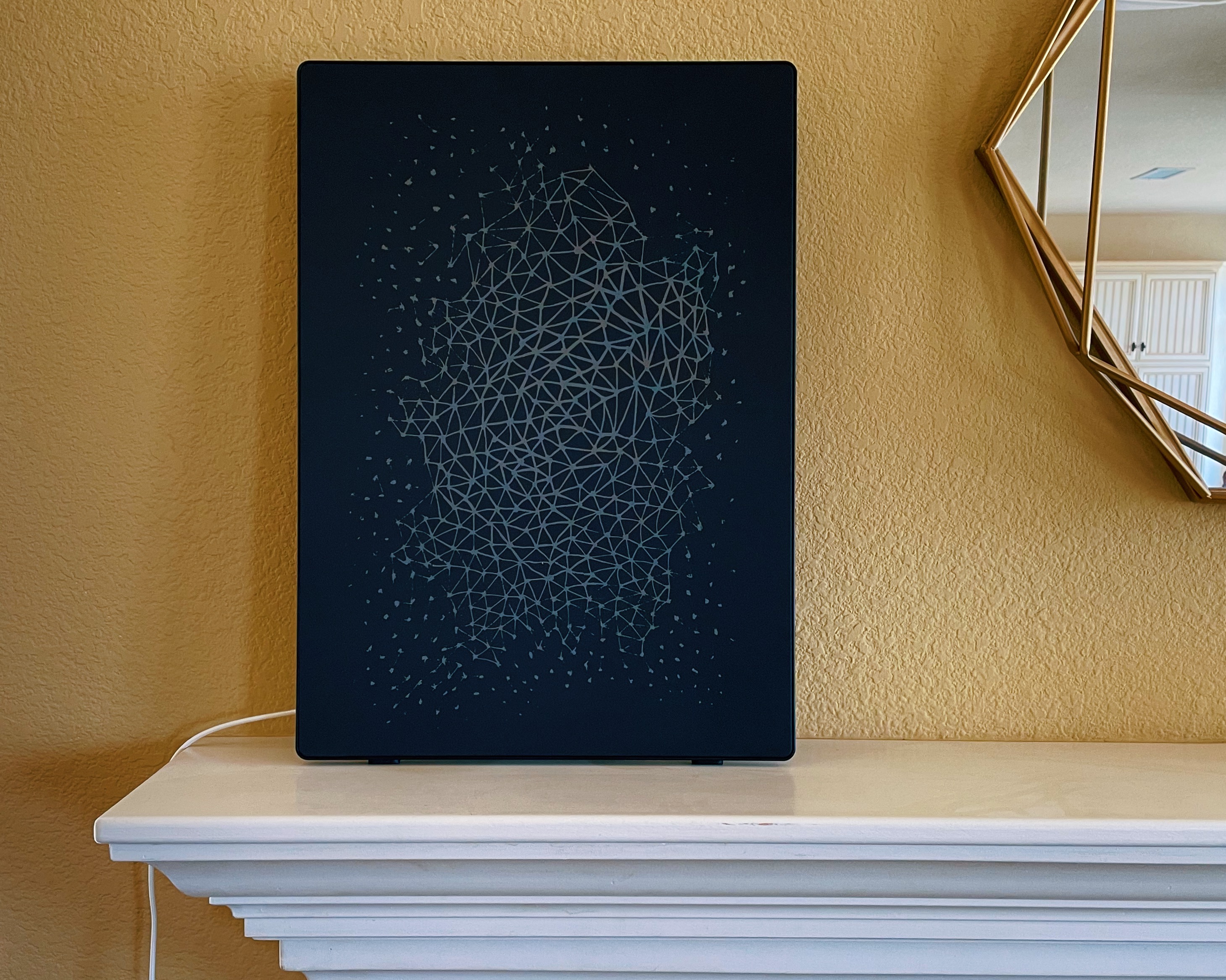 This speaker is an art piece that can hang on the wall. Or, is it an image in a frame that can play music? Ikea and Sonos have already blurred the lines between home goods and speakers with a lamp and bookshelf, and here the latest combination item is the Symfonisk Picture Frame with Wi-Fi speaker. There's a continuing theme that this picture frame fits into: fitting speakers in otherwise unaccommodating places. It's not about the gimmick or reveal here. There's a cord attached to the frame, so you probably won't ever need to proclaim, "Gottcha, the sound is coming from the wall frame" to your guests.
Instead, this speaker is about being able to place music (or sound) where you couldn't otherwise: a kid's room, above a small end table or entryway. The idea is reasonable, but how is the execution? Is it as clever as it appears?
Hang a Speaker on the Wall
The Symfonisk Picture Frame can hang on the wall in portrait or landscape position. It comes with a wall hook that screws into the wall, and the back of the plastic frame can accommodate either orientation. There are slots on the back to route the power cord in either direction, as well.
Even though it is largely advertised to hang on the wall, it can also be used standing up, propped up against a wall. It comes with two rubber feet that can also be attached in either orientation.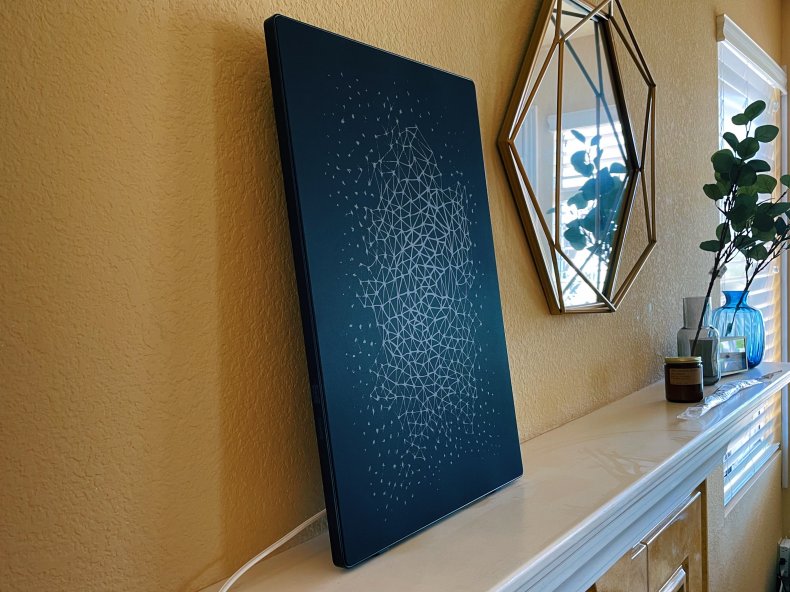 Initially it might seem like music would be muted behind a canvas-looking print, but it's not. The front is a mesh skin akin to a traditional speaker grill. No muting or distortion happens. The prints are removable and slide into the outer frame along with specially placed holes. The default print comes in white or black and at launch, there are two other pieces of art that can be bought for $20 each. If sound is subjective then visual art is likely to be as equally controversial. And, as such, I wasn't blown away by the three art selections. There's the consideration of each art piece needing to work vertically or horizontally that may make Ikea's job harder in making prints available for the picture frame in the future.
But, if there are multiple designs you do like, then switching them out from time to time makes it an even more versatile frame.
The Sound of Wall Art
Even if the art isn't to your taste, it only represents half of this product. The audio quality is the second part. To be blunt, it sounds respectable, but not amazing. It is equivalent to the Ikea Symfonisk bookshelf speaker in tone and dynamics. Because of this, it's not the best value. To save money, it would probably make sense to pair two of the bookshelf speakers instead of two of these picture frames. Of course, if you're more interested in the utility of the low-profile, art-covered speaker, then the novelty is part of the additional cost.
While music, as a whole, sounds respectable on the picture frame speaker, the low-end bass is its weakest link. Especially at lower volumes, the speaker sounds lacking. This could vary among genres and a wide range of songs, but I found that kick drums, bass guitars, keys and other instruments in dancing through the lower registers didn't pop as they did on other speakers—even other lower-priced Sonos speakers.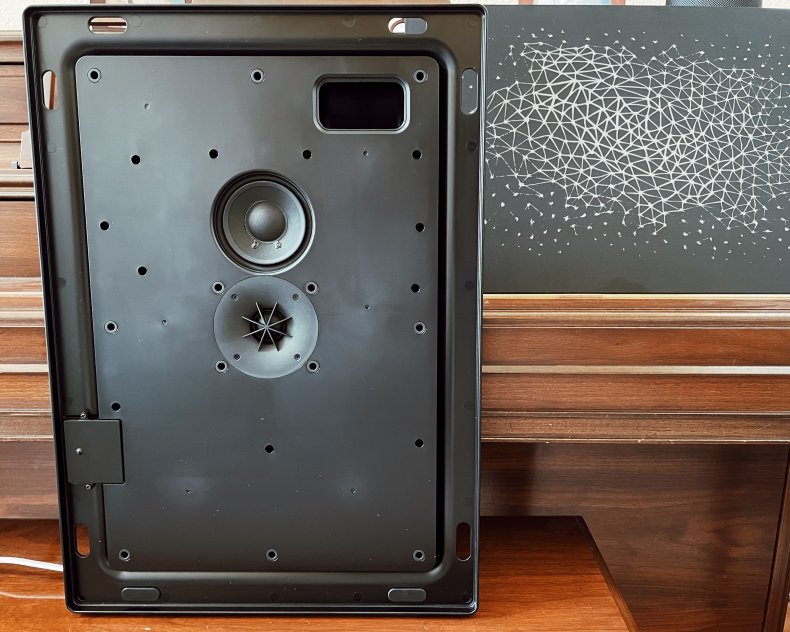 This is not to say the sound is bad—it's not. The sound is respectable, especially above a 50 percent volume level, but it's less lively and vibrant than I would have expected for $200. It's hard to tell if the form is the main culprit affecting the bass. I suspect it is at least partially due to its thickness. At 2 inches thick, it's incredibly thin for a speaker. But, at 2 inches, it's also quite deep for a wall frame. When you take off the art screen, you can see that most of it is plastic. There are two small drivers and a decent size hole to push air through. It tries to use the vertical space to its advantage. It's clever and succeeds in being able to produce a loud, undistorted volume with minimal space, but the bass and low end are soft and don't punch as you might hope.
Symfonisk Picture Frame Features
What is present is the combination of utility and functionality. The speaker has AirPlay 2 for direct wireless access from Apple products. It also features Spotify Connect, so the frame will show up directly in Spotify's app as a destination to send music or podcasts to.
Despite the Ikea branding, the Symfonisk Picture Frame is a native speaker inside the Sonos app. This gives it access to the tens of streaming services available there, some of which are free and others requiring subscriptions.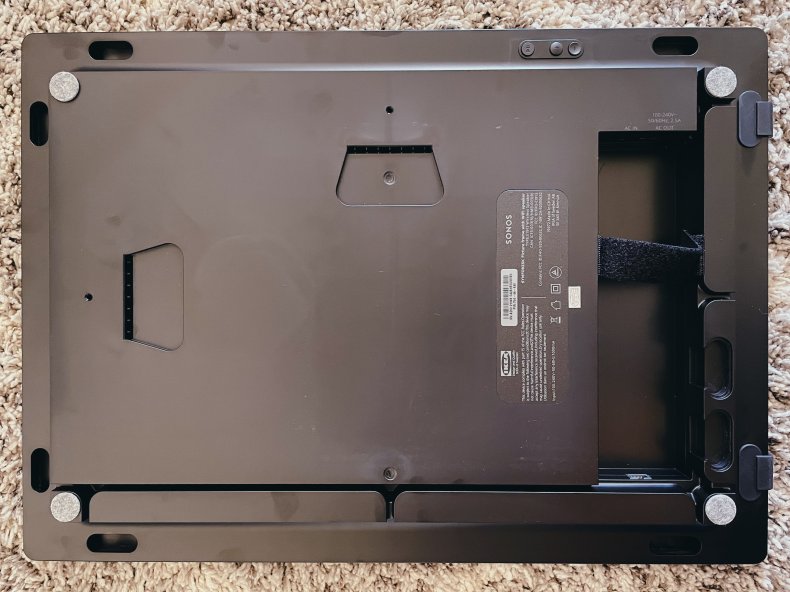 This picture frame can be used as part of a wireless surround sound home theater setup. Two speakers can be linked together and only need to be plugged into a wall outlet for power. I only had one review unit, so I was unable to test this directly. But I have used other Sonos speakers in a wireless home theater setup, and they work as advertised.
Should You Buy a Symfonisk Picture Frame?
People who want this speaker for its design and ability to place it in unique spots around the home will likely be delighted. It has a simple-to-use mounting system to make the process easy. On the other hand, anyone looking at this speaker for its sound alone will probably come away disappointed. It just doesn't have the fullness or richness, especially around the low-end frequencies, to make it better than other speakers around the same price point.
For people who want a pair of these solely for rear surround-sound speakers, as part of their Sonos setup, there's hope that they can do a good enough job. A 5.1 home theater system doesn't require the highest-end rear speakers to be effective. This scenario is also where the wall-hugging form factor might be a determining feature.
Buy at Ikea.
Newsweek may earn a commission from links on this page, but we only recommend products we back. We participate in various affiliate marketing programs, which means we may get paid commissions on editorially chosen products purchased through our links to retailer sites.