In her first appearance on Sunday morning news shows, Minnesota Rep. Ilhan Omar was questioned about a recent display related to remarks she made in the past about the 9/11 terrorist attacks.
Appearing on CBS' Face The Nation, host Margaret Brennan asked the freshman Democrat to respond to comments made by Nicholas Haros Jr. earlier this week during a remembrance ceremony at Ground Zero in New York City. Haros Jr., the son of a 9/11 victim, wore a shirt that read "some people did something," during the ceremony marking the 18th anniversary of the terrorist attacks which killed 2,977 people.
Haros Jr.'s shirt was a reference to comments Omar made during a speech to the Council on American-Islamic Relations (CAIR) in March.
"Far too long we have lived with the discomfort of being a second-class citizen, and frankly, I'm tired of it, and every single Muslim in this country should be tired of it...CAIR was founded after 9/11 because they recognized that some people did something and that all of us were starting to lose access to our civil liberties," Omar said during her speech. Her remarks were uploaded in its entirety to YouTube in April and caused controversy, including when President Donald Trump retweeted a video juxtaposing Omar's phrase "some people did something" with images of the attacks.
"'Some people did something,' said a freshman congresswoman from Minnesota. To support and justify the creation of CAIR. Today I am here to respond to you exactly who did what to whom. Madam, objectively speaking, we know who and what was done. There is no uncertainty about that. Why your confusion?," Haros Jr. asked after reading the name of his mother, Francis Haros, as part of the ceremony. "On that day, 19 Islamic terrorists, members of Al Qaeda killed over 3,000 people and caused billions in dollars of economic damage. Is that clear?"
"But as to whom? I was attacked, your relatives and friends were attacked. Our constitutional freedoms were attacked," Haros Jr. continued. "And our nation's founding on Judeo-Christian principles were attacked. That's what some people did. Got that now? We are here today, congresswoman, to tell you and The Squad just who did what to whom. Show respect in honoring them, please. American patriotism -- in your position demand it."
The Squad, of which Omar is a part, includes fellow freshman congresswoman Ayanna Pressley of Massachusetts, Alexandria Ocasio-Cortez of New York and Rashida Tlaib of Michigan.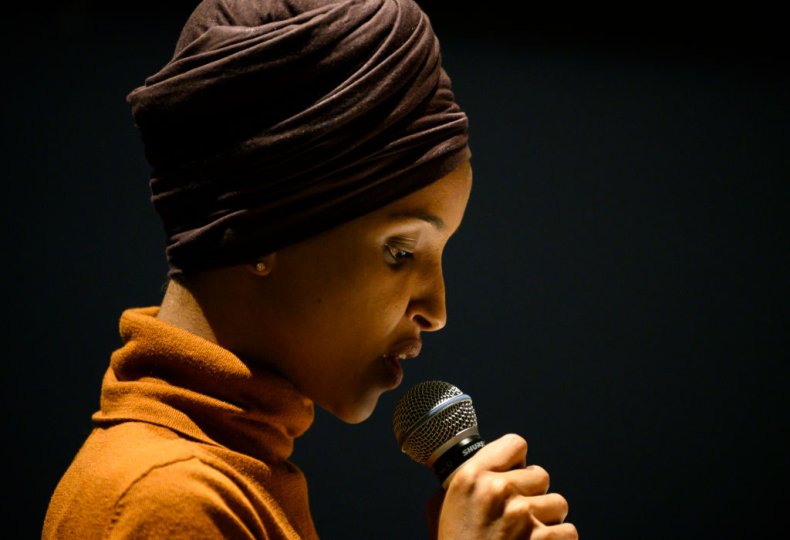 On Sunday, Brennan asked Omar if she understood why some people found her comments offensive.
"So, 9/11 was an attack on all Americans. It was an attack on all of us. And I could certainly not understand the weight of the pain that the victims of the families of 9/11 must feel. But I think it is really important for us to make sure that we are not forgetting the aftermath of what happened after 9/11," Omar replied.
The Minnesota congresswoman went on to say that many Americans "found themselves now having their civil rights stripped from them" following 9/11.
"So what I was speaking to was, as a Muslim, not only was I suffering as an American who was attacked on that day, but the next day I woke up as my fellow Americans were now treating me as suspect," she said.
Omar also spoke to Brennan on the new asylum policy being enacted by the Trump administration following a Supreme Court ruling, which she called "legally and morally wrong," as well as the potential to impeach Trump from office.
Omar, who supports impeaching the president, said it was not a matter of "if we're going to impeach" but "when we're going to impeach."