Ilhan Omar Accuses Fellow Democrats of Joining GOP in Using Islamophobic Hate Against Her
Representative Ilhan Omar is firing back at Democratic colleagues who condemned her recent comments comparing the U.S. to Hamas militants, accusing them of joining Republicans in using Islamophobic hate against her.
"As usual, the far right is ginning up hate against Rep. Omar for a technical question about an ongoing investigation. This has already led to an increase in death threats against her and our staff," Jeremy Slevin, a spokesperson for Omar's office, said in a Thursday statement.
"And now some of her own Democratic colleagues are ginning up the same Islamophobic hate against her, accusing her of giving 'cover to terrorist groups' simply for exercising oversight over a criminal investigation," he added.
Slevin also defended Omar's previous remarks, saying it is the congresswoman's job to "ask questions of the Administration and work to make sure the public understands our government shouldn't deny any person from seeking justice."
At a committee hearing on Monday, Omar asked Secretary of State Antony Blinken about justice mechanisms for victims of war outside the International Criminal Court.
"We must have the same level of accountability and justice for all victims of crimes against humanity," Omar tweeted with a clip of the hearing. "We have seen unthinkable atrocities committed by the U.S., Hamas, Israel, Afghanistan, and the Taliban."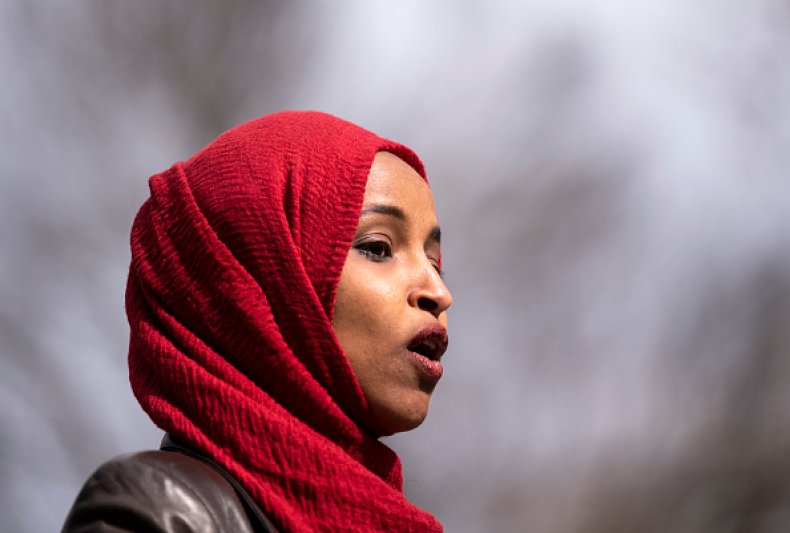 Omar's tweet drew criticisms from her own party for her characterization of the U.S. and Israel, and for comparing the countries to Hamas and the Taliban.
On Wednesday, a group of 12 Jewish House Democrats condemned Omar's comments, calling them "offensive" and "misguided."
"The United States and Israel are imperfect and, like all democracies, at times deserving of critique, but false equivalencies give cover to terrorist groups," a group led by Representative Brad Schneider stated. "We urge Congresswoman Omar to clarify her words placing the US and Israel in the same category as Hamas and the Taliban."
The congresswoman responded in a late-night tweet calling it "shameful" that her colleagues, who had previously called her for support, put out the statement without trying to contact her personally.
"The islamophobic tropes in this statement are offensive. The constant harassment & silencing from the signers of this letter is unbearable," Omar wrote.
Slevin said Omar tried to reach out to the letter organizers several times before it was issued in order to provide clarification on her statements, but her calls were not returned.
Representative Rashida Tlaib defended Omar on Thursday, tweeting, "I am tired of colleagues (both D+R) demonizing @IlhanMN. Their obsession with policing her is sick. She has the courage to call out human rights abuses no matter who is responsible. That's better than colleagues who look away if it serves their politics."
Thursday's remarks are the latest development in the Democrats' intra-party fighting as the party tries to pull together a united front to try and move forward on legislation with a thin majority. With Republicans promising to "100 percent" obstruct President Joe Biden's agenda, congressional bills are relying on the vote of every Democrat in order to make it into law.