Ilhan Omar Accuses Liz Cheney of Islamophobia: 'You Never Met a Muslim You Didn't Want to Vilify'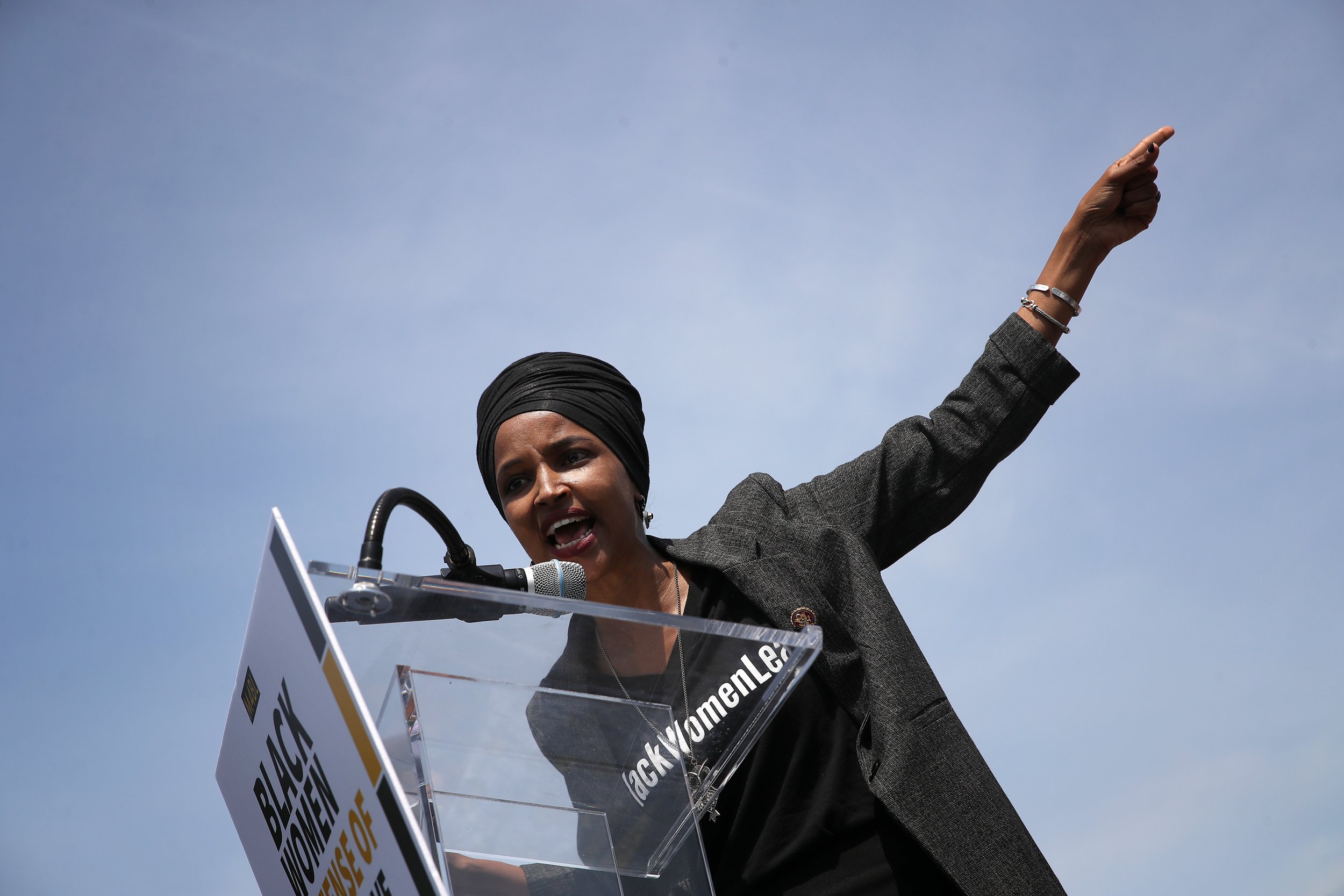 Rep. Ilhan Omar (D-Minn.) on Monday accused Rep. Liz Cheney (R-Wyo.) of "deep seated hate and Islamophobia" after the latter condemned Rep. Rashida Tlaib's (D-MI) comments related to Israel and the Holocaust.
Cheney took to Twitter earlier Monday to slam Tlaib, one of the first Muslim woman elected to Congress, for making allegedly false remarks critical of Israel.
"Here's @RepRashida direct quote, 'There's a calming feeling I always tell folks when I think of the Holocaust.' And her 'history' of what happened after is a fantasy based on lies spread to delegitimize the state of Israel," Cheney tweeted on Monday morning.
"Give it up, we all know you never met a Muslim you didn't want to vilify!," Omar responded later in the day. "Your deep seeded hate and Islamophobia might be a tool to rally your base, but won't get rid your colleagues. You just have to deal."
Newsweek reached out to Cheney's team for comment but had not received a response by publication.
Cheney and the GOP's criticism of Tlaib come after she discussed the Israeli-Palestinian conflict during an appearance on Yahoo's Skullduggery podcast over the weekend. "There's a kind of a calming feeling, I always tell folks, when I think of the Holocaust and the tragedy of the Holocaust, and the fact that it was my ancestors — Palestinians — who lost their land and some lost their lives, their livelihood, their human dignity, their existence, in many ways, had been wiped out," she said in the recorded interview on Saturday.
"I mean, just all of it was in the name of trying to create a safe haven for Jews, post-the Holocaust, post-the tragedy and the horrific persecution of Jews across the world at that time," she continued before noting that she loves "the fact that it was my ancestors that provided that [safe haven], in many ways."
Several Republicans condemned Tlaib's statement with criticisms ranging from insensitive to anti-Semitic. Cheney on Sunday called on Speaker of the House Nancy Pelosi to "finally take action against Representative Tlaib and other members of the Democratic caucus who are spreading vile anti-Semitism."
Later that evening, Tlaib hit back at her critics for allegedly lying about her to "incite hate" and failing to properly representing what she said at the event.
"Once again, Republican leaders and right-wing extremists are spreading outright lies to incite hate," Denzel McCampbell, communications director for Tlaib's office, said in a statement. "Congresswoman Liz Cheney should be ashamed of herself for using the tragedy of the Holocaust in a transparent attempt to score political points. Her behavior cheapens our public discourse and is an insult to the Jewish community and the millions of Americans who stand opposed to the hatred being spread by Donald Trump's Republican party."