Ilhan Omar's Alleged Anti-Semitic Tweet Eclipsed by Donald Trump's and Steve King's Past Rhetoric, Say Democratic Leaders
Amid a backlash and calls for her to be removed from her seat on the House foreign affairs committee over an alleged anti-Semitic tweet, Democratic leaders expressed satisfaction Wednesday with Representative Ilhan Omar's apology. And they've declined to take further action, saying that previous comments by Republicans and the president amounted to far worse.
The House leadership was swift this week to demand Omar's apology for a Sunday evening tweet, in which the Muslim congresswoman suggested U.S. support for Israel came from pro-Israel lobbying groups buying the support of Congress. She and Rashida Tlaib, the first twoMuslim women in Congress, have been outspoken supporters of the Boycott, Divestment, Sanctions movement against Israel.
Omar's comment, "It's all about the Benjamins baby," was viewed as a reference to an anti-Semitic stereotype and condemned by members of both parties. She apologized, saying her "intention is never to offend my constituents or Jewish Americans as a whole."
But Republicans, including President Donald Trump, aren't satisfied. They have suggested Omar should be removed from her spot on the foreign affairs committee, if not resigning from Congress entirely. The Democratic leadership is content with her apology, however, and believes her comments don't rise to the same level of racism and anti-Semitism as comments from Iowa GOP Representative Steve King and the president himself.
"Congressman King, for years, has been using language and taking actions which belie the values of our country and reflect adversely on his party and on the Congress, and that's why I think his party finally, after years and years, decided to take action," House Majority Leader Steny Hoyer told reporters Wednesday.
"Very frankly, there is another member of their party that on a regular basis uses similar language and similar denigration of people—nationalities, race, disability—and that's the president of the United States," he added.
King, no stranger to controversy, was stripped by House GOP leaders of his committee seats last month after questioning when racist terms became offensive. "White nationalist, white supremacist, Western civilization—how did that language become offensive?" King said to The New York Times. "Why did I sit in classes teaching me about the merits of our history and our civilization?"
Hoyer said Omar's apology was appropriate, but "the real test are actions going forward."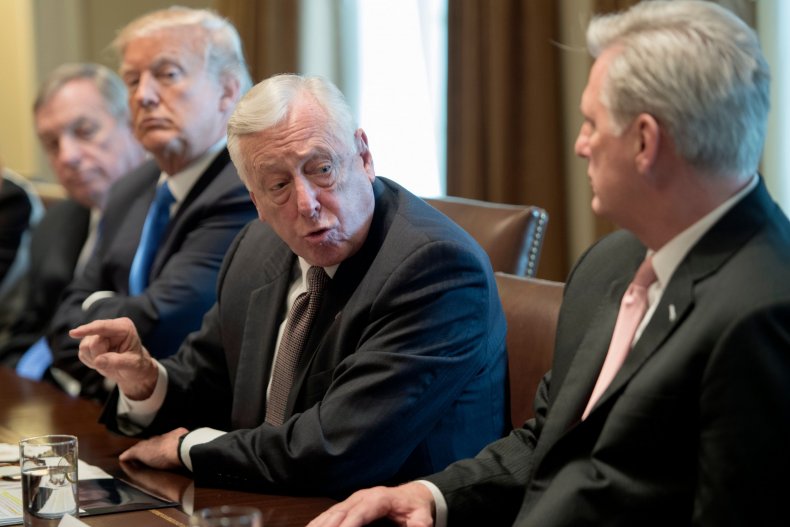 "If that doesn't pan out, there may be further actions that we'll need to take," Hoyer said, indicating that further repercussions could involve committee assignments.
Omar fired back at the president on Twitter Wednesday, saying, "You have trafficked in hate your whole life—against Jews, Muslims, indigenous [peoples], immigrants, black people and more. I learned from people impacted by my words. When will you?"
Omar declined to answer Newsweek's questions on Capitol Hill.
In addition to mentioning King and the president, the Democratic leadership said it's awaiting an apology from House Minority Leader Kevin McCarthy for a tweet last year saying "we cannot allow" three Jewish men—George Soros, Tom Steyer and Michael Bloomberg—to "BUY this election! Get out and vote Republican November 6th. #MAGA."
House Democratic Caucus Vice Chair Katherine Clark said McCarthy, who this week threatened to take "action" against Omar if Democratic leadership failed to do so, should also apologize.
"I hope that this conversation is not limited to the Democratic Congress," Clark said. "We are still waiting for the apology from Kevin McCarthy for his tweets that were the same anti-Semitic tropes that we saw from Congresswoman Omar."
McCarthy's office did not immediately respond to Newsweek's request for comment.
This story has been updated to include that Omar declined to answer questions posed by Newsweek on Capitol Hill.