'This Is Not Going to Be the Country of White People': Ilhan Omar Blames Trump, GOP 'Goons' for Rise in Islamophobia, Anti-Semitism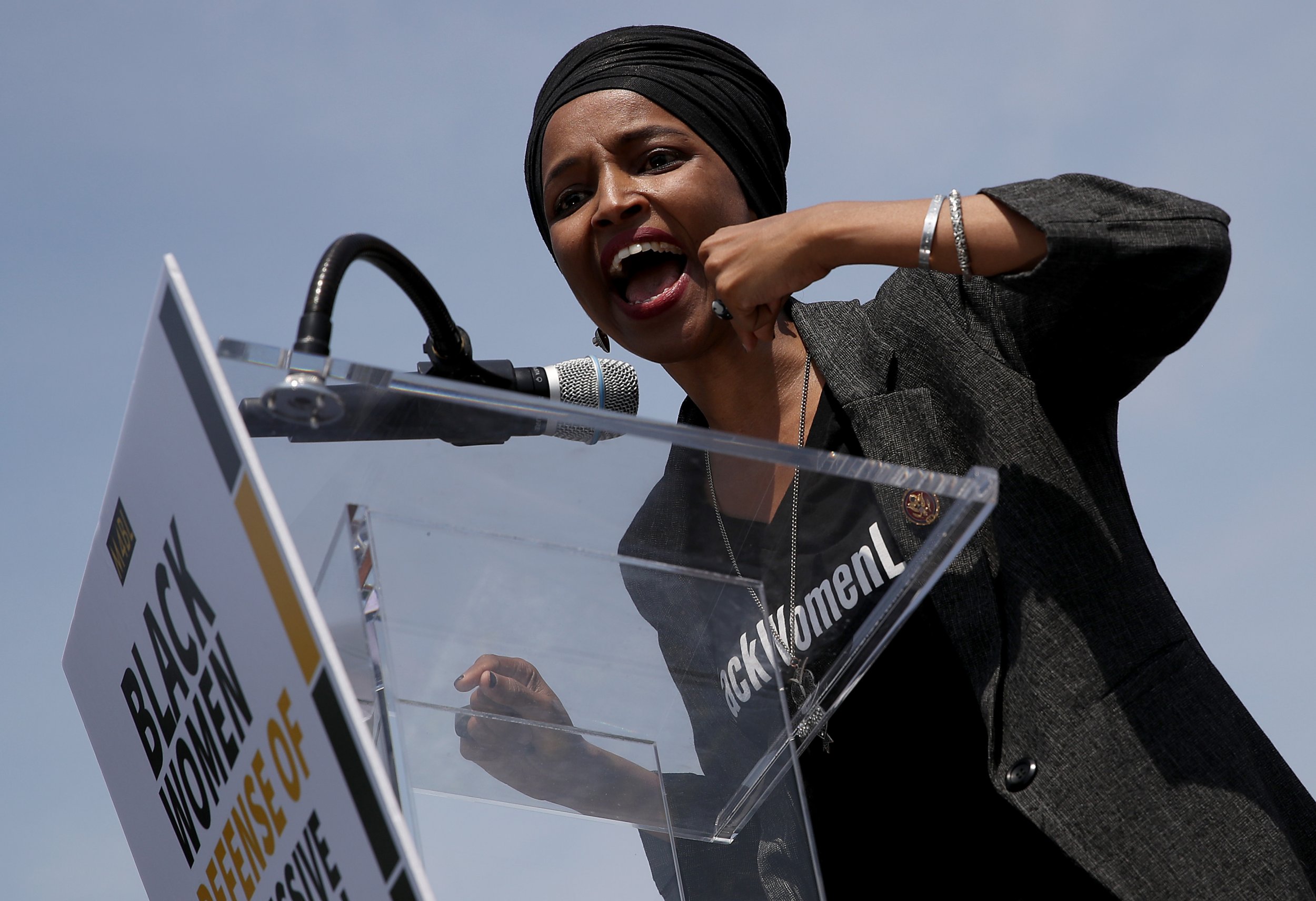 Rep. Ilhan Omar has described Islamophobia and anti-Semitism as "two sides of the same coin of bigotry," adding that President Donald Trump and his allies are to blame for a political climate that had allowed both to prosper.
At an event organized by Black Lives Matte, the Minnesota Democrat took aim at Trump's attacks on her.
She says she had received an increase in death threats since video emerged in which she spoke of a rise in Islamophobia following the 9/11 attacks in New York. Trump tweeted a video of her words next to images of the terrorist attack.
Omar also drew on the outpouring of emotion after the attack on the Chabad of Poway synagogue in a San Diego suburb.
"The occupant of the White House...and his allies are doing everything that they can to distance themselves and misinform the public from the monsters that they created that is terrorizing the Jewish community and the Muslim community," she said, NBC News reported.
"Because when we talk about anti-Semitism, we must also talk about Islamophobia. It is two sides of the same coin of bigotry."
"This is not going to be the country of the xenophobics. This is not going to be the country of white people. This is not going to be the country of the few. This is going to be the country of the many."
Prominent activist Angela Davis and Massachusetts Rep. Ayanna Pressley organized Tuesday's event, which was billed "Black Women in defense of Ilhan Omar," The Hill reported. Also attending was fellow Muslim Rep. Rashida Tlaib.
There had been speculation that the event would be a chance to push Democratic leaders Speaker Nancy Pelosi and Senate Minority Leader Chuck Schumer to censure Trump for inciting violence, although in the end there was no clear call for that.
Omar told the 100-strong crowd that her race and religion were why she was subjected to criticism.
"The thing that upsets the occupant in the White House, his goons in the Republican Party, many of our colleagues in the Democratic Party is that they can't stand... that a refugee, a black woman, an immigrant, a Muslim shows up in Congress thinking she's equal to them," Omar said.
Davis, meanwhile, said she backed Omar "because she is an immigrant, because she is Muslim, because she is a courageous, bold black woman."
"We say that we stand with her, we support her, and we will not give up," she told Democracy Now.