Ilhan Omar Confident Pelosi Will Take Action Against Boebert for 'Anti-Muslim Rhetoric'
Minnesota Representative Ilhan Omar said on Sunday she is sure that House Speaker Nancy Pelosi will take a "decisive action" about whether to remove Representative Lauren Boebert from her committee assignments after making Islamophobic remarks.
"I've had a conversation with the speaker and I'm very confident that she will take decisive action next week," Omar said during a Sunday appearance on CNN's State of the Union.
Late last month, Boebert was accused of Islamophobia after a video showed her describing a supposed encounter with Omar in an elevator.
"You know, we're leaving the Capitol and we're going back to my office and we get an elevator and I see a Capitol police officer running to the elevator. I see fret all over his face, and he's reaching, and the door's shutting, like I can't open it, like what's happening. I look to my left, and there she is. Ilhan Omar," the Colorado Republican said. "And I said, 'Well, she doesn't have a backpack, we should be fine.'"
Omar later wrote on Twitter in response to the video that "this whole story is made up" and that it was sad that Boebert "thinks bigotry gets her clout."
This is not the only time Boebert made comments suggesting that Omar is a terrorist. She also referred to the Democratic congresswoman as a member of the "Jihad Squad" while speaking on the House floor.
Boebert later apologized on Twitter "to anyone in the Muslim community I offended with my comment about Rep. Omar."
During her Sunday interview, Omar called House Minority Leader Kevin McCarthy a "liar" and a "coward" for not condemning Islamophobic comments coming from a member of his own party.
"He [McCarthy] doesn't have the ability to condemn the kind of bigoted Islamophobia and anti-Muslim rhetoric that are being trafficked by a member," she said. "This is who they are and we have to be able to stand up to them. And we have to push them to reckon with the fact that their party right now is normalizing anti-Muslim bigotry."
Some Republicans, including Representatives Adam Kinzinger of Illinois and Nancy Mace of South Carolina, denounced Boebert's anti-Muslim comments. However, Omar said that they are being attacked for their stance.
"They are being attacked for condemning it, which tells you that their conference condones this and that's why it's dangerous," she said.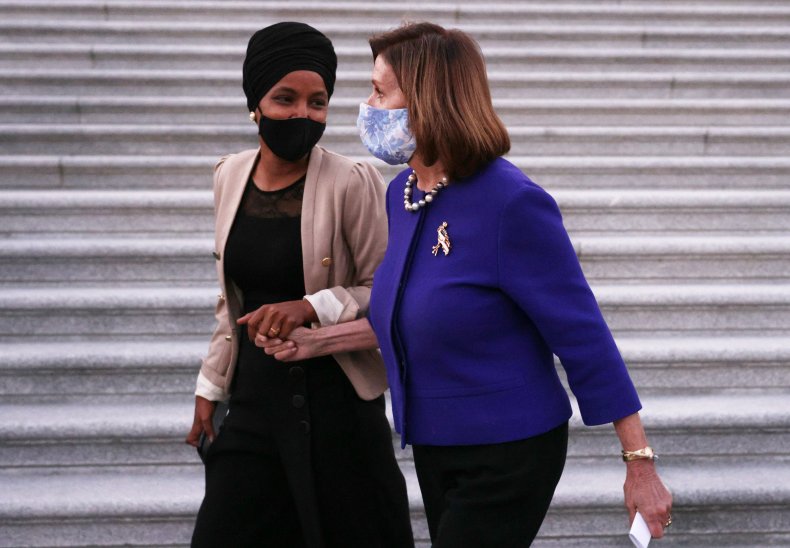 "Islamophobia is on the rise and as many people have reached out to me about my safety, I remind them that this isn't about me. This is about all of the young girls across this country who wear the hijab, so proudly, who are afraid for their lives," she added.
Omar said that she received voicemail messages containing death threats amidst the situation with Boebert. One caller described Omar as a "traitor" and called her a "Jihadist."
"You will not live much longer b****, I can almost guarantee you that," the caller said.
Newsweek contacted Boebert and Pelosi's office for comments.