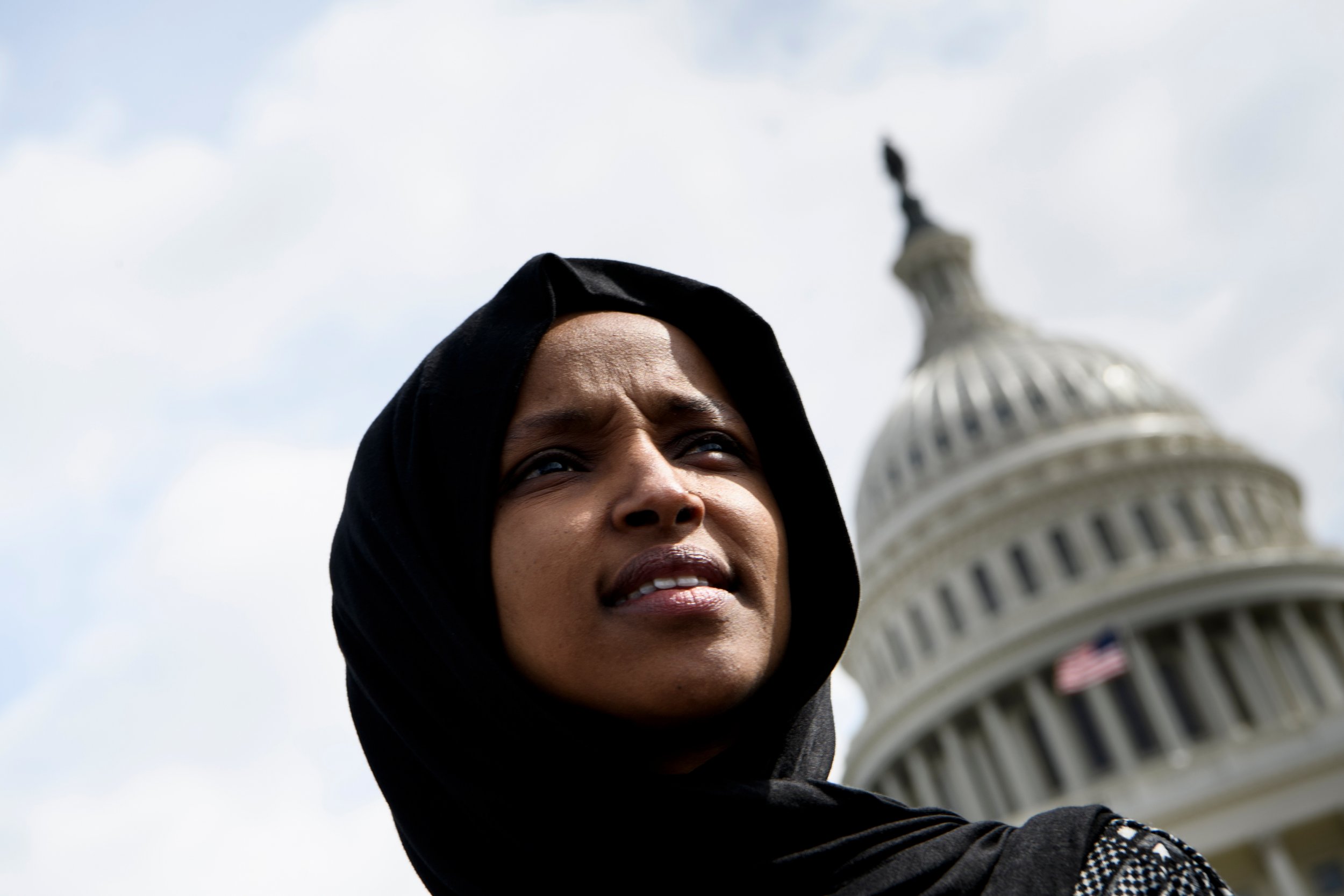 As the controversy surrounding Democratic Rep. Ilham Omar rumbles on, two Fox News hosts have laughed off the death threats against the Minnesota congresswoman and lambasted figures on the left for defending her.
Speaking on "The Five" show, hosts Jesse Watters and Greg Gutfeld joked about death threats, saying they had both been victims and dismissing such incidents as routine.
Omar became embroiled in controversy after criticizing the state of Israel and the power of the pro-Israel lobby in the U.S., using what some considered to be anti-Semitic tropes. Republicans and some Democrats were quick to denounce her comments, and the House passed a subsequent resolution condemning anti-Semitism and other bigoted speech.
Omar herself apologized for the wording of her statements, and some top Democrats—including 2020 presidential candidates Bernie Sanders, Kamala Harris and Elizabeth Warren—lent support to Omar, warning that criticism of the state of Israel must not be equated with anti-Semitism.
The campaign against Omar intensified after a video emerged of her speaking at the Council on American-Islamic Relations (CAIR) in March. The video—a version of which was shared by President Donald Trump—was edited to portray Omar as being dismissive of the 9/11 attacks.
In the footage, Omar said saying CAIR was founded after 9/11 "because they recognized that some people did something." The video then showed images of the burning World Trade Center and Pentagon.
The full quote from Omar read, "Far too long we have lived with the discomfort of being a second-class citizen, and frankly, I'm tired of it, and every single Muslim in this country should be tired of it.... CAIR was founded after 9/11 because they recognized that some people did something and that all of us were starting to lose access to our civil liberties." Omar's defenders argued the line was taken out of context, and in the original speech she was making a point about all U.S. Muslims losing access to their civil liberties because of the actions of a handful of men.
The video prompted a significant increase in death threats against the congresswoman, forcing authorities to review her security arrangements. But for Watters and Gutfeld, such intimidation is nothing out of the ordinary.
"Everybody gets death threats," Watters declared, adding, "We don't whine about them." Gutfeld then joked that he sends death threats to Watters, who responded, "Yeah, and I forward them to HR." Gutfeld then suggested the human resources department usually support his imagined threats to Watters' life.
The two hosts were discussing Meghan McCain's interview with Seth Meyers on Tuesday, in which the daughter of late Senator John McCain accused Omar of anti-Semitism while discussing the the April 27 Chabad of Poway synagogue shooting in San Diego.
Meyers defended Omar, noting the congresswoman had apologized for her remarks and suggesting that right-wing critics were intentionally misrepresenting her CAIR speech.
Watters called it "bizarre" that "the left tries to stick its neck out for someone like this so much after she said so many dumb things and so many offensive things."
"She's not that talented, doesn't raise a lot of money, she's not that likable or empathetic," he added, before suggesting that "the left" is defending Omar "to protect the ability of the left to traffic in anti-Semitism."
"There's a very strong strand of anti-Semitism on the left that needs to flourish apparently and then needs to be protected," he claimed. "So Seth Meyers gets up there and takes it upon himself to do that, when he should be trying to make jokes and he should work at trying to help his career long-term."
Fellow host Juan Williams then called Watters out on his accusation of anti-Semitism on the left wing. "The whole notion of people saying obnoxious anti-Semitic things, even marching in the streets, I think we see that from the right," he said.
Before being shouted down by the other panellists, Williams referred to some of the chants used by far-right white supremacists at the Unite the Right rally in Charlottesville, Virginia in August 2017. These included, "Blood and soil"—a popular phrase used by the Nazi German government—and the vow that "Jews will not replace us."