Ilhan Omar Describes Trump Campaign Events as 'Klan Rallies'
Representative Ilhan Omar, a progressive Democrat from Minnesota, described President Donald Trump's campaign events as "Klan rallies," pointing out that the president had repeatedly attacked and criticized her to his supporters.
Omar and the other members of the so-called Squad of progressive Democrats have been routinely attacked by the president and other Republicans. Democrats in the House of Representatives, joined by four Republicans, formally condemned Trump in July 2019 after he shared a series of racist tweets telling the four progressive representatives—all of whom are women of color—that they should "go back" to where they came from. But this did not deter Trump from repeatedly attacking Omar and the others.
"On a personal level, I have gotten accustomed to standing up to bullies in my life. And so, on a personal level, it hasn't really impacted me, besides having my children be exposed to it and for the last two months of this election cycle waking up every single morning to text messages from my siblings asking if I was safe," Omar said during a video interview with The Washington Post on Monday.
Omar added that "it didn't really matter where he was—sometimes multiple times in a day, as he had held his Klan rallies throughout the country."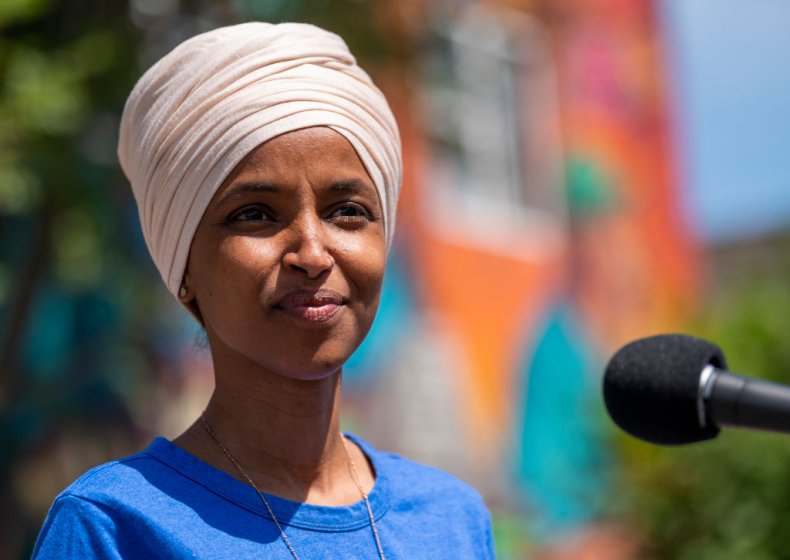 The Ku Klux Klan is a white supremacist hate group that was formed after the abolition of slavery at the end of the Civil War. Although it primarily targets Black Americans, its members are largely opposed to immigrants, Jews, Muslims, Catholics, LGBTQ individuals and leftists as well.
Newsweek reached out to press representatives for Omar and the Trump campaign for further comment but did not hear back in time for publication.
Some on social media were quick to criticize Omar's remarks. Far-right political commentator Dinesh D'souza tweeted, "This woman is deranged."
Steve Guest, the Republican National Committee's rapid response director, tweeted a clip of the interview, writing: "UNHINGED: Squad me ever Democrat Rep. Ilhan Omar calls President Trump's campaign rallies 'Klan rallies.'"
Actor and producer Kevin Sorbo tweeted: "Hey @IlhanMN did you just compare Trump rallies to kkk meetings? But you're all about peace and unity right?"
During a September 30 rally in Minnesota, Trump unleashed xenophobic criticism against Omar as his supporters chanted "Lock her up."
"Then she tells us how to run our country, can you believe it? How the hell did Minnesota elect her?" Trump said of Omar. "What the hell is wrong with you people—right? What the hell happened?" The president repeated similar attacks at various rallies and events throughout his ultimately unsuccessful re-election campaign.
In September, Omar responded to Trump's constant attacks during an interview with CNN.
"The president clearly loves to prey on people's fears. He spreads the disease of hate everywhere he goes, and these cult rallies that he's holding across the country are now being fueled by fear, and it is no surprise that he is so fearful of winning Minnesota that he has to resort to this hate," the congresswoman said.
"Not only is he a racist, but he's a racist xenophobic. Because he's not against immigration, he's just against immigrants who look like me," Omar said.
The congresswoman, who was born in Somalia, came to the U.S. as a refugee in 1995 and became a citizen in 2000, when she was 17. In 2018, she became one of the first two Muslim women—the other being a fellow Squad member, Representative Rashida Tlaib of Michigan—ever elected to Congress.
Trump lost Omar's state to Democratic President-elect Joe Biden by a margin of 7.2 percent—or more than 230,000 votes. Omar easily won re-election in her district by a margin of nearly 40 percent, despite her Republican opponent raising about $10 million, compared with the $5.4 million her campaign took in.