Congresswoman Ilhan Omar pushed back against criticism directed at her from Israel's Prime Minister Benjamin Netanyahu, pointing to indictments for corruption he currently faces.
Netanyahu's made the remarks about Omar, a Democrat from Minnesota, this week via video at the annual American Israel Public Affairs Committee (AIPAC) Policy Conference held in Washington, D.C. Referencing recent criticism made by the progressive representative against the influential lobby group, Netanyahu said: "Take it from this Benjamin, it's not about the Benjamins," according to the Israeli newspaper Haaretz.
Omar has repeatedly criticized AIPAC, which lobbies on behalf of Israel, and the Israeli government since coming to Washington in January. She has recently said the lobby group pushed for loyalty from politicians, and in February she controversially tweeted out: "It's all about the Benjamins baby."
Dismissing Netanyahu's criticism in a Tuesday tweet, Omar simply pointed to the corruption investigations currently embroiling the Israeli leader. "This from a man facing indictments for bribery and other crimes in three separate public corruption affairs," she wrote on Twitter, concluding with: "Next!"
Netanyahu faces indictment in Israel for alleged corruption, standing accused of favorably adjusting regulations to benefit Bezeq telecommunications, which in turn allegedly provided favorable media coverage. He and his wife allegedly accepted bribes as part of the scandal.
Democrats and Republicans criticized Omar's "Benjamins" remark, arguing it resurfaced an anti-Semitic trope that Jews buy influence. Omar apologized for the comment at the time, saying it was never her intent to promote anti-Semitism. However, she has been dogged by criticism and accusations of anti-Semitism from within and outside her party since then, due to her firm opposition to Israel's government, which she has repeatedly called out—along with other Middle Eastern governments such as Saudi Arabia, the United Arab Emirates and Egypt—for human rights abuses.
In late February, an independent panel backed by the United Nations said it had "reasonable grounds" to believe the Israeli military had committed war crimes last year, as soldiers allegedly shot at journalists, health workers and children during Palestinian protests. The accusation is only the latest in a string of criticism from the U.N. and other rights groups.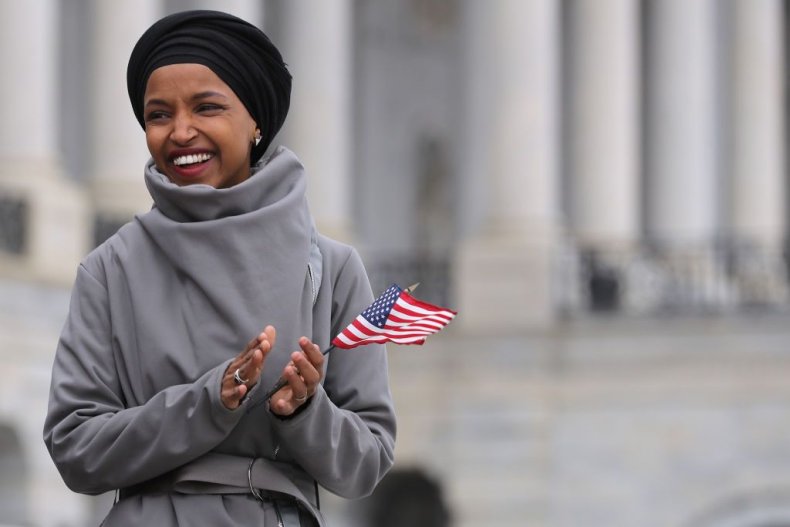 "I—like so many others—have not criticized AIPAC because of its membership or the country it advocates for. I've criticized it because it has repeatedly opposed efforts to guarantee peace and human rights in the region," Omar wrote in a follow-up tweet on Tuesday.
While many have lashed out at Omar's stance on Israel, several prominent American Jewish groups have also vocally voiced support and agreement.
"As a first-year congresswoman, and a black, visibly Muslim refugee, Representative Omar is an easy target," Yonah Lieberman, a representative of If Not Now, an American Jewish group critical of the Israeli government, told Newsweek. "It is easier to pick a scapegoat than to address the real issues at play: Israel's endless occupation over millions of Palestinians, a rise in anti-Semitism in America due to white nationalists, and ongoing Islamophobia and racism."
On Sunday, Jewish Voice for Peace, an American-Jewish group that is critical of Israel and its actions toward Palestinians, posted a photo to social media of board member Estee Chandler standing with Omar. A caption with the photo slammed "AIPAC and supporters" for piling "on continued and dangerously false accusations" against the congresswoman "that reek of Islamophobia and racism."
Editor's note: This article has been updated with a comment from If Not Now.