Ilhan Omar Says Donald Trump is 'Really Not' Human, 'Silly' to Compare Him to Barack Obama
Freshman Representative Ilhan Omar said on Monday that it was foolish to try to compare Donald Trump and Barack Obama, as "one is human and the other is really not."
"That is silly to even think and equate the two," Omar told a Fox News reporter as she stepped into an elevator in Washington, D.C. Her comment came after she was pressed about previous comparisons she had made between the two presidents.
Last Friday, Politico published a report in which Omar slammed Obama's immigration policies. In the interview, she criticized the former president for the "caging of kids" at the southern border and for "droning countries around the world."
"We can't be only upset with Trump," she told the news outlet. "His policies are bad, but many of the people who came before him also had really bad policies. They just were more polished than he was."
After the report was published, Omar said that Politico had "distorted" her comments and said that she was very much a fan of the former president in a since-deleted tweet.
"Exhibit A of how reporters distort words. I'm an Obama fan! I was saying how [President] Trump is different from Obama, and why we should focus on policy not politics," Omar wrote in the post.
Omar made history during the 2018 midterm elections as one of the first two Muslim women elected to Congress, along with fellow Democrat Rashida Tlaib. And since being sworn in as part of the most racially diverse freshman class in congressional history in January, Omar has not shied away from challenging the Washington establishment.
But recently, Omar has found herself under fire for her criticisms of U.S. policy toward Israel, which many critics have dubbed anti-Semitic. She sparked particular fury when she said that pro-Israel advocates are pushing for "allegiance to a foreign country."
She's also faced scrutiny for a 2012 tweet, in which she wrote, "Israel has hypnotized the world, may Allah awaken the people and help them see the evil doings of Israel. #Gaza #Palestine #Israel."
The tweet has since been deleted.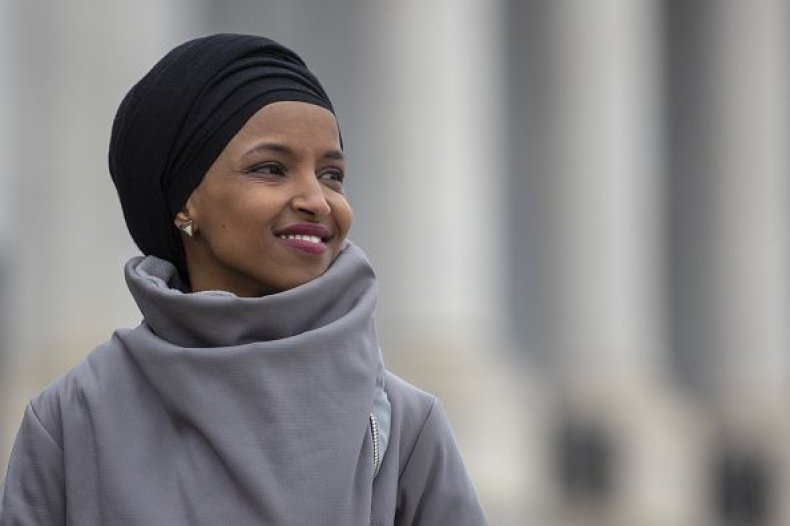 But Omar has defended her statements, telling the crowd at a town hall event last week that "I want to talk about the political influence in this country that says it is OK for people to push for allegiance to a foreign country."
The controversy led House Democrats to adopt a resolution broadly condemning bigotry and anti-Semitism. But the resolution did not stop President Donald Trump from stepping into the fray. Last Friday, the president called the Democratic Party "anti-Israel" and "anti-Jewish."
"I thought yesterday's vote by the House was disgraceful," Trump told reporters as he discussed the resolution. "I thought that vote was a disgrace, and so does everybody else if you get an honest answer."