Ilhan Omar Says She Is 'A Nightmare' for Donald Trump and She's 'Survived Far Worse People Than Him'
Democratic Representative Ilhan Omar has characterized herself as "a nightmare" for President Donald Trump due to his hardline positions on immigration and his anti-Muslim rhetoric.
The progressive congresswoman, who represents Minnesota, is herself an immigrant and one of two Muslim women currently serving in Congress. President Donald Trump has repeatedly attacked Omar in recent weeks, slamming her for her criticism of Israel and referring to the representative as "terrible." The president also tweeted a video in April that equated Omar with the terrorists who attacked the U.S. on September 11, 2001.
But Omar isn't phased, and is simply planning to continue fighting for the people she campaigned to represent.
"This is a president who has come to power because he was very much willing to vilify and demonize immigrants and refugees. He so proudly said we should halt Muslims from entering our country. He clearly has a disdain for black women who see themselves as equal to him. And so, for many people, it's not a surprise that he finds his biggest nemesis in me," Omar told HuffPost last week for an article published on Monday.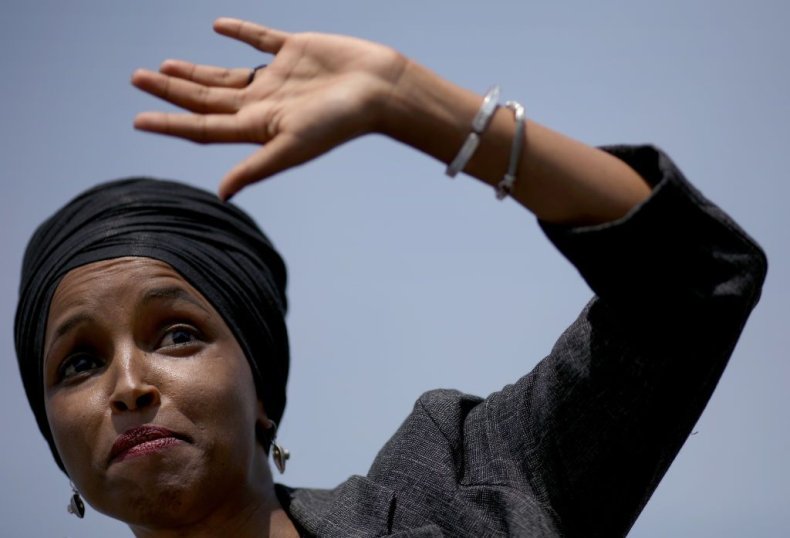 "Clearly, I am a nightmare ― because he can't stop really thinking about ways that he can continue to use my identity to marginalize our communities," she said.
Although Omar has faced significant backlash from the president, Republicans and even some Democrats, she pointed out that those who have voted for her still stand behind her.
"People who were actually willing to cast their ballot for me have not ever called or asked, 'Why can't you say things differently?'" Omar said.
While Omar has faced backlash for her criticism of Israel, in which she was accused of using anti-Semitic tropes, many leading Democrats and progressive American Jewish groups, like Jewish Voice For Peace, have rallied behind her. The representative asserted to the HuffPost that she is someone who "certainly has survived far worse people than" the current president, in a thinly veiled reference to surviving and escaping civil war in Somalia before eventually coming to the U.S. as a refugee. "I'm going to be alright," she said.
Two people have been jailed, one in Florida and one in New York, for threatening Omar's life. The New York man was an avowed Trump supporter, while the man in Florida left threatening messages for several other prominent Democratic lawmakers in addition to Omar. Democratic Representative Nancy Pelosi, who serves as the Speaker of the House, said in April that she'd called for a security assessment by Capitol Hill police to ensure the safety of Omar, her staff and her family.
Omar hasn't held back in her criticism of Trump, however. Last week, she launched a blistering attack on the president at a rally outside the U.S. Capitol in Washington, D.C.
"We are collectively saying your vile attacks, your demented views are not welcome here," Omar said.
"When this occupant of the White House chooses to attack me, we know – we know – that that attack isn't for Ilhan," the congresswoman continued. "That attack is the continuation of the attacks that he has leveled against women, against people of color, against immigrants, against refugees and certainly against Muslims."