Representative Ilhan Omar dismissed calls for President Joe Biden to tell migrant parents not to make the journey to the United States, saying it wouldn't make any difference because, like her father, their decision is based on a need to survive.
Omar's family left Somalia during the country's civil war when she was 8 and came to the United States after four years in Kenya. On Friday, she joined a group of Democratic representatives for a tour of a migrant facility at the southern border. She said meeting the children who've recently arrived in the U.S. reminded her of the choice her father had to make decades earlier.
"It took me back to being a young kid just like themselves," the Minnesota Democrat said. "[My father] was making a decision for me to live.... [Migrant parents] are thinking about what it takes for them to survive. That's the decision they're making."
Omar rejected criticism that parents bringing their children on the treacherous journey is an irresponsible choice, saying the decision her father made was the "most reasonable and responsible thing a parent could have done." Drawing from her own experience, she said people coming to America with their children are doing it because they want their kids to "have an opportunity."
"What better place to do that than in the land of opportunity?" Omar asked.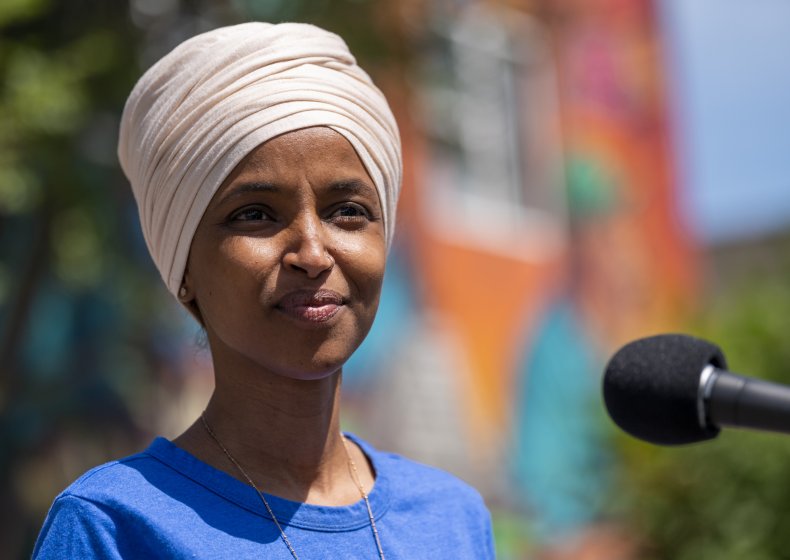 During a 2019 presidential primary debate, Biden said that migrants "deserve to be heard" and that people who are fleeing oppression "should come" because it's the American way. Critics have pointed to this comment as an open invitation to migrants, with Jason Miller, a senior adviser to former President Donald Trump, likening it to a flare of Fourth of July firework proportions.
Despite historic numbers of migrant children in custody, Biden dismissed the border surge as anything out of the ordinary and denied that people were making the journey because they think he is a "nice guy." He told reporters during a Thursday press conference that people are traveling to the U.S. now because weather conditions are favorable and they're unsafe in their home countries.
Omar agreed with Biden that migrants aren't concerned with who the president is and therefore the president or officials saying the migrants should not come would not have any effect.
A man who crossed the border in Tucson, Arizona, told ABC's This Week anchor Martha Raddatz that he wouldn't have tried when Trump was in office. Asked if he came because Biden was elected president, the man said, "Basically."
"The main thing was the violence in my country," the man, who came from Brazil with his family, said. "The second thing was Joe Biden."
Another migrant, a woman who came with her 10-year-old son, told Raddatz she heard that because Biden won the election "she would be welcome." Both the woman and her son were being sent back to Guatemala.
At the heart of the immigration issue, Omar said, is the children, and she reminded people that those who make the difficult journey are seeking an opportunity to "survive and thrive."