Ilhan Omar Fires Back at Graham, Tells Senator to Stop Kissing Trump's Ring: 'This Is a Republic, Not a Monarchy!'
Freshman Democratic Congresswoman Ilhan Omar called out Lindsey Graham today for allegedly blindly supporting President Donald Trump after the Republican Senator suggested that Omar wouldn't support military actions against impending foreign aggression.
The president's decision last week to kill top Iranian military commander Qassem Soleimani without briefing congressional leaders, also known as the Gang of Eight, until after the fact, has sparked a fierce debate over the role of lawmakers in waging war. The Democrat-led House advanced a measure in a preliminary vote on Thursday that would ensure Trump must get prior approval from Congress before escalating hostilities against Iran.
Although two Republican senators have indicated they will support the legislation, most of Trump's proponents have defended the president's military powers.
"Can you imagine trying to defend the nation while herding @SpeakerPelosi, @BernieSanders, @AOC, @RandPaul, @IlhanMN, @ewarren, et al to a consensus that we need to act militarily against impending aggression?" Graham tweeted on Thursday afternoon.
In response, Omar accused Graham of disregarding the Constitution through his aggressive support of the president. "Senator, some of us still respect the Constitution and understand our role in Congress isn't to bow or kiss the ring of the President," she tweeted. "This is a republic and not a monarchy!"
The 226-193 House procedural vote on Thursday saw lawmakers nearly unanimously voting along party lines, apart from two Republicans—Senators Rand Paul and Mike Lee—who joined the Democrats in approving the measure. The War Powers Resolution will now be subject to a final House vote later on Thursday. The Senate measure is expected to reach the floor before the end of next week.
"We have seen that developments can change day by day, hour by hour," Democratic Congressman Jim McGovern said during today's floor debate. "Should tensions escalate again, Congress should have a say before hostilities are launched. It is really that simple."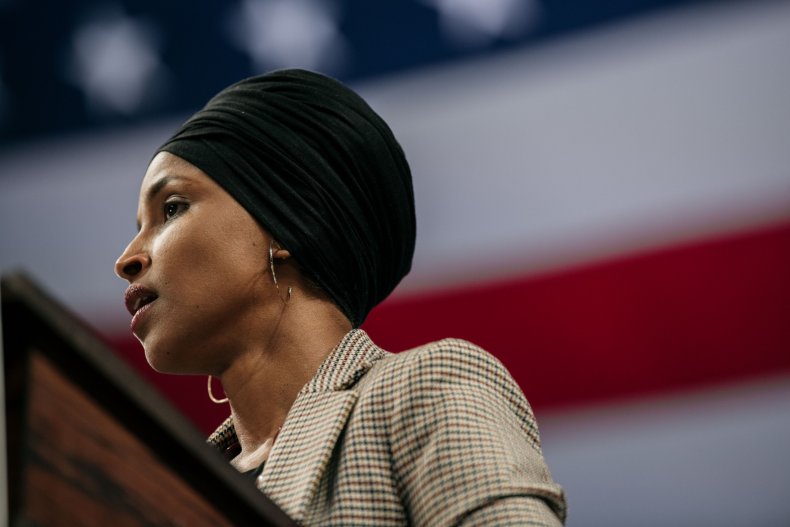 The vote comes one day after a congressional intelligence briefing on Iran left Democrats and a few Republicans angry or confused at the Trump administration's handling of the escalating tensions between America and the Middle Eastern nation. The meeting came shortly after Iran launched a dozen ballistic missiles at U.S. targets in Iraq.
Lee, one of the Republicans who voted for the War Powers Resolution, told reporters after the briefing that Trump administration officials warned Congress from supporting measures to rein in the president's powers, saying that such a move would likely "embolden" Iran.
"I find this insulting and demeaning," Lee said, "to the office that each of the 100 senators in this building happens to hold. I find it insulting and demeaning to the Constitution of the United States."