Democratic Representative Ilhan Omar from Minnesota fired back at conservative political commentator Sean Hannity after the Fox News host tried to criticize her for encouraging Election Day voting among her constituents.
Early Tuesday, Omar told Minnesotans to go to the polls even if they weren't registered to vote because the battleground state is one of 19 states and the District of Columbia that allows same-day voter registration.
However, in an attempt to attack the progressive congresswoman, Hannity took Omar's message out of context, tweeting, "NOT A JOKE: Ilhan Omar Tells Residents 'You Don't Have to be Registered to Vote' in Minnesota."
Omar was quick to call Hannity out on his mistake.
"Where is the lie, we are proud to have same day registration here in the great state of Minnesotan [sic]," Omar tweeted. "Access to the ballot box is a priority for us, I know it's a hard concept for republican to understand."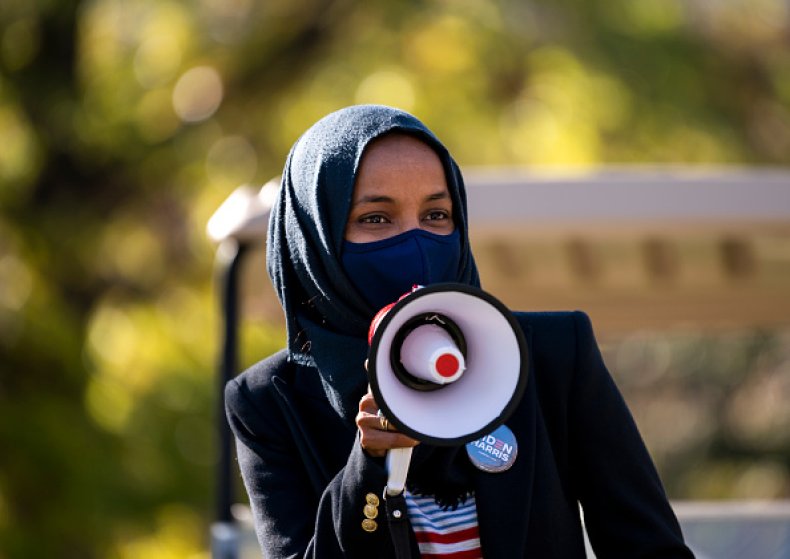 Omar has often been the target of right-wing commentators from Fox News and Hannity has frequently criticized more progressive Democrats,including Representative Alexandria Ocasio-Cortez of New York and Representative Ayanna Pressley of Massachusetts.
Omar, who was elected during her state's 2018 blue wave, won reelection in Minnesota's 5th congressional district on Tuesday—a seat that didn't seem to face a real threat to begin with.
Although Omar's seat was predicted to be safe—and in fact, late Wednesday, the Associated Press had called the race for her—other Republicans in Minnesota have attempted to use Omar as a tactic to defeat their Democratic opponents.
"Republican candidates in other areas of the state running against her in their own district are trying to link their Democratic opponents to Representative Omar. But for Representative Omar's part, she's in a very safe seat," Kathryn Pearson, an American politics professor at the University of Minnesota, told Newsweek.
Steve Schier, a political science professor at Carleton College, noted that Omar represents Minneapolis, the city that became the center of racial justice protests following the death of George Floyd.
Omar has also advocated for defunding the police, an idea that has become controversial amid this past summer's national unrest surrounding police brutality. The protests will be a key issue for many Minnesotans casting their ballots this election cycle.
"The whole question of defining the police has been an issue in the metro area," Schier told Newsweek. "What difference that makes on Election Day is hard to say but it has an unusually intensity in Minnesota because of the events here."
Newsweek reached out to Fox News for comment but did not hear back before publication.