Ilhan Omar to Introduce Bill to End Donald Trump's 'Hateful Muslim Ban': 'No One Should Be Denied Basic Rights'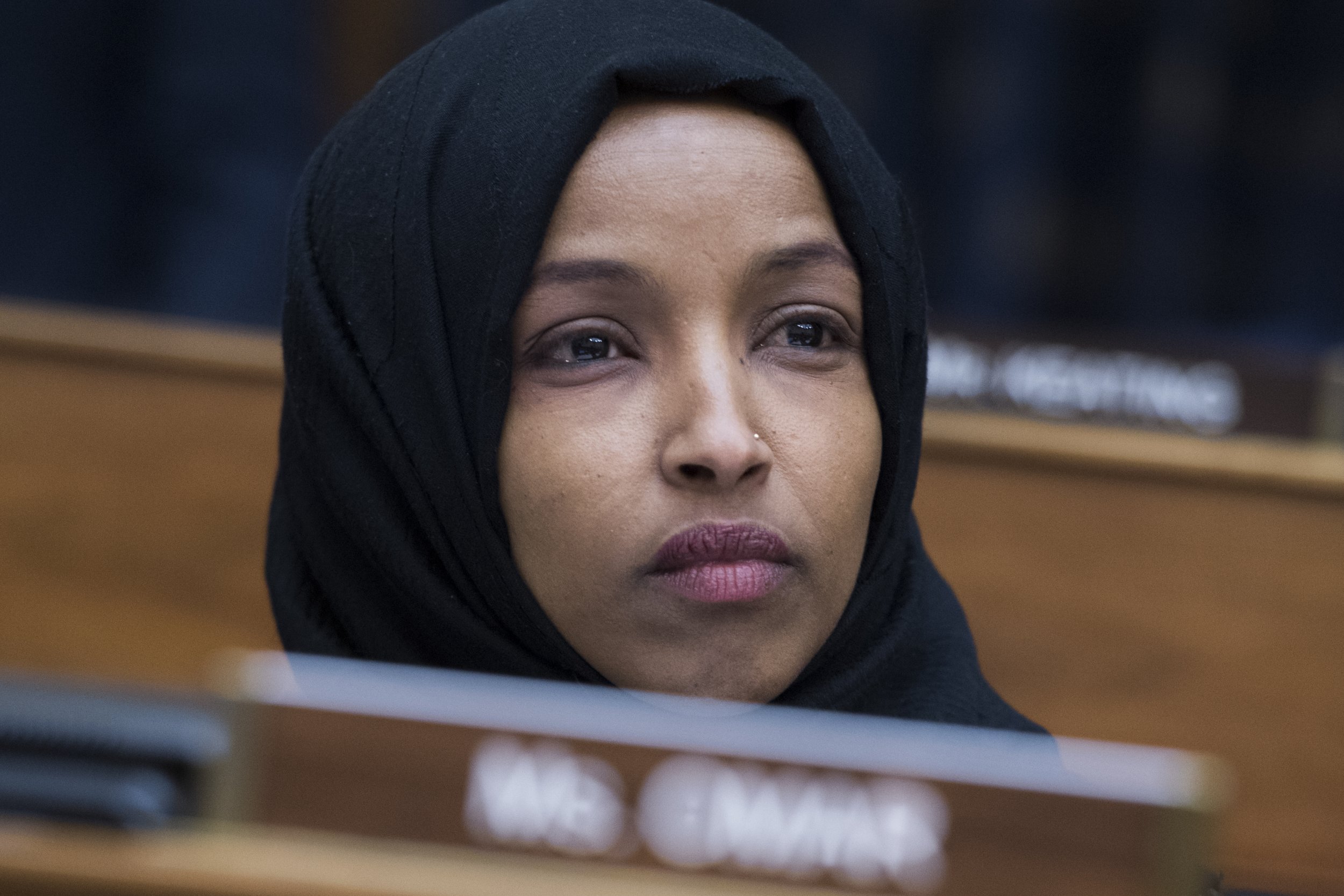 Representative Ilhan Omar is expected to introduce a bill on Wednesday that seeks to end what she called President Donald Trump's "hateful" Muslim ban.
"I ran on a promise to end the President's hateful Muslim ban," Omar, a Minnesota Democrat, tweeted on Tuesday. "And tomorrow we will introduce a bill [to] do just that.
"No one should be denied basic rights because of their religion, race or national origin," Omar wrote in her tweet.
Called the National Origin-Based Antidiscrimination for Nonimmigrants Act, or "No Ban Act" for short, the civil rights legislation seeks to put an end to the Trump administration's travel ban, which targets several Muslim-majority countries—including Syria, Iran, Yemen, Libya and Somalia—with limited sanctions also imposed against North Korea and Venezuela.
Trump initially signed Executive Order 13769 on January 27, 2017, which sought to ban entry to the U.S. to foreign nationals from a number of Muslim-majority countries, following repeated calls on the 2016 campaign trail to ban all Muslims from being allowed into the U.S. "until our country's representatives can figure out what the hell is going on."
While the executive order, as well as subsequent versions, were shot down by several lower courts, the Trump administration saw success with a third version of the ban, which the Supreme Court upheld in June 2018.
According to data from the State Department, as many as 37,000 visas were denied in 2018 alone following the ban, up from 1,000 the previous year.
With the ban predominantly affecting foreign nationals from Muslim-majority countries, rights groups argued that it discriminated against Muslims, with many calling it a "Muslim ban" instead of its official title.
So far, nearly 400 civil rights, faith, national security and community organizations have announced their support for the No Ban Act, according to the national civil rights organization Muslim Advocates.
The coalition, which includes the NAACP, Human Rights Campaign, the Truman Project and United We Dream, sent a joint letter to Congress endorsing the bill before its bicameral introudction on Wednesday, by Omar and Representative Judy Chu in the House, and Senator Chris Coons in the Senate.
In their joint letter, the organizations write of how "two years since the first Muslim Ban was issued, countless families remain separated with heartbreaking consequences.
"People have been denied access to lifesaving medical treatments; parents have been unable to care for their children; and spouses have been forced to live apart as they await decisions on their waiver applications [to be excluded from the ban]," states the letter. "Some have been denied the opportunity to attend funerals or visit dying family members, and accomplished professionals and students have been denied access to career and educational opportunities."
Calling on members of Congress to support the No Ban Act, the letter states that the legislation "is a clear and unequivocal response to the Muslim Ban that would ensure no one can be banned from our country based on religious or nationality-based discrimination ever again.
"Regrettably, the Muslim Ban validates the worst stereotypes about Muslims; that they are inherently foreign and violent and pose such a threat to the United States they should be banned," the letter says. "The ban on Muslims comes after generations of politicians hostile to religious minorities have attempted to ban Jews, Catholics, and Latter-day Saints.
"Congress now has an opportunity to take action against the Muslim Ban and this troubling history by sending a strong message that our nation rejects religious bigotry," the letter continues. "We urge you to support this important legislation because your leadership on this issue is critical to ensuring that Congress sends a strong message to the American people that how someone prays should not dictate whether the government can ban them from coming to the United States.
"Families should not be separated simply based on their faith or nationality. These are our shared values," it adds. "It is time for Congress to act to overturn the Muslim Ban and stand against religious discrimination."