Ilhan Omar Joins Call for Joy Reid To Apologize for 'Islamophobic' Comment
Rep. Ilhan Omar (D-Minn.) has accused MSNBC's Joy Reid of "casual Islamophobia" while demanding an apology after Reid compared rhetoric by President Donald Trump to the media describing "how Muslims act" in "radicalizing" Muslim extremists.
Reid made the controversial remarks during a discussion with Newsweek Editor-at-Large Naveed Jamali on the Monday night edition of her show The ReidOut. Omar, her fellow Muslim congresswoman Rep. Rashida Tlaib (D-Mich.) and others accused Reid of Islamophobia the following day, based on a clip showing her asking Jamali whether the media uses a double standard in describing Muslims becoming "radicalized" as extremists while allegedly similar behavior by Trump and his allies is not described the same way.
"When leaders, let's say in the Muslim world, talk a lot of violent talk and encourage their supporters to be willing to commit violence, including on their own bodies, in order to win against whoever they decide is the enemy, we in the U.S. Media describe that as they are 'radicalizing' those people," Reid said during the show. "Particularly when they're radicalizing young people. That's how we talk about how Muslims act. When you see what Donald Trump is doing, is that any different from what we describe as radicalizing people?"
Omar retweeted a short clip from the show that had been circulating on social media on Tuesday, while commenting that the "casual Islamophobia is hurtful and dangerous" and demanding that "an apology for the painful moment for so many Muslims around our country should be forthcoming."
The clip did not include footage from just before Reid asked the question, when she described instances of Trump apparently approving of or rationalizing the alleged violent actions of his supporters, such as Kyle Rittenhouse, who is accused of murdering two people during Jacob Blake protests in Kenosha, Wisconsin last week.
The clip also left out Jamali responding to Reid's question by saying that he does not believe there is a difference between Trump's comments allegedly in support of violence committed by his followers and similar comments that may be made to extremists in the Muslim world.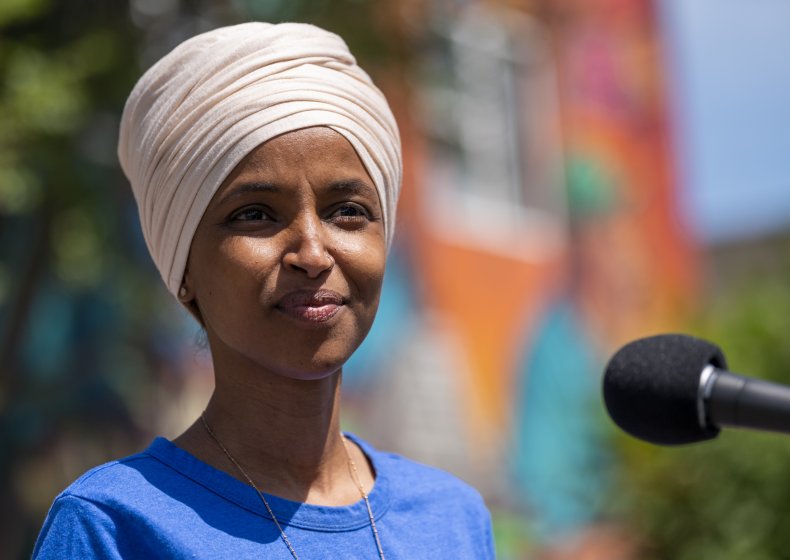 When speaking to Newsweek on Tuesday for this article, Jamali suggested Reid's comments were taken out of context and may have been misinterpreted by people on both sides of the political spectrum. He pointed out that coverage of the controversy appearing in different media outlets, including The Blaze and Slate, had not sought his opinion even though he was the person Reid had posed the question to.
"I don't understand how people are rushing to judgement but not asking me," Jamali said. "We live in a country that is full of double standards, why is it not a fair question to ask why when it comes to extremism, we don't point out that there's a double standard between brown extremists and white extremists, in terms of how law enforcement approaches them?"
Jamali added that he had reached out to discuss the issue with both Omar and Tlaib, who tweeted that Reid's remarks were "harmful anti-Muslim rhetoric" that had been "even more painful to hear" from someone she admires.
"There's been some thoughtful commentary but also some willful distortion of the points I tried to make yesterday," Reid tweeted late Tuesday in response to the controversy, adding that the issue would be discussed on her show in depth on Wednesday.