Ilhan Omar Is Justifying Attacks on Israel and Condemning Israel for Defending Against Them | Opinion
As I write this, rockets are flying overhead. Sirens are blaring, people are running to the nearest bomb shelter to take cover, and one explosion follows another, the sound of the interceptors racing across the sky to try to stop incoming missiles. This afternoon, Hamas fired 170 rockets in 30 minutes into Israel, making the total 630 rockets fired in the last 24 hours. Virtually all of the attacks have been on civilian targets—apartment buildings, schools. The first bomb shelter I found myself in was residential, a stranger's home. The second was in a Japanese restaurant, whose owner rushed me and others into the back, away from the glass. Others were not so lucky. One woman was killed, and dozens have been wounded.
You might think that America's politicians would be supportive to Israelis, given the situation. Some have been. But when it comes to the progressive left, the messaging has been astonishing. Congresswoman Ilhan Omar, who has a history of making anti-Semitic and anti-Israel comments, all but tweeted in support of... Hamas.
"Israeli airstrikes killing civilians in Gaza is an act of terrorism," wrote the congresswoman. "Palestinians deserve protection. Unlike Israel, missile defense programs, such as Iron Dome don't exist to protect Palestinian civilians. It's unconscionable not to condemn these attacks on the week of Eid."
Omar is not alone. "Enough of Black and brown bodies being brutalized and murdered, especially children," wrote Freshman Congressman Jamal Bowman. "Enough of the inhumanity. The White House must act." Representatives Alexandria Ocasio-Cortez and Rashida Tlaib joined in the fray with similar messaging.
It's a shocking sea-change in what was once a bipartisan consensus that Israel has the right to defend itself. In addition to tweeting without any evidence that Israel is killing civilians in Gaza, Omar and her friends seem to be justifying Hamas's attacks against Israel—against Israeli civilians—while denying Israelis the right to defend themselves.
Israel has been extremely careful to limit any collateral damage. When Israel killed the head of the Islamic Jihad's missile command, Israel did not bomb the building in which he was located; instead, Israel fired a missile through the window of the apartment that particular terrorist was in, without harming the rest of the building and its inhabitants.
The Hamas missile barrage was launched because of Hamas's internal politics and its competition with the Palestinian Authority. Hamas wanted to show it cares about Jerusalem, and its method of demonstrating its concern was to fire missiles at the holy city.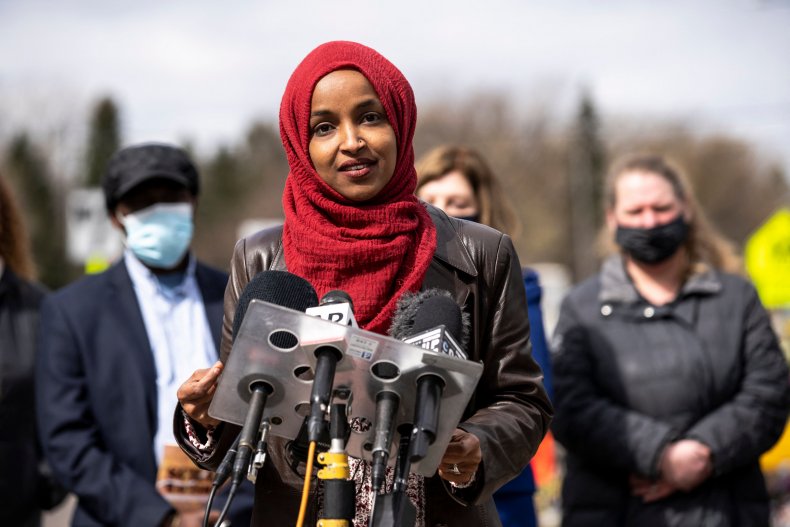 It's true that during the past month, Israel's policies in Jerusalem have been clumsy, and poorly carried out by a police chief and Minister of Internal Affairs, who have proven they are not up to the job. Attacks carried out by Arab youth and posted to Tik Tok were allowed to spiral out of control. However, there is no excuse for the events in Jerusalem to result in unlimited missile attacks on any Israeli cities.
The Biden administration has understood the difference between mistakes Israel has made in Jerusalem and incessant rocket attacks from Gaza. The State Department has criticized Israel's policy in Jerusalem, while expressing support of Israel's right to respond to unprovoked missile attacks from Gaza.
That is the correct response. And yet, reacting to the Biden administration, U.S. Congresswoman Rashiad Talib tweeted, "Is the stateDeptSpox really refusing to condemn the killing of Palestinian children?"
It's the Squad Way: Israel responds to missile attacks and is immediately accused of killing children.
There is a place for progressive criticism of Israel. But if progressives want to be taken seriously, they must learn that not every Israeli action is wrong or unjustified, and the Palestinians bear significant responsibility for what takes place.
It is fair to criticize Israel's policies, but not to lie about Israel's actions. Progressive congresspeople need to do better.
Marc Schulman is a multimedia historian.
The views expressed in this article are the author's own.