Ilhan Omar Leads Primary Race Despite Rival's Huge Fundraising Advantage: Poll
Rep. Ilhan Omar is leading her closest primary rival by 37 points despite lagging behind the challenger's huge fundraising efforts, new polling data shows.
The latest survey from Change Research, conducted on behalf of the Ilhan for Congress campaign, found the Minnesota congresswoman was backed by 66 percent of likely primary voters.
By comparison, her lead challenger Antone Melton-Meaux was backed by 29 percent of local primary voters. A further 2 percent said they were undecided as all other candidates polled in single digits.
Change Research also found that Omar had a solid foundation of support, with the "vast majority" of her supporters telling pollsters that they were certain about voting for Omar in the August primary.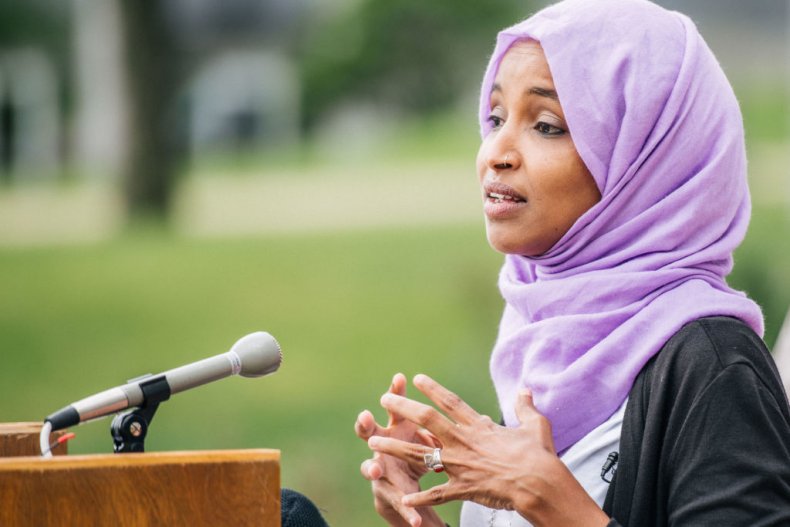 Seventy percent of primary voters rated her favorably, with 42 percent saying they had a very favorable view of the incumbent congresswoman, compared to 20 percent of voters who rated her unfavorably.
A little under three quarters (74 percent) also backed Omar's performance in office, while only 17 percent disapproved of her first-term record.
Melton-Meaux was found to have a lower net favorability rating and name recognition among primary voters, with 40 percent approving of the challenger and 11 percent taking an unfavorable view of him. A little more than a quarter of voters (28 percent) had never even heard of the candidate.
When pollsters showed voters attacks leveled at Omar in the primary campaign, her lead over Melton-Meaux was found to jump by 6 points to a 43-point lead.
Change Research surveyed 509 likely primary voters in Minnesota between July 7 and July 9 for its latest poll. Its margin of error stands at a little more than 4 percentage points.
The pollster released its new data on the Minnesota Democratic primary shortly after local media reported that Melton-Meaux had significantly outraised Omar's campaign in the second quarter of this year.
The Star Tribune reported on Wednesday that Melton-Meaux had bagged $3.2 million between April and June, while Omar's team reported raising a little more than $471,000. The gap in funding marked a significant shift from the first quarter of this year, when Omar reportedly raised a little more than double the $209,000 raised by her challenger.
According to Federal Election Commission data, Rep. Omar has a little more than $1.1 million cash on hand, compared to the $2 million Melton-Meaux has at his disposal.
Newsweek has contacted the Melton-Meaux and Omar campaigns for comment. This article will be updated with any response.