Ilhan Omar Says Treatment of Migrants Is a 'Reflection of What White Nationalism Is Doing to Our Country'
Representative Ilhan Omar of Minnesota called the U.S. treatment of migrants "abhorrent and inhumane," as hundreds of men, women and children are trapped in a parking lot at a Border Patrol station in El Paso, Texas.
"It's without a doubt a reflection of what white nationalism is doing to our country. As a country, we have to acknowledge that this is how people are being treated here and decide that we are better and we must do better," the Democrat tweeted on Thursday.
Omar's post was in response to another tweet by Washington Post reporter Nick Miroff, who photographed families standing behind chain-link fence surrounded by concertina wire. In the Twitter post, Miroff wrote that "hundreds of migrant families are being held in the parking lot of a Border Patrol station because there is no room for them inside, or anywhere else."
The social media post also got a response from Representative Alexandria Ocasio-Cortez, who said she "cannot and will not accept it."
"Look at this picture. When you're looking at this photo, you're looking at a mirror. This is America. This is Texas. This is our...course of action, the one we chose," she wrote before adding the hashtags #EndFamilySeparation, #AbolishICE and #ReuniteFamilies.
U.S. Customs and Border Protection officials say the crisis they have been warning about "has arrived" at the U.S.-Mexico border, with over 4,000 migrants arriving per day on both Monday and Tuesday.
"The breaking point has arrived," said Kevin McAleenan, the agency's commissioner, in a news conference from El Paso on Wednesday. "CBP is facing an unprecedented humanitarian and border security crisis all along our Southwest border—and nowhere has that crisis manifested more acutely than here in El Paso."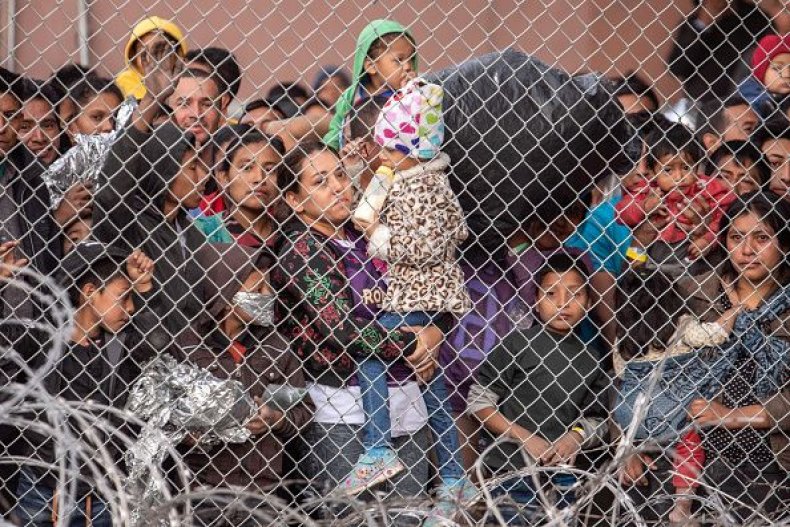 As a result of the crisis, the agency plans to release more migrants with a notice to appear in court instead of first handing them over to Immigration and Customs Enforcement (ICE) for processing. It's the first time in over a decade that the agency has performed direct releases.
McAleenan added they were expecting 55,000 families, including 40,000 children, to enter the process this month, and one of the agency's biggest goals at this point is to "avoid tragedy."
"We are doing everything we can to simply avoid a tragedy in a CBP facility. But with these numbers, with the types of illnesses we're seeing in the border, I fear that it's just a matter of time," he said.
President Donald Trump responded to the situation by suggesting that he may close down the U.S.-Mexico border altogether. Earlier this year, Trump declared a national emergency at the border in an effort to secure funds for his long-promised wall.
"Mexico is doing NOTHING to help stop the flow of illegal immigrants to our Country. They are all talk and no action. Likewise, Honduras, Guatemala and El Salvador have taken our money for years, and do Nothing. The Dems don't care, such BAD laws. May close the Southern Border!" the president wrote on Twitter early Thursday morning.