Ilhan Omar Says Minneapolis Police Using Rubber Bullets and Tear Gas at George Floyd Protests Is 'Shameful'
Congresswoman Ilhan Omar (D-MN) has criticized police use of tear gas and rubber bullets against those in Minneapolis protesting the death of George Floyd, a black man who died after being arrested.
Video of Floyd being detained was shared on social media, in which an officer can be seen placing his knee on Floyd's neck.
He repeatedly informed the police on the scene that he could not breathe, following which an ambulance arrived. The ambulance took Floyd to a local medical facility, where he was pronounced dead.
Four officers involved in the arrest, who have not been named, have been fired by Minneapolis Police Department.
Protesters, many gathered at the site of the incident, have congregated to demonstrate. Reports from the scene said non-lethal weapons have been used against them by officers.
Omar has led calls for authorities to investigate Floyd's death and has called on police to exercise restraint in dealing with the demonstrations.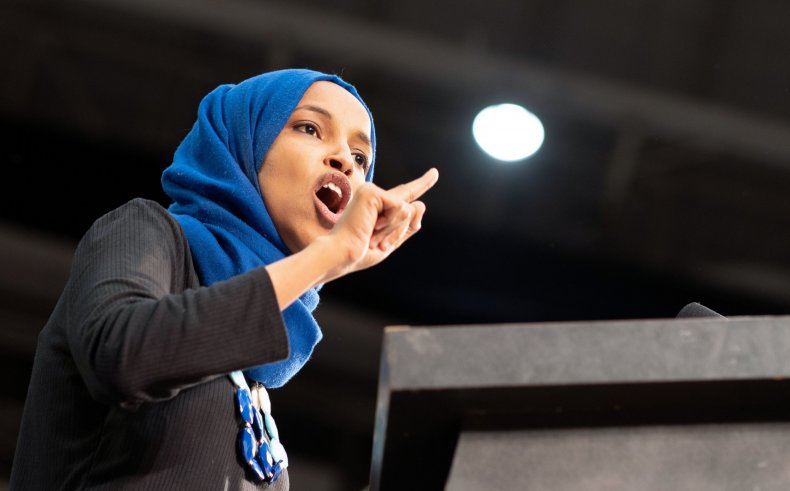 "Shooting rubber bullets and tear gas at unarmed protesters when there are children present should never be tolerated. Ever," she wrote on Twitter.
"What is happening tonight in our city is shameful.
"Police need to exercise restraint, and our community needs space to heal."
Her comments came alongside a post from Minneapolis city council member Jeremiah Ellison. Ellison said he had held "a towel to a teenage girls head as blood poured from it" after she was hurt in the protests, while posting a photo of the police response.
In another post he wrote: "This is not how we should respond a crowd full of hurt and righteously angry people."
Thousands of protesters have gathered in the city, some holding signs reading "I can't breathe," which Floyd was heard to say to officers as he was detained on Monday.
Footage has shown clashes between protesters and police, with objects thrown at law enforcement vehicles.
Video on social media shows police in riot gear spraying a substance at demonstrators. The footage contains language some may deem offensive.
Following Floyd's death, police said officers intended to arrest Floyd under suspicion of forgery and that he resisted arrest.
However, video has since emerged that appears to show Floyd handcuffed and compliant during his arrest.
Police said in an earlier statement that they had handcuffed Floyd, after which officers "noted he appeared to be suffering medical distress" and an ambulance was called.
Democratic senator Amy Klobuchar, of Minnesota, has called for the prosecution of the Minneapolis police officers involved in the arrest.
According to a news release from the Minneapolis Police Department, the Minnesota Bureau of Criminal Apprehension has been called in to investigate at the department's request.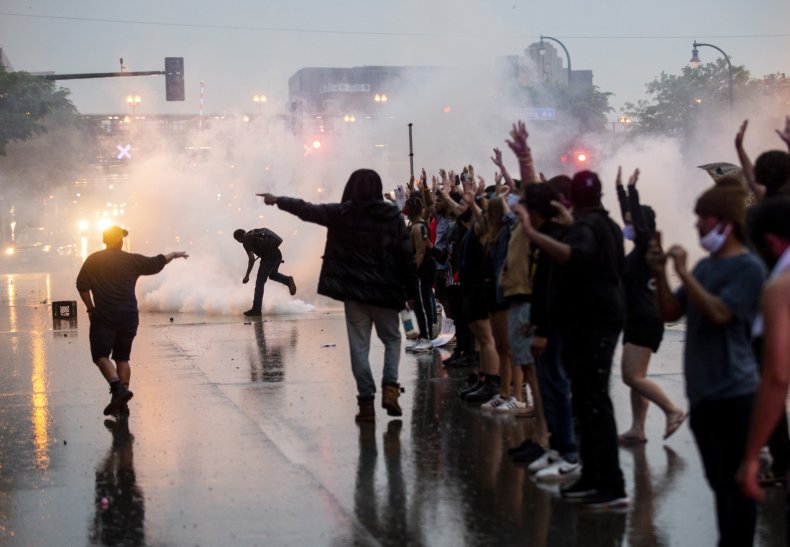 Floyd's family is being represented by attorney Ben Crump, the lawyer also representing the families of Ahmaud Arbery, who was shot dead in Georgia, and Breonna Taylor, who was killed in her home by police officers.
On Tuesday, Minneapolis Mayor Jacob Frey issued an apology to Floyd's family and the black community.
"Being black in America should not be a death sentence," he said.
"When you hear someone calling for help, you're supposed to help. This officer [who knelt on Floyd's neck] failed in the most basic, human sense."
Newsweek has contacted Minneapolis Police Department and the Minnesota Bureau of Criminal Apprehension for comment.