Ilhan Omar, Pramila Jayapal Lay Out Progressive Desires for Biden Administration
Progressive Democrats have outlined their feelings that a clear mandate for change has been presented to Joe Biden, calling for him to act upon this desire as he formulates plans for his administration.
Biden, who has been deemed president-elect after network state calls indicated his Electoral College victory, has set up a transition team to begin facilitating his move to the White House—with this impending shift coinciding with varying demands from his party.
There have been some disagreements between moderates and progressives within the caucus since Election Day, with disputes over the latter's impact on Biden's success.
Amid such disagreements, Rep. Ilhan Omar (D-MN) insisted the Democrats must show unity under Biden's leadership—while also stating the election results showed a desire for "something different" as well as "social and economic justice."
Asked about the split within the party, Omar said the party was a "big family" and the caucus is "working on behalf of the people."
"There is economic and social despair that is being felt by so many Americans," she said, speaking to MSNBC.
"There was a movement that happened this summer. That movement delivered this victory. The rise of the amount of people that registered to vote. We owe it to the movement to make sure that the chaos they voted against does not follow us to our caucus and to make sure that the justice they seeked is implemented in the policies that we advocate for."
Speaking further of unity, she said: "I know that Biden invited the American people to be a unifying force against darkness and as a caucus we have to be unified against that.
"To think about allowing ourselves to get the Republicans to decide how we are to function as a caucus is really painful, because this is a party that has lied, that has smeared, that has used everything that they can to attack us.
"It's a party that has been against the social and economic justice we've all been fighting for. It's a party that has allowed for chaos to reign for four years. So the American people have decided to put us in charge, to say they want something different. And we can't disappoint them in this moment."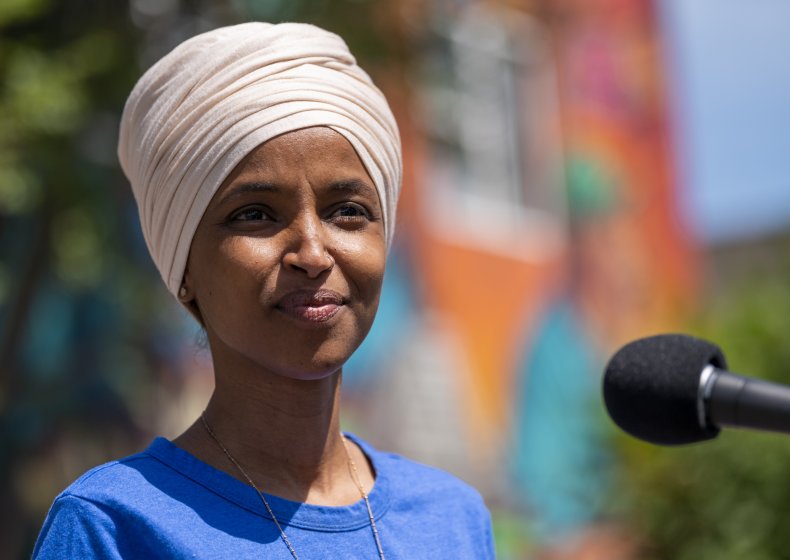 Sharing a segment of this interview on her own Twitter profile, Omar wrote: "We must deliver for the people and meet the moment not allow Republicans to sow division and create chaos that within our caucus. Legislating justice and equity is our mandate."
Rep. Pramila Jayapal (D-WA), another member from the progressive wing of the party, similarly shared the sentiment that change should be delivered.
"We had a record turnout of young people, of black and brown voters in swing districts. We flipped states like Georgia and Arizona because people want a positive vision of the future," she said, in a separate interview on MSNBC.
"They want a Democratic party who is going to fight for a $15 minimum wage, something that Florida passed with a super majority of voters even though the state went to Donald Trump. They want to see every American having healthcare. They want to see us invest in infrastructure, not only roads and bridges with green energy, renewable energy future, but also our schools, our water systems. That is what we stand for, that is the mandate that was delivered to Joe Biden."
She then spoke of colleagues and Republicans "red-baiting" progressives, in which people and their views are likened to Communists, and said this is "usually done to prevent people from thinking about what is politically possible."
Sharing this clip on her own Twitter, she wrote: "Instead of defending a status quo that benefits corporations and the ultra wealthy, let's deliver on a transformative agenda: a minimum wage that is a living wage, health care guaranteed as a human right, bold climate action, and progressive policies that make a real impact."
Newsweek has contacted Omar and Jayapal for comment on what they want to see from a Biden administration. The Biden campaign has also been asked for comment.