Ilhan Omar Questions Anti-Semitism 'Accountability' After Hitler Quoted By Republican Representative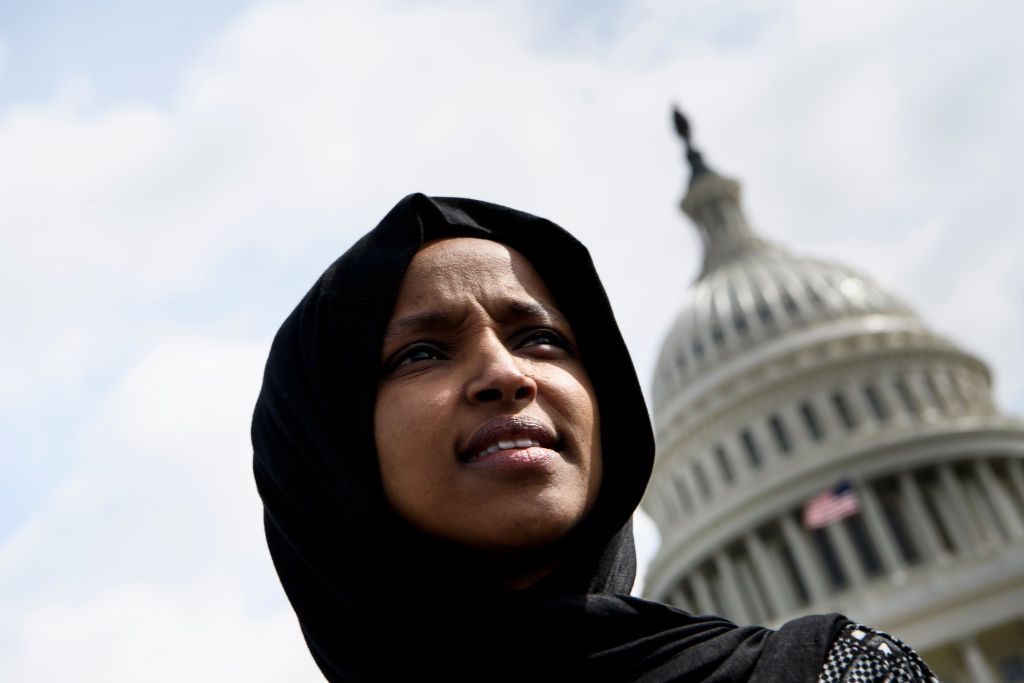 Democratic Representative Ilhan Omar has called into question a double-standard for accountability over anti-Semitism after Republican Congressman Mo Brooks quoted Hitler on the House floor.
Omar, one of the first Muslim two women elected to Congress, was forced to apologize in February for tweets implying U.S. support for Israel was driven by the pro-Israel lobby. The posts on social media drew criticism from both sides of the aisle, forcing the freshman congresswoman to rebuff charges of anti-Semitism.
Writing on Twitter, Tuesday Omar questioned why recent remarks by Alabama Representative Mo Brooks, in which the Republican lawmaker quoted the Nazi leader Adolf Hitler, had not been met with similar scrutiny.
"This is repulsive," Omar wrote on the social media platform. "Let's see what accountability looks like for this member of Congress," she added, including a pensive emoji.
The Minnesota congresswoman was responding to a tweet from an avowedly anti-President Donald Trump Twitter account. "Republican @RepMoBrooks quoted Hitler's Mein Kampf *approvingly* yesterday on the House floor—from a section which was literally about how evil Jewish people are—but, no, it's Democrats who are anti-Semitic," the social media user tweeted to their 85,500 followers.
Brooks made the comments while speaking in the House of Representatives after the summary of Special Counsel Robert Mueller's report clearing Trump of coordination with Russia during the 2016 election was published.
"For more than two years, socialist Democrats and their fake news allies … have perpetrated the biggest political lie, con, scam, and fraud in American history," Brooks said. "Attorney General Barr's executive summary of Mueller's report has publicly confirmed what many of us have known for a long time: The accusations of collusion between President Trump and Russia in the 2016 elections are nothing but a big lie," he added.
The five-term congressman then went on to quote directly from Hitler's rambling political manual Mein Kampf. "In the big lie, there is always a certain force of credibility; because the broad masses of a nation are always more easily corrupted in the deeper strata of their emotional nature than consciously or voluntarily; and thus in the primitive simplicity of their minds they more readily fall victims to the big lie than the small lie," Brooks said.
Hitler, who was left disillusioned by Germany's defeat in World War One, believed the Jews had conspired to bring about the national failure and then lied about it. The fascist leader claimed the lie that Germany's generals had lost the war was so big it had been believed in post-1918 Germany. It seems unlikely Brooks wished to compare the Democrats with interwar European Jewry, as perceived by Hitler. Instead, he wished to paint the opposing party as Nazis. Hitler's chief propagandist Joseph Goebbels notoriously co-opted the falsehoods of Mein Kampf into his disinformation strategy. "If you tell a lie big enough and keep repeating it, people will eventually come to believe it," Goebbels claimed.