Ilhan Omar Quotes Maya Angelou In Response to Trump Attacking Her At Campaign Rally As Crowd Chants 'Send Her Back!'
Congresswoman Ilhan Omar quoted civil rights activist Maya Angelou in response to President Donald Trump's vicious attacks against her during his campaign rally in North Carolina on Wednesday evening, as his supporters chanted "Send her back!"
"You may shoot me with your words, You may cut me with your eyes, You may kill me with your hatefulness, But still, like air, I'll rise - Maya Angelou," the 37-year-old Minnesota Democrat tweeted.
The president dedicated a considerable portion of his campaign rally speech in Greenville, North Carolina earlier this evening attacking the four progressive lawmakers — Reps. Alexandria Ocasio Cortez, Ilhan Omar, Ayanna Pressley and Rashida Tlaib — all women of color, whom he told to "go back and help fix the totally broken and crime infested places from which they came" in a series of tweets over the weekend. Despite the president's claim that the first-term lawmakers were all foreign-born, all but one of them were born in America.
Congresswomen Omar was born in Mogadishu, Somalia, and moved to the U.S. when she was a child after her family fled from their home nation.
Trump continued his attacks on the four congresswomen during his speech in North Carolina on Wednesday.
"These left-wing ideologues see our nation as a force of evil," Trump declared to an enthusiastic crowd. "The way they speak so badly of our country... You have to look at some of their recent comments which are never talked about."
"When you see the four congresswomen, oh isn't that lovely?" the president continued, prompting loud boos from his supporters. "I will give you a couple. I have had pages and pages but we don't want to bore you or go too long. We have to give a couple. That's the great thing about live television. They can't cut it."
The president then directed his attention to rebuking Omar.
"Representative Omar blamed the United States for the terrorist attacks on our country, saying that terrorism is a reaction to our involvement in other people's affairs," Trump said. "She smeared U.S. service members involved in Black Hawk down. In other words, she slandered the brave Americans who were trying to keep peace in Somalia."
"Omar blamed the United States for the crisis in Venezuela ... and she looks down with contempt on the hard-working Americans, saying that ignorance is pervasive in many parts of this country," the president continued, as the crowd loudly chanted "Send her back!"
Throughout his speech, Trump also took a swipe at Tlaib, calling the lawmaker a citizen that does not "love this country," and Ocasio-Cortez's Green New Deal proposal.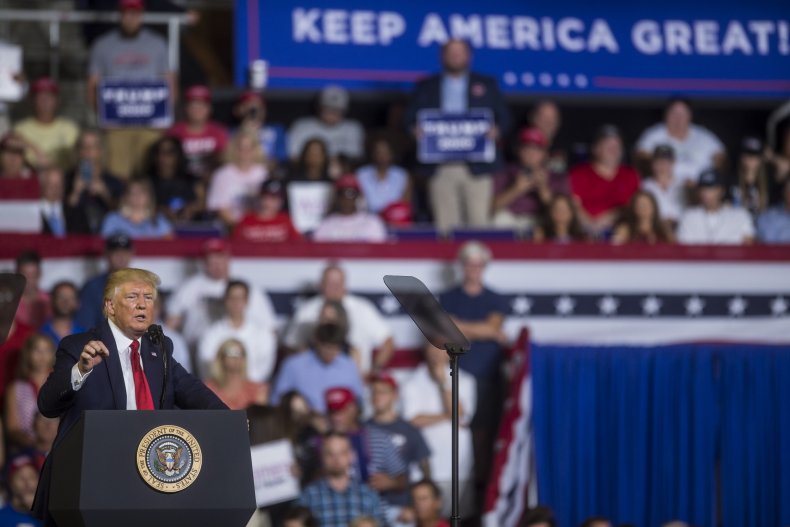 Ilhan Omar Quotes Maya Angelou In Response to Trump Attacking Her At Campaign Rally As Crowd Chants 'Send Her Back!' | Politics