Ilhan Omar Rallies Unions, Liberal Groups to Fight After Primary Challenger Attracts Big Money
Democratic Representative Ilhan Omar of Minnesota has recently rallied several unions and liberal groups to help her fight against her primary challenger, Antone Melton-Meaux, who has recently received a large sum of donations.
On Thursday, Omar's campaign released the results of an internally conducted poll, which shows her leading Melton-Meaux by 37 points. Despite those results, Mike Erlandson, former Minnesota Democratic-Farmer-Labor (DFL) Party chairman, recently told The Hill he has seen two other private polls that show Melton-Meaux "within striking distance" of Omar.
During a recent interview with the Minnesota Star Tribune, Melton-Meaux revealed that he had raised at least $3.2 million from April until the end of June, as well as having $2 million cash in the bank. By comparison, Omar raised $471,624 in the same period, and her campaign recently said she has at least $1,111,861 on hand ahead of August 11's primary, according to the Star Tribune.
Despite trailing Melton-Meaux in campaign money, Omar still has the support of many prominent groups in Minnesota, including the state's DFL Party. The DFL plans to run digital and direct mail ads on Omar's behalf, as well as using its organizing program to reach new voters to ensure their support on Election Day.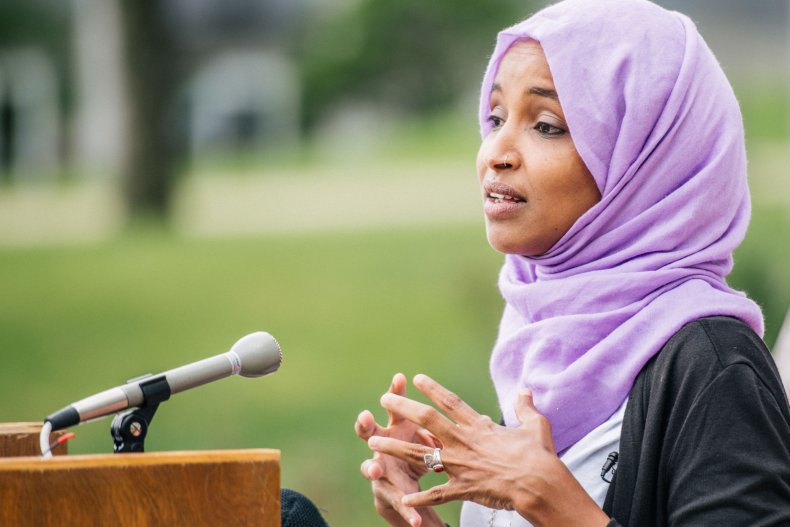 "Rep. Omar is the only progressive in this race, and she's running for reelection in one of the most progressive Congressional Districts in the country," said DFL Chairman Ken Martin, according to The Hill. "She's spent her entire political career fighting for the structural change our country and our District need to dismantle systems of oppression in the economy, education, healthcare, and the environment—and she's done it while fighting right beside the people of the 5th District.
Martin went on, "They know her. They trust her. That's why the overwhelming majority of them approve of her job performance, and that's why she leads by almost 40 points despite the millions of dollars being spent to unseat her."
In addition to the DFL Party, Omar has gained the support of several state-affiliated unions and activist groups, such as Minnesota's environmental activism group MN350, which sent text messages on Wednesday night urging its supporters to volunteer and donate to Omar's campaign, according to The Hill.
In the August 11 primary, Omar and Melton-Meaux will also be going up against three other Democrats: Les Lester, John Mason and Daniel Patrick McCarthy.
Newsweek reached out to Omar for comment but did not receive a response in time for publication.