'Awkward'?: Ilhan Omar, Rashida Tlaib Suggested Deporting Opponents in Old Tweets Mocked By Donald Trump Jr.
Democratic Representative Ilhan Omar in a 2012 tweet resurfaced Tuesday suggested someone she did not agree with should be deported "to where ever you came from," a strikingly similar comment to President Donald Trump's "go back" tweets this month directed at Omar and three other congresswomen of color.
Omar, who was born in Somalia, tweeted, "we are citizens & can't be deported, why don't we deport you to where ever you came from," on October 5, 2012, in a thread about a Maine mayor saying a growing Somali population should leave their culture at the door.
It is not clear who the Twitter user Omar was replying directly to is because the account is private and does not reveal anything except a name. Omar made her comment after several other replies expressing her opinion on whether immigrants should preserve their culture or embrace the ways of their new country.
"EVIDENCE: @IlhanMN told an opponent 'why don't we deport you to where ever you came from' in 2012!!" tweeted former New York State Assemblyman Dov Hikind, who unearthed Omar's old tweet. "You can't make this stuff up! Retweet so her duplicity is exposed for all to see!"
First son Donald Trump Jr. on Wednesday afternoon shared a report on Omar's tweet which claimed she directed the comment at a Somali immigrant and remarked, "Awkward."
Trump Jr. considered Omar's old tweet an embarrassment to her because his father President Donald Trump was heavily criticized for telling "The Squad" of progressive Democratic congresswomen Omar, Rashida Tlaib, Alexandria Ocasio-Cortez and Ayanna Pressley to "go back and help fix the totally broken and crime infested places from which they came."
The president's remark was deemed racist by Democrats while many Republicans disagreed. Omar denounced Trump's comment and said he was pushing "the agenda of white nationalists."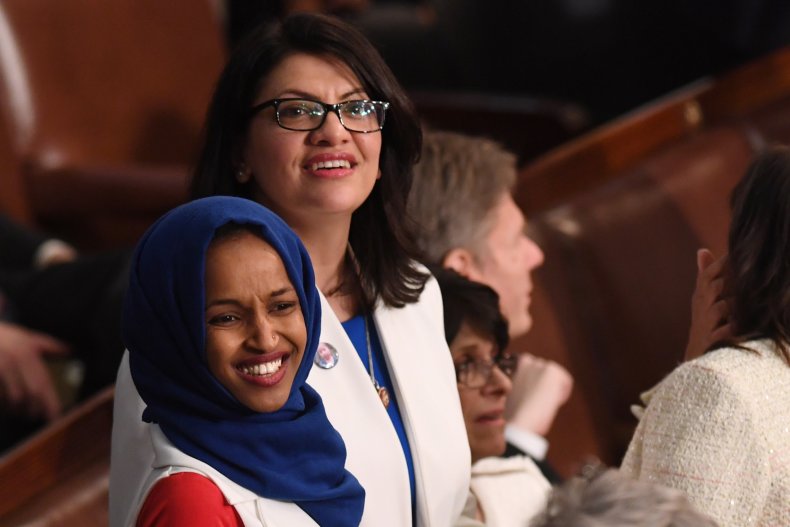 Hikind on Tuesday also unearthed a December 7, 2015, tweet by Tlaib in which she shared a story about Trump calling for a ban on Muslims entering the U.S. and commented, "Deport this a**hole!"
"So Rashida can call for deporting then candidate Trump, but there's total outrage when the sentiment is returned?!" Hikind remarked. "How does this 'standard' work? #DemDuplicity"
On Tuesday night, Trump Jr. shared a screenshot of Tlaib's tweet and commented and also said "that's awkward."
"It's like their whole narrative just disappeared," Trump Jr. tweeted. "But you all know no one will cover it."
The offices of Omar and Tlaib did not immediately respond to requests for comment from Newsweek on Wednesday afternoon.