Democrats Ilhan Omar, Rashida Tlaib Sign Pledge to Impeach Donald Trump
Two congresswomen, Representatives Rashida Tlaib (D-Mich.) and Ilhan Omar (D.-Minn.), have signed a pledge promising to impeach President Donald Trump.
An advocacy group called By the People has pushed to get lawmakers to sign the pledge and announced Tuesday that both Tlaib and Omar had done so.
"It's my pleasure to support this pledge to impeach Donald Trump," Tlaib said in a statement. "I can't wait for us to show people, especially families in my district, that they are being put first—and that we're going to hold everyone accountable to the law, including the president of the United States."
In a statement, By the People called for other lawmakers besides Tlaib and Omar to sign the pledge and indicate they would vote to impeach Trump.
"Millions of Americans agree that Donald Trump isn't fit to be president. This is not an issue of Republicans vs. Democrats. It's about checking the flagrant abuse of presidential power from a white supremacist who is profiting off of the presidential office, abusing his powers and undermining our democracy and our Constitution," said the group's spokesperson, Alexandra Flores-Quilty.
"We have a choice: We can let the Trump administration continue to corrupt our government and endanger our lives or we can join together to remove Trump from office and make our government work for all of us," she said.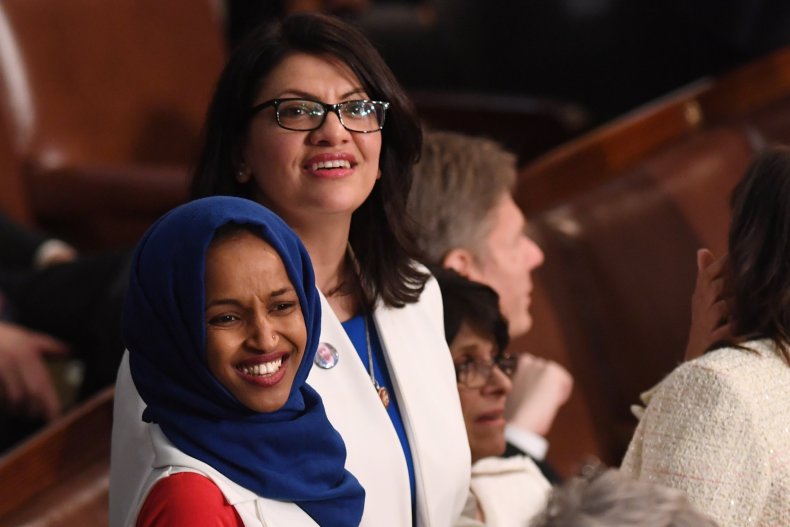 Tlaib made some news previously with a story about talking bluntly with her child about impeachment after being sworn in.
"And when your son looks at you and says, 'Mama, look, you won. Bullies don't win,' and I said, 'Baby, they don't'—because we're gonna go in there and we're going to impeach the motherf***er."
Newsweek's Ramsey Touchberry reported Tuesday that impeachment was on Democrats' minds prior to planned testimony this week from the president's former lawyer Michael Cohen.
"I think, surely, that Cohen has a lot to say," Representative Val Demings (D-Fla.) told Newsweek. "If we exercised the power that has been given to us, then we will consider all options, up to and including impeachment. We're all anxiously waiting to hear what information Cohen brings to the table that's not already out there."