Ilhan Omar Says Police Can't Be 'Judge, Jury and Executioner' Following Rayshard Brooks Shooting Death
Representative Ilhan Omar said on Sunday that police in the U.S. can no longer be "judge, jury and executioner" as she commented on the death of Rayshard Brooks in Atlanta, which has set off a fresh wave of protests in the southern city.
"It's, again, a reminder that, you know, police officers can't continue to be judge, jury and executioner," Omar, a progressive Democrat who represents Minnesota, told CNN host Jake Tapper.
"We're not only seeing cases where there is, you know, mortal danger to police officers where they might take a shot, but the cases of people who are subdued being killed by police officers, people who are being shot in the back. It's just really quite disheartening to see the continuation of images like this appear," the congresswoman said.
Newsweek reached out to Omar's office for further comment, but did not receive a response in the time for publication.
Brooks was shot by a police officer after a scuffle at an Atlanta Wendy's fast food restaurant on Friday. The 27-year-old man was black and the officer who shot him was white. Garret Rolfe, the officer who reportedly shot Brooks, has been fired by the Atlanta Police Department, and Devin Bronson, another officer involved with the incident, has been placed on administrative duty.
The shooting inflamed tensions in the city after weeks of nationwide protests over the alleged murder of George Floyd, a middle-aged black man, by a white police officer in Minneapolis on May 25. Demonstrators across the country, and around the world, have attempted to shed light on what many see as systemic racism in the justice system and policing.
"I think this is really our opportunity to listen to the voices of the mayors of, like San Francisco and others who are really putting forth bold ideas of what it looks like, not only to move away from fully investing in this kind of public safety measures, but also those like Minneapolis who are committing to the dismantlement of a department that is beyond repair, so that the community has the space to come together to re-imagine what public safety should look like," Omar told CNN.
Many activists have called for "defunding the police," which Omar and some other progressive lawmakers back those calls. However, Omar clarified that this does not mean they think policing and public safety officers should be done away with all together. It instead is a call for re-imagining how policing works in a community, and creating a new system that keeps everyone safe.
"No one is saying that the community is not going to be kept safe," the lawmaker explained. "No one is saying crimes will not be investigated. No one is saying that we are not going to have proper response when community members are in danger."
"What we are saying is, the current infrastructure that exists as policing in our city should not exist anymore. And we can't go about creating a different process with the same infrastructure in place," she said.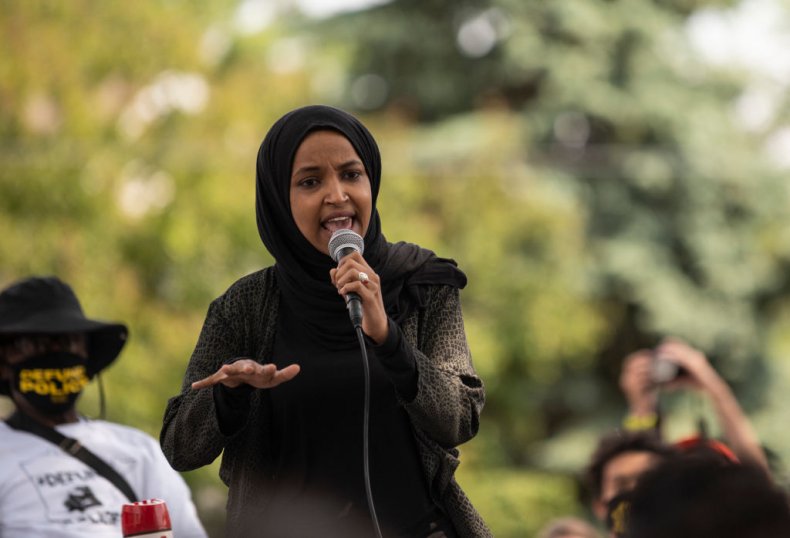 In Minneapolis, where Floyd was killed, the city council has decided with a veto-proof majority that it would dismantle the city's police department. Although city officials have not laid down a clear path forward, they have said they will develop a new public safety plan in conjunction with the community.
Supporters of the move point to Camden, New Jersey, which successfully undertook a similar effort in 2012. The city has seen a noticeable drop in crime in the wake of the decision.