Ilhan Omar Says Republicans Making 'Mockery of the Constitution,' Slams Senate GOP Leaders for 'Abdicating' Their Oath
Congresswoman Ilhan Omar, a Democrat from Minnesota, argued on Sunday that Republicans are making a "mockery of the Constitution" by planning to acquit President Donald Trump of wrongdoing, and slammed GOP leaders in the Senate for "abdicating their responsibility and their oath."
Senate Majority Leader Mitch McConnell, a Republican from Kentucky, told Fox News host Sean Hannity last Thursday that he planned to cooperate with White House counsel if Trump is impeached by the House of Representatives and the case is brought to trial in the Senate. "There is no chance the president is going to be removed from office," McConnell asserted.
GOP Senator Lindsey Graham of South Carolina, who chairs the Senate Judiciary Committee, has repeatedly dismissed the allegations against Trump throughout the impeachment inquiry. During a conference in Qatar on Saturday, Graham said he would "do everything" he could to make the trial "die quickly."
"I am trying to give a pretty clear signal I have made up my mind. I'm not trying to pretend to be a fair juror here," the senator added.
Omar was asked about the GOP Senate leaders remarks during a Sunday interview with MSNBC's AM Joy/w Joy Reid. The progressive representative, who plans to vote in favor of Trump's impeachment when it comes to a vote in the House, said that "injustice will take place" due to the Republicans' decision.
"I think what the American people get to witness is a party that has decided to make a mockery of the Constitution. These are leaders within the Senate who are abdicating their responsibility and their oath," she argued.
Later, in the segment, the congresswoman called on Americans to hold their senators to account. Omar argued that what Graham and McConnell were doing was akin to jurors during a trial collaborating with the defense team of a defendant, pointing out that they had stated publicly that they will not be impartial.
"I think it is the responsibility of the American people to hold these senators accountable. To make sure that they are having their voices heard. And to require that this Constitutional process is carried out impartially," she said.
Newsweek has reached out to press representatives of McConnell and Graham for a response to criticism of their defense of Trump.
The House Judiciary Committee, which is controlled by Democrats, formally passed two articles of impeachment against Trump last week, one for "Abuse of Power" and the other for "Obstruction of Congress." The vote was 23 to 17, passing strictly along party lines. This week, the articles of impeachment will move to the full House floor for a vote, which is widely expected to pass in the Democratic-controlled chamber--although it may be opposed by some moderate Democrats. If the vote passes, the case will move to the Senate for a trial. But the upper chamber of Congress is controlled by Republicans.
Trump faces impeachment for his alleged efforts to pressure Ukraine to announce investigations into discredited claims that Democratic presidential candidate Joe Biden acted corruptly toward the Eastern European nation to benefit his son Hunter's business there, as well as into a debunked conspiracy that Ukrainians and the Democrats, not Russia, interfered in the 2016 election. Multiple current and former administration officials have corroborated that there was a concerted effort to pressure Ukraine's leaders to announce the probes targeting the president's domestic political rivals.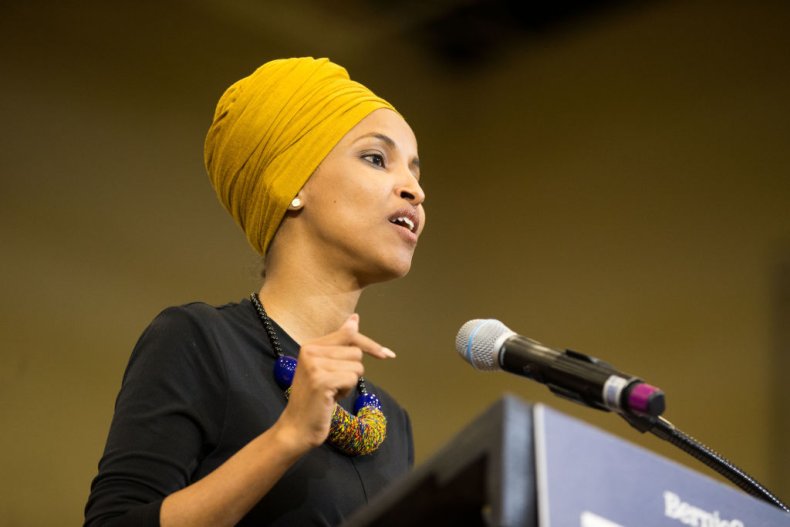 Additionally, witnesses testified that there was a "quid pro quo" involved with the pressure campaign. Trump withheld a White House meeting with Ukraine's President Volodymyr Zelenskiy in an effort to encourage him to open the investigation, according to the testimony. The White House also temporarily withheld nearly $400 million in military assistance to the Eastern European nation, which had been approved with bipartisan support in Congress.
For these reasons, Democrats in Congress believe Trump abused his power, and asked a foreign government to interfere in a U.S. election by attempting to undermine his opponent. The "Obstruction of Congress" charge relates to the White House's refusal to cooperate with the impeachment inquiry, ignoring subpoenas and blocking key witnesses from testifying. As the Constitution grants the House of Representatives the "sole Power of Impeachment," Democrats argued that the president's actions went counter to the Constitution.
Meanwhile, Trump and his supporters argue that the inquiry is simply "partisan" and a "witch hunt," and the president has repeatedly insisted that he did nothing wrong.