Congresswoman Ilhan Omar of Minnesota said on Monday that Republicans would "lose their mind" if a Muslim woman were appointed to fill a seat on the U.S. Supreme Court.
"Let's be clear about this: if a Muslim woman was nominated to SCOTUS you would see Republicans lose their mind about her religious background," Omar wrote on Twitter. "'Sharia law' would be trending right now. Miss me with the pearl-clutching and all this righteous talk about religious freedom."
Omar became one of the first Muslim women elected to the U.S. House of Representatives in 2018 alongside Rep. Rashida Tlaib of Michigan. Omar's comments about nominating a hypothetical Muslim woman to the Supreme Court came as the first day of the Senate Judiciary Committee's nomination hearings for Amy Coney Barrett was underway.
President Donald Trump nominated Barrett to fill the seat left vacant by former Associate Justice Ruth Bader Ginsburg after Ginsburg died last month. Barrett's nomination drew quick backlash from Democratic lawmakers concerned about what the conservative judge's confirmation could mean for the Affordable Care Act and the future of abortion rights in the U.S.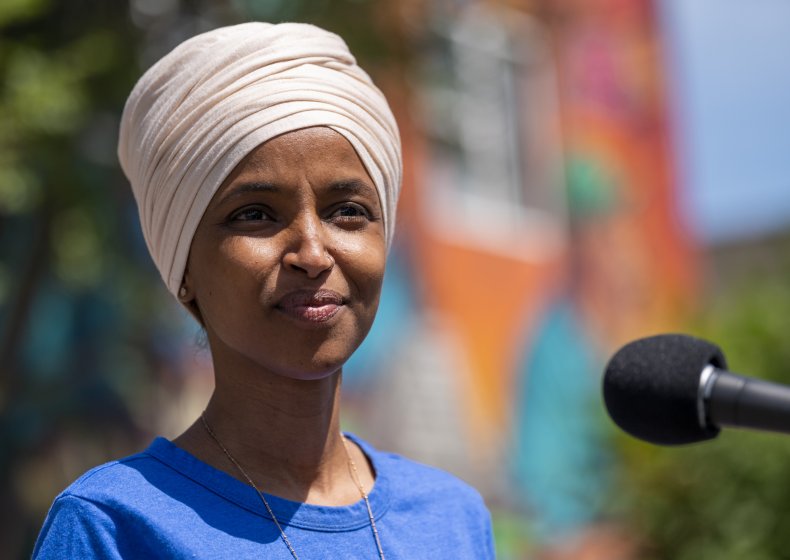 Democrats also revived questions following Barrett's nomination about her religious background, queries that first came up in 2017 when Barrett, an observant Catholic, appeared before the Senate Judiciary Committee after Trump nominated her to serve as a circuit judge for the U.S. Court of Appeals for the Seventh Circuit. At that time, Democratic Senator Dianne Feinstein of California questioned whether Barrett was capable of differentiating between dogma and the law and said, "the dogma lives loudly within you." Barrett told the committee that she would be able to separate her Catholic faith from her work as a judge, and she was confirmed with bipartisan support.
Republicans widely criticized the questions Democrats raised about how Barrett's religious background might impact her ruling on the high court, questions they referred to as "anti-Catholic."
"These ugly smears against Judge Barrett are a combination of anti-Catholic bigotry and QAnon-level stupidity," Nebraska Senator Ben Sasse, who serves on the Senate Judiciary Committee, said last month. Sasse's statement continued by defending Barrett's alleged involvement with a controversial religious group called People of Praise and added, "Just like billions of Christians around the world, Judge Barrett reads the Bible, prays, and tries to serve her community. Senators should condemn this wacky McCarthyism."
Senate Majority Leader Mitch McConnell of Kentucky also slammed what he described as "attacks" on Barrett and her faith by Democrats and the media in a statement last week.
"United States Senators are suggesting that Judge Barrett is too Christian, or the wrong kind of Christian, to be a good judge," McConnell said, adding that members of the high court are tasked with being impartial and not allowing their personal beliefs to sway their decisions. "It is the definition of discrimination to assert that Justice Barrett's particular faith makes her uniquely unqualified for this promotion."
While Democratic presidential candidate Joe Biden has said he thinks the next elected president should be the one to fill the Supreme Court vacancy, he told reporters on Monday that he did not believe religion should be a factor in Barrett's confirmation hearings. "No. I don't think there should be any questions about her faith," he told reporters from the campaign trail.
Newsweek reached out to Omar and Senate Judiciary Committee Chairman Lindsey Graham for comment but did not receive a response in time for publication.