Ilhan Omar Says She Believes Tara Reade, But Will Still Vote for Joe Biden Against Donald Trump
Minnesota Congresswoman Ilhan Omar said she believes Joe Biden sexual assault accuser Tara Reade - along with all other survivors - but she will still vote for the Democratic nominee in November.
The Minnesota Democrat t the Times of London in an interview published Sunday, "I do believe [Tara] Reade," when asked about the 1993 ex-senate staffer's sexual accusations against then-Delaware Senator Biden. Reade publicly accused Biden of sexually assaulting her earlier this year, telling news outlets she waited decades to reveal the story because she kept"chickening out" of any previous formal complaints. Omar said she wanted Vermont Senator Bernie Sanders to have won the Democratic primary, but after he dropped out in April, Biden is her only choice for president in the general election.
"I do believe Reade. Justice can be delayed, but should never be denied," the congresswoman told the Times in an interview conducted the first week of May.
Omar's reluctant support of Biden's candidacy echoes that of fellow freshman congresswoman Alexandria Ocasio-Cortez, who declined to endorse Biden but said she would support him against President Donald Trump. Omar reacted to criticism on social media Monday for her Times remarks about supporting Reade coming forward, saying that "believing survivors" is in lockstep with her values.
"Believing survivors is consistent with my values. Yes, I endorsed against Biden and I didn't pick him as our nominee. With that said, in this interview I did on May 6th, we talked about that and quotes aren't always in context. I will vote for him and help him defeat Trump," Omar tweeted Monday.
"I know how important it is to create space for people to share their stories, whether we all believe them 100% or not," Omar tweeted, responding to a supporter who asked where she stands on Reade's own "threats and intimidation" against women and survivors.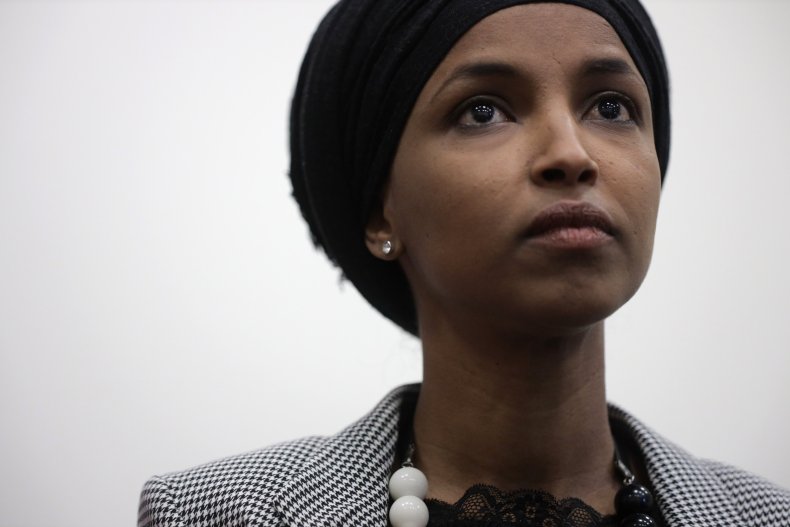 Last month, New York congresswoman Ocasio-Cortez told NPR that Reade's accusations against Biden aren't "clear cut," before going on to add, "I have always said I will support the Democratic nominee" against Trump. Ocasio-Cortez also endorsed Sanders' candidacy against Biden, but once the Vermont senator suspended his campaign, Biden remained the only Democrat in the race for the party's nomination.
"I do not feel a choice in adhering to my principles and my integrity, and being accountable to the movement that brought me here," Ocasio-Cortez said when pressed on whether she'd support Biden after Sanders dropped out in early April. "But also, I don't want another term of Trump ... I've always said that I will support the Democratic nominee."
Both first-term members of Congress have been hit with a barrage of criticism from the president himself. At a rally last July, Trump's supporters echoed tweets of his and chanted "send her back," a reference to Omar being born in Somalia.
The Times interview with Omar published Sunday blared her headline quote, "I am America's hope and President Trump's nightmare." The piece primarily discussed how her family's childhood escape from war-torn Somalia hardened her for American politics.
Democratic Party unity has not been as eye-to-eye as Omar and Ocasio-Cortez's views, particularly as Republican supporters of Trump have urged Sanders supporters to break with Biden's nomination. Former Sanders speechwriter David Sirota in April accused some pro-Biden Democrats of hypocrisy regarding sexual assault complaints.
"It is grotesque & yet predictable that Dems & lib pundits can go from rightly defending Christine Ford into character assassinating Tara Reade. The allegations deserve to be taken seriously. But then Biden allowed the vilification of Anita Hill, so maybe that's too much to expect," Sirota tweeted last month.
Newsweek reached out to Omar's office Monday but had not received a reply by time of publishing.