Ilhan Omar Drawing up Impeachment Articles Against Trump After Mob Storms Capitol
Minnesota Democratic Rep. Ilhan Omar said on Wednesday that she is "drawing up Article of Impeachment" against President Donald Trump.
"I am drawing up Articles of Impeachment. Donald J. Trump should be impeached by the House of Representatives & removed from office by the United States Senate," Omar wrote in a tweet. "We can't allow him to remain in office, it's a matter of preserving our Republic and we need to fulfill our oath."
Omar's comments towards Trump come as the president's supporters continue to protest in Washington D.C. amid Congress certifying state's Electoral College Votes.
On Wednesday, Congress held a joint session to certify President-elect Joe Biden's victory in the 2020 election, but as Trump has continued to make seemingly baseless claims of widespread voter fraud, his supporters took to the streets in D.C. and eventually breached the Capitol building.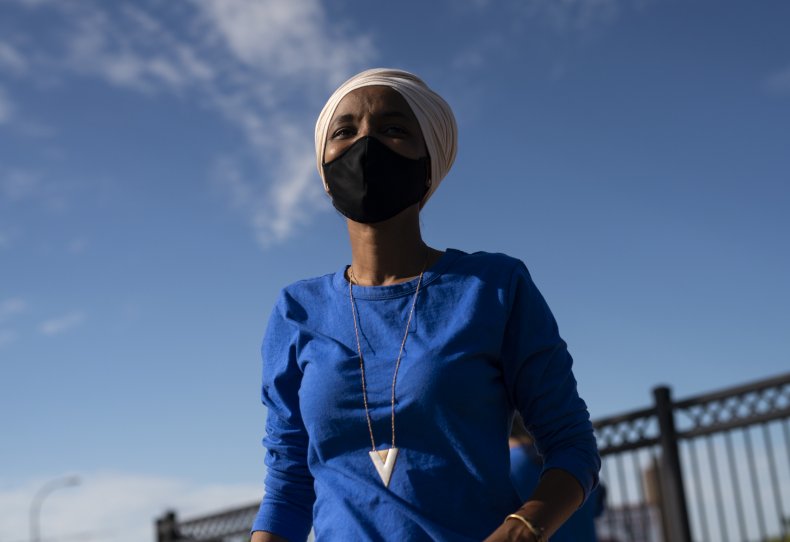 In response to the ongoing protests, Trump released a video on Twitter, urging his "very special" supporters to leave the Capitol but noted that the election was stolen from him.
"I know your pain. I know you're hurt. We had an election that was stolen from us. It was a landslide election and everybody knows it, especially the other side. But you have to go home now," Trump said in the video. "This was a fraudulent election but we can't play into the hands of these people. We have to have peace. So go home, we love you and you're very special. You've seen what happens. You've seen the ways others are treated which are so bad and so evil. I know how you feel. But go home and go home in peace."
Omar's office directed Newsweek to her tweet after reaching out for comment.
Omar, a staunch critic of Trump, issued a similar statement earlier this week, calling for his impeachment following the leaked call between Trump and Georgia Secretary of State Brad Raffensperger.
During the call, which was published by the Washington Post, Trump can be heard saying that the ballots in the state "are corrupt," as well as asking Raffensperger to "find" more votes that would give him the victory over President-elect Joe Biden in the state.
"The people of Georgia are angry, the people of the country are angry," Trump said during the call. "I just want to find 11,780 votes, which is one more than we have because we won the state."
After the call was published by the Post, Omar posted a statement on Twitter, which read, "The President's effort to openly overturn our election results by putting pressure on the Republican Secretary of State of Georgia is a crime, plain and simple. It is another flagrant act of sedition from a president dead set on undermining the bedrock of our democracy: our elections."
Omar continued in the statement, "The constitutional remedy for a high crime and misdemeanor committed by the President of the United States is clear: impeachment."