Ilhan Omar Says She Wasn't Aware of 'Jews and Money' Trope
Democratic congresswoman Ilhan Omar said she wasn't aware of "tropes about Jews and money" as she was pressed on old comments about antisemitic tropes on Sunday.
Appearing on CNN's State of the Union, the Minnesota congresswoman—who's been representing the state's 5th district in Congress since 2019—was asked by anchor Dana Bash what she has learned from her "Jewish colleagues and allies" since her comment on Israel in 2019 created a firestorm.
"A lot. I certainly did not or was not aware that the word 'hypnotized' was a trope. I wasn't aware of the fact that there are tropes about Jews and money. That has been very enlightening part of this journey," Omar said.
"To insinuate that I knowingly said these things when people have read into my comments to make it sound as if I have something against the Jewish community is so wrong," she added.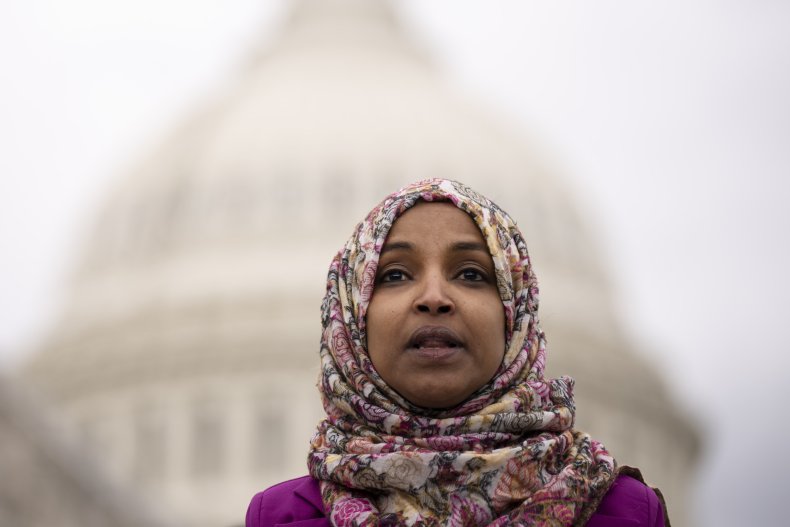 Avi Mayer, former managing director of public affairs and senior spokesperson for the American Jewish Committee, shared a clip of the interview on Twitter, casting doubt over whether Omar really wasn't aware of the trope about Jewish people and money.
"Ilhan Omar employed one antisemitic trope in 2012, after which she said learned all about antisemitism 'from Jewish orgs.' She then employed another one in 2019," Mayer wrote. "But she didn't know there are tropes about Jews and money? Who believes this stuff?"
Omar has previously stirred controversy for the heated language she used on several occasions to criticize Israel and pro-Israel lobbying in the U.S.
In 2012, she tweeted that "Israel has hypnotized the world, may Allah awaken the people and help them see the evil doings of Israel." For many, the remarks echoed a well-worn antisemitic trope suggesting that Israel and its supporters are involved in a plan to trick and take over the world. Omar apologized for the tweet after taking office in January 2019.
But in the same year, Omar made at least another comment that became instantly infamous. Defending her stance against the pro-Israel lobbying, the Democrat talked of an "allegiance" to a foreign country, in this case Israel, using a word that touches on longtime antisemitic tropes and conspiracy theories.
While apologizing about her past remarks, Omar defended herself, saying that we must distinguish between criticizing a particular faith and fairly targeting certain lobbying groups. In 2019, she added that she was being accused of antisemitism because she's a Muslim woman—an accusation she repeated on CNN on Sunday.
Omar told CNN that antisemitism allegations by Republicans claiming she shouldn't sit on the House Foreign Affairs committee are "politically motivated, and in some cases motivated by the fact that many of these members don't believe a Muslim refugee, an African, should even be in Congress, let alone have the opportunity to serve on the Foreign Affairs Committee."