Ilhan Omar Shares Tom Arnold Tweet Mocking Rand Paul Over Lawn Mower Attack
Minnesota congresswoman Ilhan Omar took a veiled shot at Kentucky Republican Senator Rand Paul Monday, sharing a Tom Arnold tweet ridiculing Paul over a November 2017 fight on his lawn.
Actor Tom Arnold and Omar were responding to July 27 Breitbart video showing the GOP senator saying he's "willing to buy [Omar] a ticket to visit Somalia...she might come back and appreciate America more." Paul falsely claimed Omar called the U.S. a "terrible country," which prompted Arnold to rip into the Kentucky senator over a lawn mowing-related fight which left Paul with six broken ribs after he was tackled by a neighbor.
"Imagine being Rand Paul's next door neighbor and having to deal with @RandPaul lying cowardly circular whiney bullcrap about lawn clippings. No wonder he ripped his toupee off," read Arnold's Monday tweet, which was retweeted by the Minnesota congresswoman.
According to court documents first obtained by the Bowling Green Daily News, the bizarre lawn incident occurred inside a gated community near Bowling Green, Kentucky. Paul's neighbor, Retired doctor Rene Boucher, 59, said he tackled Paul while the senator was doing lawn work due to an "unsightly" pile of debris he kept stacking up in his adjacent yard.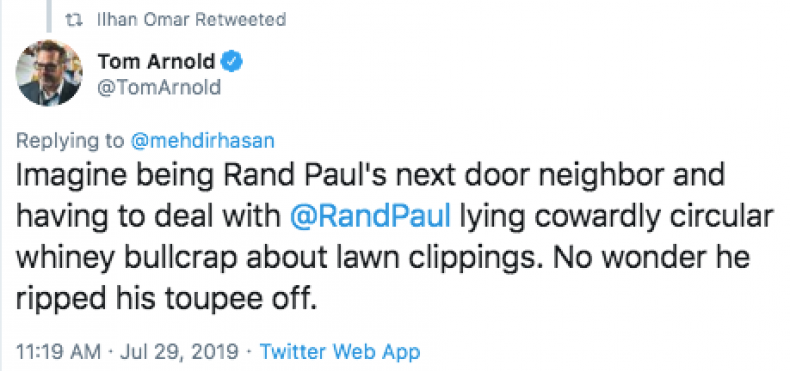 Paul claimed he was planning to incinerate the lawn clippings and debris, but had not gotten around to said chore.
News of the attack went nationwide soon after the November 2017 incident, and Paul's office repeatedly pushed back at labeling the fight an ongoing "yard dispute," given the violent nature of the assault.
Boucher pleaded guilty in March to assaulting a member of Congress. Federal prosecutors for Paul requested a 21-month prison sentence, but Boucher was ultimately sentenced to 30 days in prison and forced to pay a $10,000 fine and complete 100 hours of community service. He also cannot have any contact with the Paul family.
In the Breitbart video shared by Mehdi Hasan, which prompted Arnold's reply, Paul could be heard telling the reporter: "I've never heard one of the [refugees] say 'America is a terrible place or be unappreciative of our country. Most of them are thankful...and then I hear Representative Omar say 'oh America is a terrible place, there's no justice here.'"
"She came here, we fed her, we clothed her, she got welfare, she got school, she got health care," Paul said. "[She's] about as ungrateful as you can get."
Several Twitter users rushed to Paul's defense on the social media platform, including a "Proud Deplorable" account which took issue with Omar sharing the Arnold tweet.
"Rand Paul was blindsided and attacked. He suffered multiple injuries. The attacker was arrested. It took Rand months to recover and was in pain for most of it. Apparently Ilhan is OK with that."