Ilhan Omar Slams GOP After Posters Linking Her to Sept.11 Sparks Maelstrom in West Virginia Legislature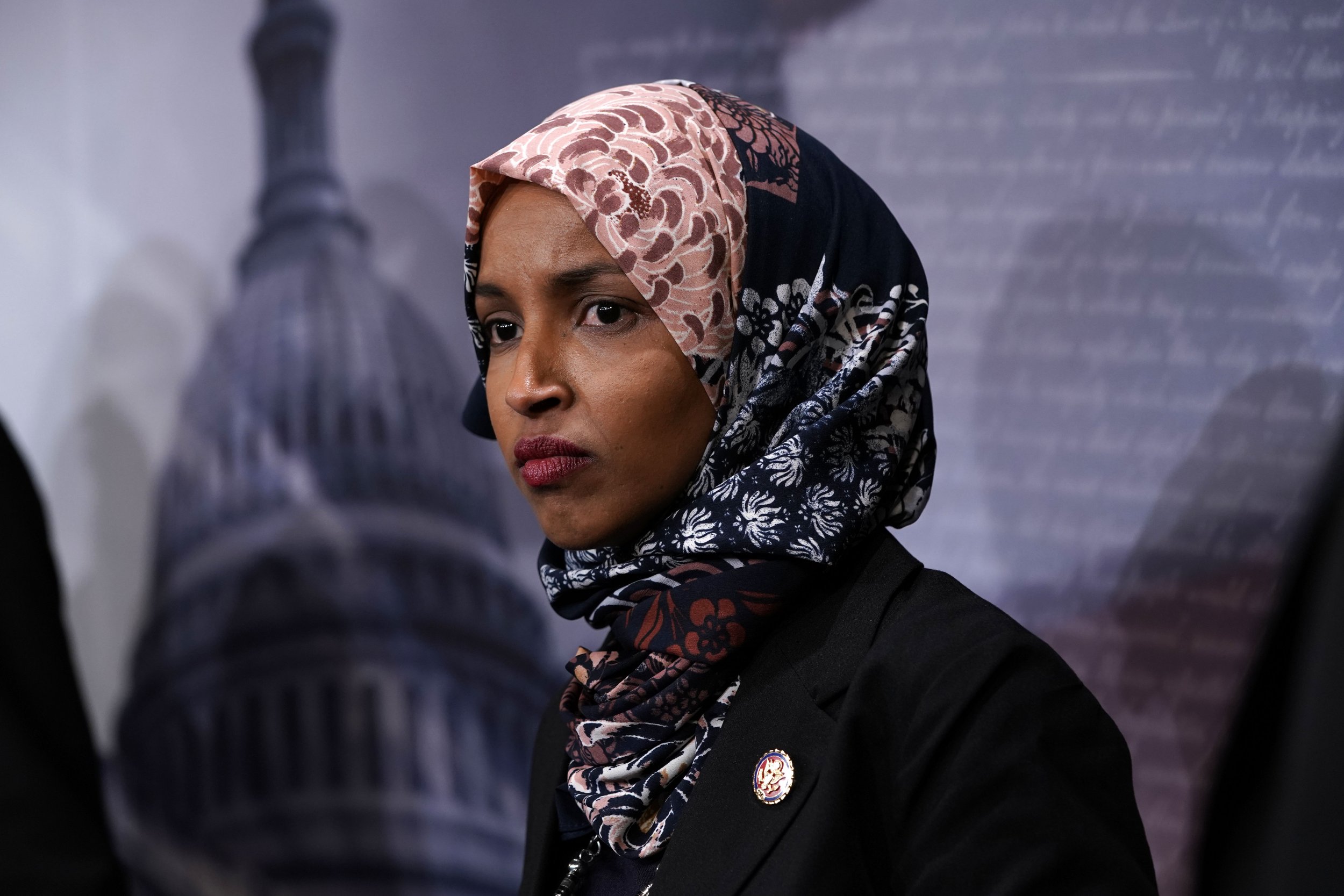 Democratic congresswoman Ilhan Omar denounced West Virginia conservatives on Friday for seemingly allowing vendors to post flyers in the state house that linked her to the Sept. 11 terrorist attacks.
"No wonder why I am on the 'Hitlist' of a domestic terrorist and 'Assassinate Ilhan Omar' is written on my local gas stations," Omar wrote on Twitter, linking to an article about the flyers. "Look no further, the GOP's anti-Muslim display likening me to a terrorist rocks in state capitols and no one is condemning them!" (Omar is one of several Democratic politicians listed on an alleged "hit list" compiled by Christopher Paul Hasson, a U.S. Coast Guard lieutenant who prosecutors accuse of planning acts of domestic terrorism.)
In her tweet, the Minnesota representative was referring to signs that appeared during a "Republicans Take the Rotunda" event Friday at the West Virginia legislature. The posters show the burning Twin Towers set above a picture of Omar, who is Muslim and wears a hijab. "Never forget — you said," reads the first caption. "I am the proof you have forgotten," reads the second.
In a video posted to Twitter by the West Virginia Democratic Party, a woman claimed responsibility for hanging up the flyers. "It's a public place and that's why I'm free to bring them," the woman, who doesn't identify herself, said.
Omar's comments came at the end of an explosive day in the state's legislature, which resulted in at least one resignation and one person injured, according to local news station WSAZ. Democrats accused the House's sergeant at arms, Anne Lieberman, of saying anti-Muslim comments that equated all Muslims with terrorists. Although she denied making the remark, Lieberman had tendered her resignation by Friday evening. Lawmakers also say that a doorkeeper was hurt when Minority Whip Mike Caputo kicked open the entrance to the chambers. In an interview with MetroNews, Caputo admitted to kicking open the door and apologized.
"I'm the one who kicked the door open," Caputo told the local news outlet. "That's how angry I was. I went over to that poster and I said it was a racist poster."
By Friday evening, statements calling for civility came pouring in from both sides of the aisle.
"The West Virginia House of Delegates unequivocally rejects hate in all of its forms," said House Speaker Roger Hanshaw in a statement. "As we began today's floor session, we had a series of incidents occur in and outside of our Chamber that absolutely do not reflect the character and civility the people of this state demand of their public servants. Leadership of the House of Delegates is currently working to investigate these incidents to learn firsthand the factual basis of what occurred, and will respond with appropriate action."
A slew of state lawmakers released statements condemning the poster and the rancorous debate that followed. In an official statement, the West Virginia Democratic Party said constituents "expect better" from their elected officials.
"This isn't about freedom of speech, this is about hate speech," said West Virginia Democratic Party Chairwoman Belinda Biafore. "The display of hatred has no place in the People's House and this is just the latest display of hate from the Republican Majority this legislative session.
The House Rules Committee is set to meet 8 a.m. Saturday to further discuss Friday's session.