Students For Trump Clashes With Ilhan Omar Over Mississippi ICE Raid: 'How Dare You'
Democratic Congresswoman Ilhan Omar on Thursday said "how dare you" to Mississippi Lieutenant Governor Tate Reeves for applauding U.S. Immigration and Customs Enforcement (ICE) raids — and got a similar response from students who support President Donald Trump.
Omar, a progressive representative from Minnesota, quote tweeted Reeves's post Wednesday night which read, "Glad to see that ICE is working hard to enforce our immigration laws. 680 aliens detained in Mississippi today. We must enforce our laws, for the safety of all Americans." Reeves tweeted "well done" to Trump and Michael Hurst, a U.S. attorney for the Southern District of Mississippi.
"How dare you applaud as hundreds of children are left orphaned by ICE. How dare you associate danger with this community days after a mass shooting targeting their community," Omar commented. "This is the language of dehumanization and its only logical end is violence."
The Twitter account Students For Trump, which has as its profile description "Student Movement Fueled By Freedom," quickly mirrored Omar's words in an attack back at her.
"How dare you demonize law enforcement officials for enforcing US law... How dare you try to change the subject to avoid the reality that ICE detained criminals who broke the law..." Students For Trump replied. "How dare you intentionally mislead the American people to promote your open borders agenda..."
However, Students For Trump deleted that tweet shortly after. It appeared as "This Tweet is unavailable" in a thread, followed by another milder tweet.
"3 things are true," the second tweet stated. "1.) The domestic terror attacks were unfathomable acts of evil, committed by 2 evil individuals. 2.) We must enforce our immigration laws. 3.) There is nothing dehumanizing about supporting Law Enforcement Officers doing their job."
Another Twitter user replied with a screenshot of Students For Trump's first deleted tweet. Last month, Turning Point USA executive director Charlie Kirk announced he acquired Students For Trump with the purpose of getting 1 million students to vote for Trump in the 2020 election.
Reeves, who is in a runoff for the GOP nomination for Mississippi governor, did not immediately respond to Omar's "how dare you" tweet.
On Sunday, Reeves tweeted that "the tragedy in El Paso is a sobering reminder that true evil is out there" and that he and his wife were praying for the victims' families.
Hurst on Thursday tweeted that ICE and the Department of Homeland Security "conducted yesterday's operation w/ respect & dignity for fellow man/woman" and that Homeland Security Investigations procedures "ensured child/parent were united afterwards."
"We are unaware of any child presently w/o a parent as a result of this operation," Hurst tweeted. "If so, let us know & call CPS 800-222-8000."
Trump initially praised his supporters at the president's campaign rally in North Carolina last month for a "send her back" chant directed at Omar, who was born in Somalia.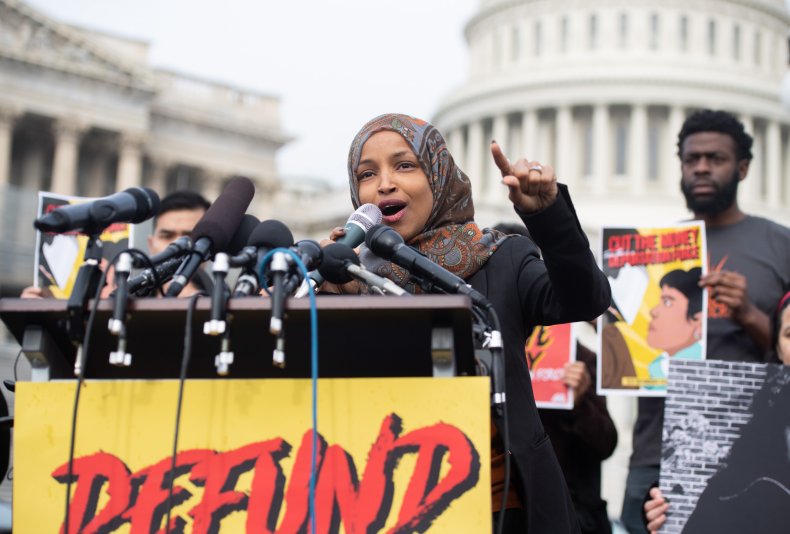 Correction (8/8/19): This headline has been updated to better reflect the Twitter exchange between Students For Trump and Rep. Ilhan Omar.