Ilhan Omar Slams Fox's Tucker Carlson For 'White Supremacist Rhetoric' From 'Racist Fool'
On Tuesday night, Tucker Carlson said during his Fox News broadcast that freshman Democrat Ilhan Omar, a Somali-American and one of the first Muslim women in Congress, "is living proof that the way we practice immigration has become dangerous to this country."
Responding Wednesday, Omar berated Carlson, calling the Fox host a "racist fool" and accusing him of levying "white supremacist rhetoric."
"It's disappointing to see Fox News give a nightly platform to the white supremacist rhetoric that's coming from the likes of him," Omar told reporters following a weekly caucus meeting. "I truly believe he is a racist fool who is weeping about the fact that we have an African-born member of Congress, the kind of people that the likes of him think come from shithole countries."
Omar's comments referred to controversial remarks allegedly made by President Trump during closed-door immigration meetings in 2018. Sources at the time said Trump questioned Senators Lindsey Graham, a Republican, and Dick Durbin, a Democrat, during a meeting, asking why the U.S. wants immigrants from "shithole countries" to begin with.
Omar continued: "And the fact that he doesn't get the opportunity to ban me from this country—and now he gets to call me a 'congresswoman'—I'm sure this pisses him off. But he'll eventually get used to it. And I think that advertisers should not be underwriting this kind of dangerous, hateful rhetoric."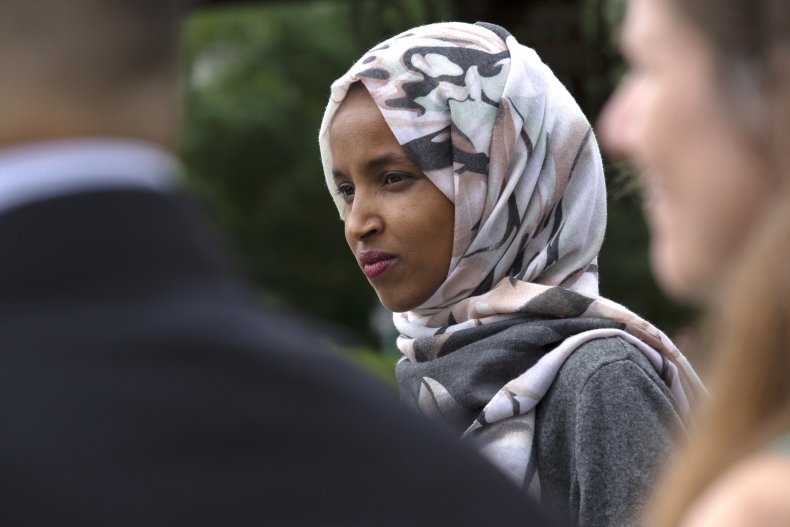 Immigration has reemerged as a hot political topic. A surge in migrants at the southern border has caused detention facilities to become severely overcrowded. Reports from government agency watchdogs and Democratic members of Congress have accused the Trump administration of providing inhumane conditions to detained migrants who are seeking asylum, or were alleged to have crossed the border illegally, as a deterrent.
Omar, a liberal Democrat from Minnesota, came to the United States in 1995 after fleeing Somalia during the country's civil war in 1991 and spending four years in a Kenyan refugee camp. Like her Democratic colleagues, she's criticized the administration for the handling of the influx of detained migrants at the southern border.
During his segment, Carlson took direct aim at Omar when speaking about immigration, suggesting that a member of Congress should not have been allowed into the U.S.
"Ilhan Omar is living proof that the way we practice immigration has become dangerous to this country," he said. "This is an immoral country, she says. She has undisguised contempt for the United States and for its people. That should worry you, and not just because Omar is now a sitting member of Congress."
Carlson continued: "So, be grateful for Ilhan Omar, annoying as she is. She's a living fire alarm, a warning to the rest of us that we better change our immigration system immediately, or else."